Just 28 Percent of Republicans View McConnell Favorably While Three-Quarters Back Trump: Poll
Senate Minority Leader Mitch McConnell, a Kentucky Republican, appears to be significantly less popular than former President Donald Trump among GOP voters, after the two leaders sparred publicly in the wake of the violent insurrection against the U.S. Capitol by Trump's supporters on January 6.
McConnell condemned Trump for helping to incite the attack against the Capitol, despite declining to back the former president's conviction in his Senate impeachment trial last month. Trump went on to attack McConnell—as well as other prominent Republican critics—during his February 28 speech at the Conservative Political Action Conference (CPAC). Notably, McConnell and other Republican critics of the former president were not in attendance, although many had been fixtures at previous conferences in recent years.
Now, nearly three-quarters (74 percent) of Republican voters say they have a favorable view of Trump compared with less than a third (just 28 percent) who say the same of McConnell, according to new polling conducted by Ipsos and published by Reuters this week. In fact, McConnell's favorability rating is far closer to Trump's unfavorability rating (24 percent) among Republican voters.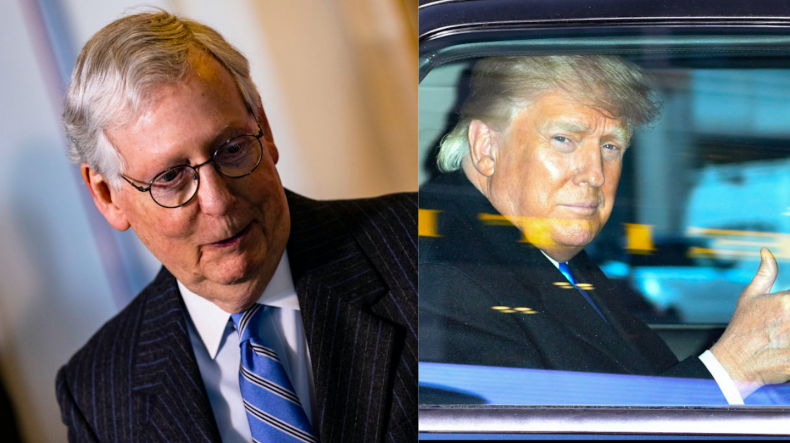 Following Trump's acquittal in the Senate trial in February, McConnell gave a floor speech saying the former president was "practically and morally responsible" for the attack on the Capitol. Trump quickly shot back with a statement describing the Senate minority leader as "dour, sullen, and unsmiling political hack." Later in February during his CPAC speech, Trump took credit for helping McConnell win reelection in Kentucky in 2020. Asked about the remarks a couple days later, McConnell laughed and responded sarcastically, saying: "I want to thank him for the 15-point margin I had in 2014 as well."
Although still significantly below Trump, former Vice President Mike Pence and GOP Senator Ted Cruz of Texas are both viewed favorably by the majority of Republican voters, the new survey data shows. Pence enjoys favorable views from 69 percent of GOP voters while Cruz has the approval of 55 percent. Meanwhile, controversial GOP Representative Marjorie Taylor Greene of Georgia, despite aligning herself closely with Trump and receiving his support, only has a favorability rating of 23 percent—below even McConnell's.
Many analysts have described internal GOP tensions as a "civil war," with a relatively small faction of Republican lawmakers aiming to convince voters to reject the former president. However, polling data suggests that Trump continues to have a firm grip on the Republican Party and remains widely popular with GOP voters.
Polling conducted by Morning Consult at the end of Trump's Senate trial showed that nearly 60 percent of Republican voters want to see the former president continue to play a "major role" in the GOP going forward. The survey also found that Trump was by far the front-runner for the party's 2024 presidential nomination, with 54 percent of GOP voters backing the former president compared to just 12 percent supporting his next closest potential competitor, Pence.