Just 8 Percent of Germans Support Donald Trump as Europeans Overwhelmingly Would Vote for Joe Biden: Poll
Europeans overwhelmingly support Democratic presidential nominee Joe Biden ahead of Election Day in the United States, with only single-digit percentages in four-out-of-five countries saying they would vote for President Donald Trump to be re-elected.
A majority of 11,000 residents across five countries in Europe—Germany, Italy, Spain, France and Great Britain—say they are watching the U.S. presidential election closely, and are very much in favor of Biden taking the White House Tuesday. The BVA pollster group found Germans are watching the U.S. contest most carefully, with 85 percent saying they are very interested in the the November 3 outcome compared to about 70 percent in the other four nations.
Only 8 percent of Germans said they would vote for Trump if it was them casting ballots across America in four days.
The BVA poll of more than 11,000 people across Europe showed Biden has the most enthusiastic support in Germany, where two-thirds of Germans said they would vote for the Democratic Party candidate. Another 27 percent of Germans said they were undecided or would abstain from voting for either candidate.
Despite high levels of interest in the U.S. election's outcome, the poll revealed a sharp increase in anti-U.S. sentiment in Europe. Just 22 percent of Germans said they have a positive view of the United States as a whole. Italians were the most positive about America with 38 percent saying they have a good opinion of the United States.
Trump received his most support in Italy—but even in that country, only 15 percent of Italians said they would vote for the incumbent Republican. And among Italians, Biden still has about three times more support than Trump, with 42 percent saying they would vote for the former vice president.
During the 2016 presidential campaign between Trump and Hillary Clinton, a viral "Dear Americans" meme signed by "the people of Germany" warned U.S. voters against supporting "the guy with the loud voice who hates minorities, threatens to imprison his opponent, doesn't give a f**k about democracy, and claims he can fix everything. What could possibly go wrong?"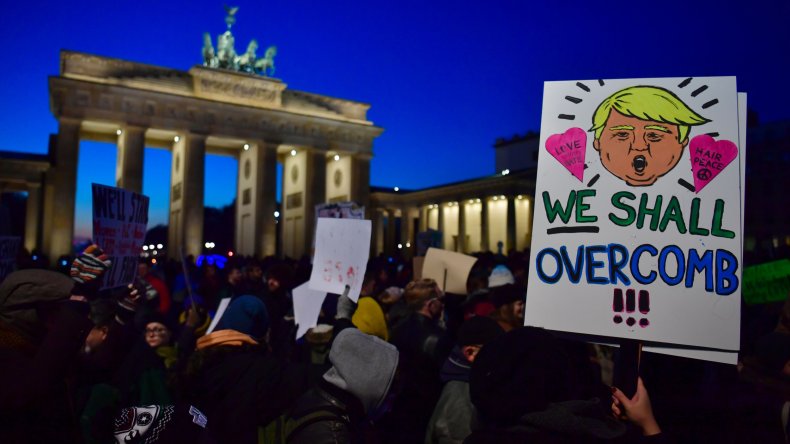 Europeans have remained incredibly negative about Trump's presidency since even before he took office in January 2017. A Pew Research Center poll in Spring 2016 showed the then-GOP presidential candidate had just single-digit percentages of support in 9 of the 16 countries surveyed at the time. By comparison, President Barack Obama enjoyed staggering European support—77 percent of Europeans said they backed Obama during his final year in the White House.
In 2016, only 9 percent of Europeans across 10 countries said they had confidence in the job Trump would do as president, while 85 percent said they had "no confidence" at all in how he'd perform in the White House. In 2019, a YouGov/Huffington Post poll found 17 percent of French people said they have a positive view of Trump.
Trump's decision to withdraw from the 2015 Paris climate agreement was among the president's most loathed decisions by residents of all five European countries. Trump only received a double-digit percentage in favor of the move in Spain (11 percent) His reversal on the climate change deal agreed to under the Obama administration was only supported by between 3 and 5 percent of Italians, Germans, French and British respondents.
Newsweek reached out to both the Biden and Trump campaigns for reaction to the European poll of the U.S. presidential election cycle.