Just 9 Percent of Trump Voters Support the Black Lives Matter Movement
Although nearly 50 percent of Americans say they strongly or somewhat support the goals of the Black Lives Matter movement, just 9 percent of voters who backed former President Donald Trump express support for the anti-racism movement, new polling shows.
The Black Lives Matter movement was first launched in 2013 following the acquittal of George Zimmerman in the shooting death of 17-year-old Trayvon Martin, an unarmed Black teenager, in 2012. Last year, after the murder of George Floyd, an unarmed Black man, by former Minneapolis police officer Derek Chauvin, Black Lives Matter demonstrations spread across the country around the world, as protesters demanded an end to police brutality and systemic racism in the justice system.
While the movement has gained significant popular support, Trump and other Republicans have repeatedly attacked Black Lives Matter demonstrators. New polling by the University of Massachusetts Amherst and Boston-based ABC News affiliate WCVB-TV 5 found that only 9 percent of Trump voters said they strongly or somewhat support the movement. Meanwhile, 73 percent said they oppose the goals of Black Lives Matter.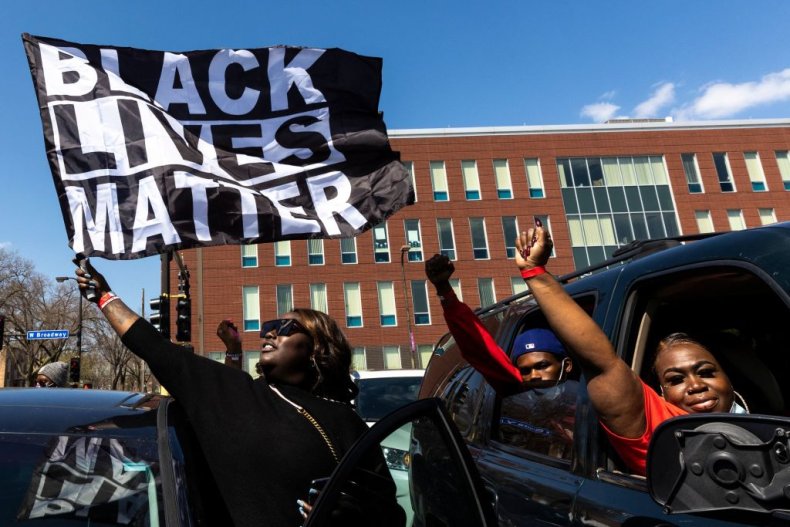 The poll highlighted stark partisan divides, with some 84 percent of voters who backed President Joe Biden saying they support the goals of Black Lives Matter. Overall, 48 percent of respondents said they support the movement, while about a third (32 percent) said they opposed it and 14 percent said they were neutral.
The strategy and tactics of the Black Lives Matter movement had less support overall. Just 40 percent of voters said they approved of how the movement has gone about pushing for its goals. When it comes to Trump voters, just 7 percent said they approve of the strategies and tactics. But 73 percent of Biden voters expressed support.
Last summer, in the wake of massive demonstrations in support of Black Lives Matter, about two in three Americans said they approved of the protests. Gallup found in a survey conducted from June 23 to July 6 that 65 percent of U.S. adults said they supported the demonstrations. Half of U.S. adults said they felt very or somewhat connected to the demonstrations as well.
On April 20, Chauvin was convicted by a jury of murdering Floyd last May. His sentencing will take place on June 25. While Black Lives Matter and civil rights advocates hailed the verdict, they have asserted that it's just a small step in their ongoing struggle against systemic racism. During Chauvin's trial, an average of more than three Americans were killed per day by police, according to The New York Times.
An analysis published this month by The Washington Post showed that Black Americans were killed by police at a rate that was more than twice as high as white Americans from 2015 through 2020. Data from 2017 to 2020 compiled by the NAACP shows that a Black man "is five times more likely to be stopped without just cause than a white person."
As of the end of 2018, Black people were imprisoned at a rate nearly five times higher than white Americans, according to data from the Bureau of Justice Statistics. While there were about 268 white prisoners per every 100,000 white Americans, there were about 1,500 Black inmates per every 100,000 Black Americans.