Just Because Michelle Wears McQueen Doesn't Mean Washington Is Having Any Fun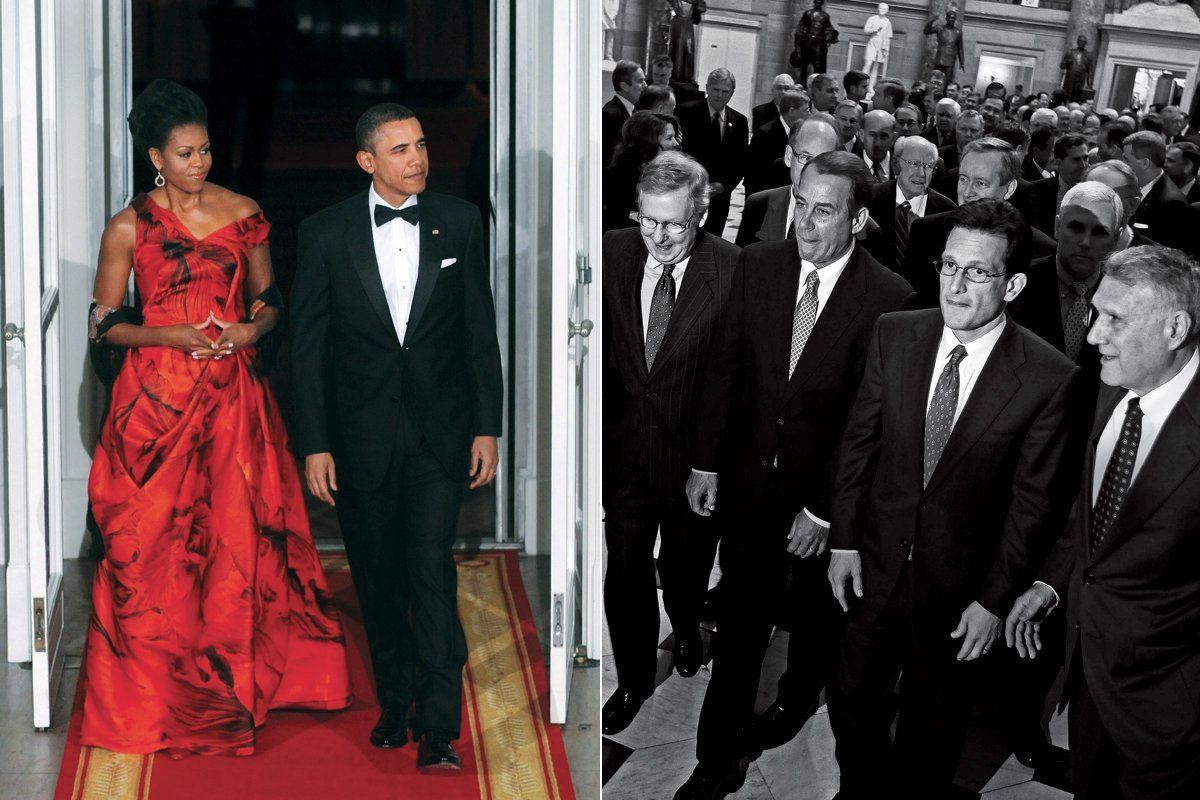 At 5:30 on a blustery Tuesday afternoon, room H-137 of the U.S. Capitol is a sea of middle-aged white guys in rumpled suits. Each sports a large white name tag bearing the initials IPAA (that's Independent Petroleum Association of America to you and me) and their given names in all caps: BOB! GARY! MIKE! In town for three whirlwind days of chatting up lawmakers, the IPAA has arranged this reception to honor the 112th Congress. Association members stand around in awkward clumps, scanning the crowd for useful personages. There is much picture taking, swapping of business cards, and nibbling of chicken on skewers. As 6 o'clock comes and goes, the occasional House member wanders in, along with a sprinkling of young aides, who frequent these events as much to cadge food as to rub elbows.
Across Independence Avenue in the Gold Room of the Rayburn House Office Building, the Puerto Rico Federal Affairs Administration has drawn a younger, more diverse, and much larger crowd for its competing fete. This may have something to do with the two large bars set up by Rums of Puerto Rico. In one corner, a trio is playing tunes that make you want to salsa—although no one here will be doing that. Despite the rivers of rum, this is simply a slicked-up version of the IPAA mixer. You hear the same kind of shop talk and witness the same strategic mingling. Reps. Charlie Rangel and Debbie Wasserman Schultz drift in shortly before 7 o'clock, dispense hugs, handshakes, and camera-ready smiles, then drift out a short time later. By 7:15, the food is dwindling and the crowd has thinned.
This, depressingly, is what passes for social life in Washington. It wasn't supposed to be this way. When the Obamas swirled into town just over two years ago on a cloud of sparkling inaugural parties and historic uplift, there was widespread hope they might usher in Camelot 2.0. Barack had Jay-Z on his iPod and liked to bang in the paint with his junior aides. Michelle had killer biceps and a flair for fashion. They had two adorable kids and a coterie of non-Washington, nonpolitical friends. And they were black! After eight tense, dreary years overseen by a stay-at-home president who cleared brush for kicks and went to bed while the rest of the country was watching CSI, many in the nation's capital harbored visions of a sociocultural renaissance. Not that anyone expected them to host Reaganesque galas while the economy foundered, but maybe, just maybe, they could ease tensions within Washington's balkanized political class through savvy social diplomacy.
What on earth were we thinking? Washington is what it is, and, increasingly, one of the town's defining characteristics is its social retardation. Oh, sure, on any given evening, members of the political class can schmooze their way through a half-dozen industry receptions, book parties, and charity events. And if campaign fundraisers are your idea of a good time, welcome to the Promised Land. But networking is not the same thing as socializing, particularly among a populace so rigidly segregated into red and blue teams.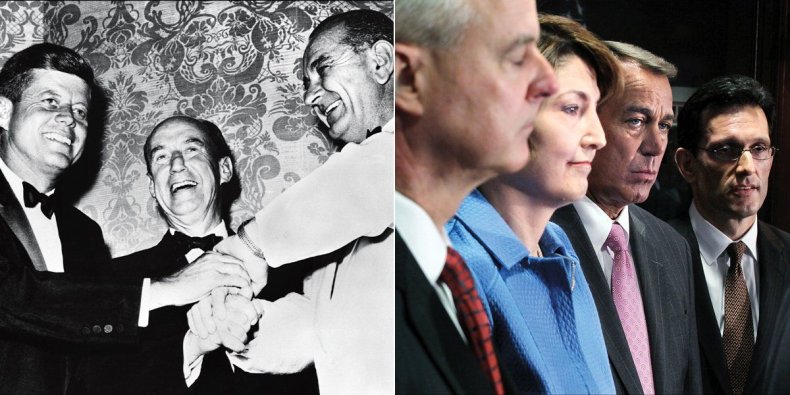 This dysfunctionality has serious consequences. As most political veterans will tell you, the fine art of legislating works best when those charged with negotiating the fine print enjoy solid relationships built on trust, respect, and a general sense of comity. "Trust only comes with relationships," asserts former Senate Democratic leader Tom Daschle. "Until you have trust, you're not going to have the kind of environment needed for compromise and agreement on important legislative agendas"—like, say, hammering out next year's federal budget without bringing the entire government to a standstill.
Talk with Washington veterans about their town's dysfunctional climate and a handful of depressingly familiar themes emerge: too much partisanship, too much time eaten up by fundraising, the bifurcated existence of lawmakers whose families stay back in their home districts. Increasingly, opportunities for casual, getting-to-know-you conversation are harder to come by than a stable Middle Eastern regime.
Hill veterans insist that things were not always this way. Former Senate Republican leader Trent Lott recalls a more relaxed, bipartisan landscape during his days as a young Hill aide in the late 1960s. Members would gather on Thursday evenings, he says. "They'd play gin rummy in a room called the Medicine Room in the Capitol. My job was to pour cheap bourbon and light cigars."
One oft-cited difference was that, back then, most lawmakers brought their families to Washington and settled into reasonably normal lives. Elected to the House in 1972, Lott and his wife, Patricia, spent the next 13 years raising their two kids in the same quiet, leafy suburban Virginia neighborhood as then-congressmen Billy Tauzin, Mike DeWine, and John Breaux. A Mississippi Republican, Lott grew particularly close to Breaux, a Louisiana Democrat. "My wife and Lois Breaux became best friends," says Lott, noting that Patricia is godmother to the Breauxs' youngest daughter, and that "every time my son ever got in trouble, he was hanging out with Bill Breaux."
But even the most nostalgic old-timers acknowledge that the flight of families from Washington was inevitable. Cheap air travel has enabled members to fly back to their districts every weekend, alleviating the need to uproot families. More and more wives have their own careers, which they are loath to abandon. The capital's high cost of living gives members a financial incentive to keep their home base elsewhere. And then there are the political optics. As leader of the 1994 Republican revolution, Newt Gingrich made it a badge of honor for lawmakers to stay rooted outside the Beltway. "The trend is to keep your family back in the state for fear of being accused of becoming Washingtonized," says Daschle.
To accommodate its commuters, Congress is in session only three days a week, during which time staffers pack their bosses' schedules to the gills. Rep. John Shimkus, for instance, works 10-hour days divided into half-hour slivers. And pretty much every dinner is a working dinner, says Shimkus. "That's one benefit of not having family here," he says. "You can work the whole time."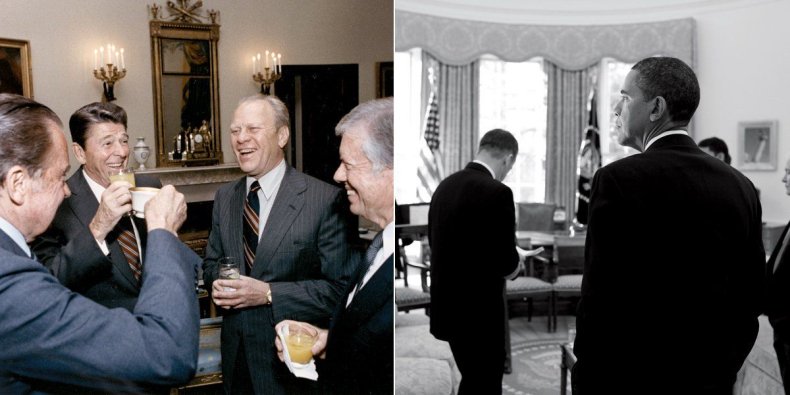 Rep. Jason Chaffetz of Utah is a cheery, deeply dimpled embodiment of the anti-Washington zeitgeist. Elected in 2008, the mediagenic conservative emerged early on as poster boy for the "cot caucus," the three- or four-dozen lawmakers who have taken up residence in the cavernous office buildings around Capitol Hill. While personal finances may have an impact on their decisions, some members brandish this living arrangement as proof of their fiscal conservatism, 24/7 work ethic, and refusal to be corrupted by Washington. Chaffetz posts regular "cot-side chat" videos on his website and, as a freshman, costarred in a CNN.com reality show in which he shared glimpses of his peculiar home/office life: the folding bed in his closet, the mini-fridge stuffed with pudding, the morning treks to the House gym for workouts and showers. ("I want to be clear that I do shower on a daily basis," he assures me.) Chaffetz admits that it is a lonely, not entirely healthy, existence. He attends a few receptions in the evenings, stays up late answering emails, and relies heavily on popcorn and Pop-Tarts. Once, during a cold snap, he says, "I spent three days without ever going outside."
This disconnect from real-world routines has a noxious psychological impact, says Rep. Pete Welch. "Your emotional life is back in the district," the Vermont Democrat says. "In Washington, when all you're doing is legislating, it takes on an intensity. It becomes all about the winning."
With so many factors pulling lawmakers apart, a strong countervailing force would be needed to push them back toward each other. For one shining moment, some thought the Obamas could be that force. For all his star power, however, it turns out that the president is an intensely private wonk who radiates disdain for many of the Beltway's conventions and denizens. Obama arrived with a ready-made circle of Chicago friends and advisers upon whom he relied and beyond whom he has rarely reached. At heart, say observers, Obama lacks the natural schmooziness that helped Bill Clinton charm even political antagonists. "Clinton used to have dinners with 10, 15, 20 members of Congress and their spouses," recalls former Democratic representative Vic Fazio of California. "He and Hillary would both be there. It was a kind of relationship-building." During his turn as Senate Republican leader, Trent Lott recalls, Clinton used to call him up at all hours. "We're a couple Southern guys. We talk the same language." By contrast, Obama and GOP leaders have never been chatty, and, as of the midterm elections, he and current Speaker John Boehner are believed never to have met mano a mano. Few locals were surprised in February when he again bypassed the annual Alfalfa dinner (a black-tie extravaganza for D.C.'s media pooh-bahs), this time in lieu of a goodbye party for adviser David Axelrod.
Thus far, most of the first couple's entertaining has consisted of small groups of close friends or high-profile events in support of the arts or a worthy cause. "They don't believe in social events that bring people together," complains one congressional insider (a Democrat, no less). "They don't believe in the softer stuff, and they don't encourage the softer stuff." Fair or not, the first lady in particular is seen as resistant to the capital's charms. "I think Michelle Obama hates Washington," this person says.
Not that anyone could really blame Michelle for whatever ambivalence she might feel. Like all first ladies, every breath she takes spurs a Greek chorus of sniping: How dare she wear a Gaultier blouse while on holiday in Spain during an economic crisis! How dare she vacation overseas, period! Wasn't her opera outing to New York bad enough? Who wears a dress by a non-American designer to a state dinner? Last winter, the first lady noted that she and the president had all but abandoned their date-night tradition because of the attendant "commotion." But this was OK, she assured Today's Matt Lauer, because she and Barack are "boring," stay-at-home kind people. How sad is that?
If not even the president can rescue Washington from its toxic culture, who's left? Once upon a time, political insularity could be mediated by the reigning social doyennes of the permanent political establishment. When Evangeline Bruce or Katharine Graham invited you for dinner, you went—and you behaved yourself. The days of the super-hostess, however, are long gone. A smattering of VIP types still attempts the salon dinners of yore, but such gatherings tend to be rarer, less intimate, and less freewheeling than they once were. Among other challenges, everyone is acutely aware that their words could wind up being tweeted by the guest across the table. "That's why conversation at a larger party tends to stay on neutral ground," says one obsessively discreet hostess. "In today's world, everything is game." Even the most skilled salon-keepers acknowledge the challenge of assembling a bipartisan guest list. "This town is going tribal," says Steve Clemons, a senior fellow with the New America Foundation who's known for his carefully constructed dinner parties.
More fundamentally, say social types, it increasingly seems as though Washington has forgotten how to throw a party for the purposes of old-fashioned mingling. "There's a lot more entertaining done for the sake of publicity," observes the veteran hostess. And while see-and-be-seen parties have always been a part of the landscape, longtime Washingtonians lament that they seem to be getting more nakedly transactional. In perhaps the saddest commentary on the devolution of the D.C. salon, Washington Post publisher Katharine Weymouth, granddaughter of legendary publisher Katharine Graham, found herself in a mini-scandal in 2009, when it was revealed that the paper was gearing up to offer five-figure "sponsorships" of exclusive dinners to be hosted at Weymouth's home, featuring off-the-record discussions with members of Congress, the administration, and the Post newsroom. This proved too much even by Beltway standards: Weymouth had to cancel the salons and apologize to readers.
Some suggest that Washington has wound up with the social climate it deserves. "This is the most emotionally avoidant city on earth," asserts New York Times columnist and cultural pundit David Brooks. "It naturally attracts people who have been fleeing from their emotional lives and into their professional lives."
Add to this the broader asceticism that has gripped much of America, in which so many of the old-fashioned vices that people once bonded over have fallen into disrepute. "Look at old Washington," says Brooks. "There was a lot more drinking, a lot more affairs, a lot more oddballs." Some congressional veterans concur. Observes one Republican old-timer: "There used to be the cigar people, the alcohol people. The NRA used to have a great dinner they sponsored."
Indeed, in today's Washington, socializing itself is considered something of a vice. In part, this can be blamed on abuses in which lobbyists or other groups sought to buy political favor with fancy dinners, posh gifts, and extravagant junkets to exotic locales. (Two words: Jack Abramoff.) But, more generally, the public has been whipped into a fury at the thought of politicians and aides wasting time swanning about schmantzy cocktail parties instead of tending to the people's business. Forget partisan disapproval of consorting with the enemy: the American public has grown increasingly suspicious of consorting, period.
This is not to suggest that everyone in Washington has given up. During the energy-bill debate, Vermont's Welch launched a series of informal members-only dinners at the apartment he shares with Rep. Jim Cooper. Up to a dozen Democrats convened once a month for wine, Costco lasagne, and conversation. Chaffetz, meanwhile, has 15 or so regular gym buddies. "At 6:30 a.m. there is a group of us who do the P90X," he says, referring to a popular workout series.
As for more bipartisan mingling, Oklahoma's Tom Cole enjoys hanging with the "cigar caucus," House members who retreat to the balcony outside the speaker's lobby for smoke breaks. "You sit down together with a cigar," insists Cole, "and you'll have a relationship with somebody at the end of it." Welch has talked with Republican Rep. Lynn Westmoreland about cooking up some bipartisan dinners, while Debbie Dingell and her friends are trying to revive the potluck suppers she and her husband, longtime Michigan Democrat John Dingell, had in their newlywed days. There is widespread agreement among lawmakers that overseas congressional delegations—or codels—remain the best way to form bipartisan connections. "My date for the State of the Union was Charlie Dent," says Welch, noting that he and the Pennsylvania Republican "got friendly" during a trip to Afghanistan and Pakistan. Particularly popular is Sen. John McCain's "lunch bunch," the bipartisan gaggle of members who travel together each winter to the Munich Security Conference, stopping along the way for a members-only lunch and briefing in a European hotspot (Latvia, Ukraine, Lithuania … ).
Meanwhile, post-midterms, a shaken White House is trumpeting its intentions to start playing nice with others—or at least stop alienating them. The Obamas have been working on presenting a friendlier, more sociable face: organizing more holiday parties, standing for more pictures, and inviting more people over for (relatively) casual mingling, such as the much-publicized Super Bowl bash featuring pop-music buzz-magnets J. Lo and Marc Anthony. Last month the decision to hire a new social secretary known for his (yes, his) irreverent humor and mad entertaining skills raised hopes that perhaps the White House is at last ready to spread a little fun.
It's not the return of Camelot, exactly. But perhaps it's a start.