'Just Cause 4' DLC 'Danger Rising' Gives Rico a Hoverboard
In the new Just Cause 4 DLC "Danger Rising" the CIA-like Agency is out for revenge against Rico after he busts up their plans to wield the Project Illapa weather weapon during the course of the Just Cause 4 campaign. But the freedom fighter Rodriquez has a new weapon to help him avoid Agency assassins: a hoverboard straight out of Back to the Future Part II.
In "Danger Rising," Rico joins with his mentor and former Agency operative Tom Sheldon to dodge Agency assassins and investigate a mysterious submarine that's surfaced off the coast of the island nation of Solís. "The hunter is about to become the hunted..." the press release from publisher Square Enix describes.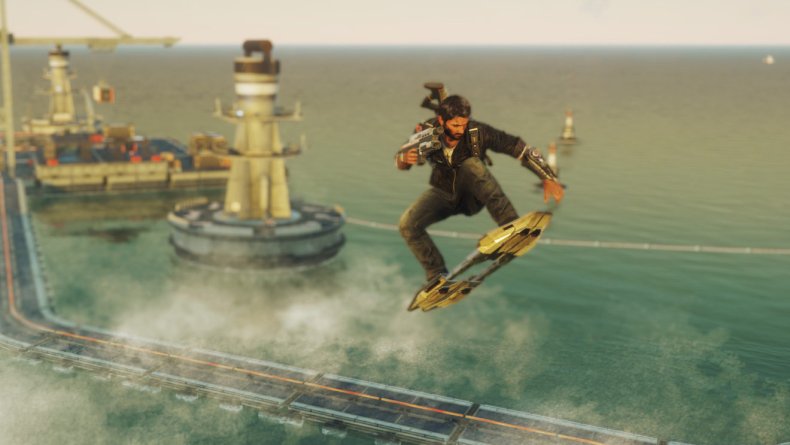 In Just Cause 4, Rico forms the Army of Chaos to overthrow Solís dictator Oscar Espinosa and his private army, the Black Hand. After destroying Espinosa's weather weapons, Rico and his friends pledge to take down the Agency.
While the new DLC adds new missions, weapons and vehicles, the real highlight is the Hoverboard, which will allow people to hover over the ocean, grind rails and "kickflip over exploding helicopters."
In "Danger Rising" the Agency adopts Rico's tactics, with enemies using grappling hooks of their own to hunt you down. The DLC includes eight new story missions. New weapons include the powerful Sequoia 370 Mag-Slug, drone-assisted Yellowstone Auto Sniper Rifle, a Cluster Bomb Launcher and the Stormalong Em Zero magnesis rifle.
With its vehicles, parachutes and grappling hooks, the Just Cause series has always offered multiple ways to traverse the giant, open world maps. The Hoverboard offers a new dynamic, splitting the difference between the vehicular and personal conveyances available to Rico.
"This is a true game changer," Victoria Setian, senior producer at developer Avalanche Studios said in the press release. "Just Cause 4 already had some of the best traversal mechanics around, but the Hoverboard ties everything together and gives players the smoothest, most dynamic movement system in any action game."
August will also see the release of a substantial update to Just Cause 4, which will extend the night-time part of the day/night cycle and allow players to change the time of day by sitting down in new Avalanche Studios deck chairs scattered around the game map.
"Danger Rising" is the last DLC installment for players who have purchased Just Cause 4's "Dare Devils, Demons and Danger" Expansion Pass, which is available for $29.99 and includes two previous DLC expansions to the game.
The "Danger Rising" DLC will be released for PlayStation 4, Xbox One and PC on August 29.