Former First Lady Michelle Obama speaking at an event in Washington DC conceded it is difficult sticking to her "when they go low, we go high" motto.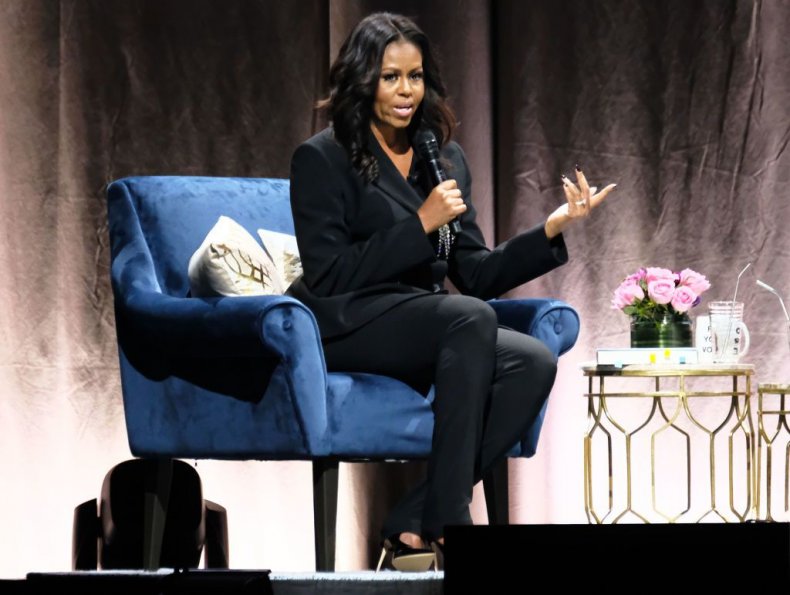 Obama was speaking to former White House adviser Valerie Jarrett at the event in Washington, D.C. to promote her memoir, Becoming.
The former first lady famously used the expression at the 2016 Democratic National Convention, during the bitterly fought 2016 presidential election between Hillary Clinton and Donald Trump.
She was asked by Jarrett why she believed it was so important to take the high road.
"Oftentimes, going low means you're acting from a place of ego. You're really just satisfying your immediate need to lash out. And rarely does that connect to a solution," said Obama, in remarks reported by The Hill.
"That motto is his motto," Obama said of her husband, and said there were many times she wanted her husband to take a tougher response to critics.
"I say that because that's how Barack operates," Obama continued. "I mean there's so many times when I just want him — like I know all of you — to just curse them out," Obama said.
"Just say these things," Obama says she would want to tell her husband.
"And he's like, 'Well, that's not the point,'" she said.
"The president isn't the president for his own ego. The president is the president for the entire country," Obama told the crowd.
In her book Obama has been strongly critical of President Donald Trump, who frequently baits and insults opponents and critics on Twitter.
She describes how she feared Trump's promotion of the "birther" conspiracy—alleging her husband was not born in the U.S. and was ineligible to be president—endangered her children, Malia, 20, and Sasha, 17.
She described Trump in the book as a "a bully" who has been "challenging the dignity of our country with practically his every utterance."
Trump has been uncharacteristically restrained in response, instead criticizing her husband's military policies when asked about Michelle Obama's remarks.