Just as Democrats Need Texas, It Seems Democrats Have Overlooked Texas For This Week's Convention
In a sea of red and blue states tussling for territory in the upcoming presidential election, Texas looms as a giant purple battleground state smack dab in the middle of everything. Though the Lone Star State has been a Republican stronghold for several decades, Democrats believe they can steal away Texas in 2020.
Winning Texas would probably guarantee the Democrats a presidential win in 2020. But how Texas and the top faces of its Democratic Party fared for this week's Democratic National Convention, the Lone Star State looks like a long-forgotten state.
First, there was the convention's location. Houston was one of three finalists to hold the convention, along with Miami and Milwaukee. The Democrat Party last year chose Milwaukee to host the 2020 convention, which begins on Monday.
The only time the state of Texas has ever held the Democratic National Convention was in 1928, when they nominated Al Smith, at Sam Houston Hall in Houston. Republicans have only held their conventions twice in Texas: Dallas in 1984 to nominate Ronald Reagan to a second term, and Houston in 1992 to nominate George H.W. Bush for a second term.
Secondly for Texas Democrats in 2020, none of its prominent names—or heavy hitters—are among the listed speakers for this week's convention. This includes the snubbing of former Democratic presidential candidates Beto O'Rourke and Julián Castro.
O'Rourke finished 2.6 points behind Republican Ted Cruz for one of the state's U.S. Senate seats in the 2018 midterm election. O'Rourke, who is a former U.S. Representative, garnered national attention for his grassroots campaign that swept the state and captivated Democrats around the country.
Castro is the former mayor of San Antonio who delivered a keynote speech at the 2012 Democrat convention for Barack Obama. Castro later landed a spot as housing secretary in Obama's cabinet in 2014.
With no major voice or representation, it begs the question of Texas' relevance in the upcoming election.
"Does the DNC [Democratic National Committee] and the national Democratic Party get how important Texas is? The short answer is no," O'Rourke told a Dallas Morning News production called Lone Star Politics.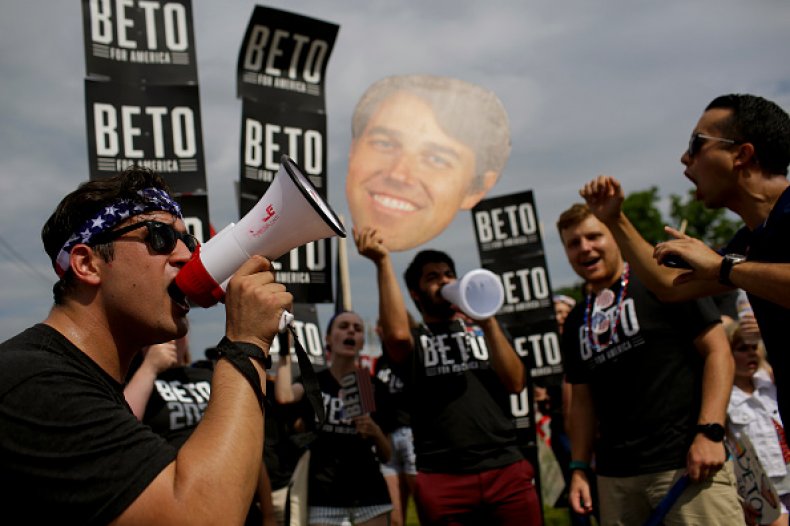 Texas has two lawmakers who will make appearances in the virtual convention: U.S. Rep. Colin Allred and two-term state Rep. Victoria Neave. The two Dallas-area lawmakers upset GOP incumbents in the process. Both are seen as rising stars in Texas Democratic circles.
Texas Democratic Party chairman Gilbert Hinojosa said it was "a step in the right direction. ... Still, there are several more speaking slots that should have been awarded to our remarkable list of Texas leaders."
Democrats have not won Texas since Jimmy Carter defeated Gerald Ford in the 1976 election, and Donald Trump's nine-point win over Hillary Clinton in 2016 was the closest presidential race in the state in 40 years.
Trump and presumed Democratic presidential nominee Joe Biden are close in most Texas polls right now.