A woman sought input from others in a now-viral TikTok video that earned more than 600,000 views. She explained her frustration with her husband's slow approach to housework, as well as with his expectation to receive gratitude for completing the task.
In TikTok user @bonniedoes' video, she said she's told him numerous times over the years how to do the laundry but he inevitably manages to "bungle it."
Although he claimed he is unable to do the laundry, @bonniedoes said he is capable of getting it done, noting that he is an engineer. TikToker @bonniedoes said their marriage counselor suggested putting a whiteboard in the laundry room with written instructions on how to do the laundry.
"I think it's a great idea," she said. "Do you want to know why I think it's a great idea? Because I suggested it years ago, and then I kept re-suggesting it as time went on."
The TikToker said she didn't purchase the whiteboard herself when she first suggested getting one. Instead, she hoped that her husband would "take some initiative" and buy it on his own.
He did not buy the whiteboard until their counselor suggested it, and @bonniedoes had to tell him the instructions that went on the board.
She asked if she had a right to be angry that it took him this long to follow through with the suggestion, and it was only because someone else suggested it.
"He wants praise and he wants some kind of huge show of gratitude because he did the bare f**king minimum and took a step to learn how to do something and how to do something in our household," @bonniedoes said.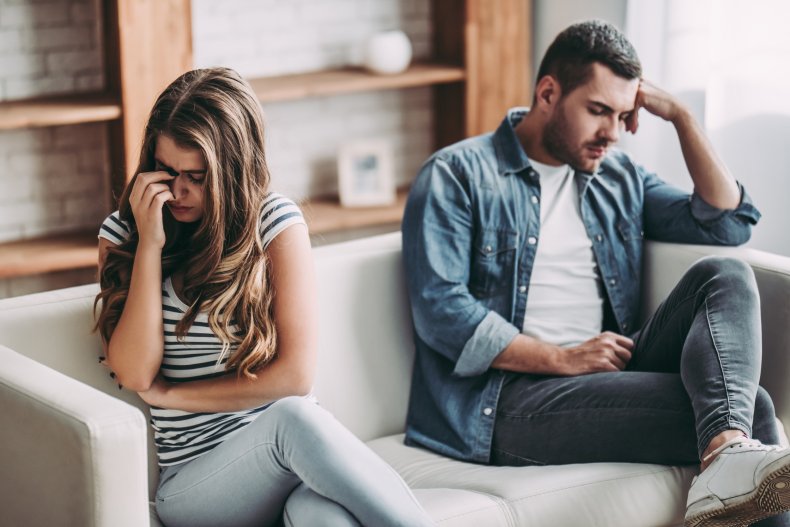 Many people suggested that what her husband is doing is what is known as "weaponized incompetence."
Psychotherapist Emily Mendez, M.S. EdS, told Bustle that weaponized incompetence refers to someone who pretends they do not know how to do something when they do know how to do it.
"In a relationship, it could be one person saying something like, 'I don't know how to do that. So, I'll let you take care of it.' This can be seen as a manipulation tactic," Mendez said.
Commenter Natalie Kerns asked @bonniedoes why the couple's marriage counselor did not say anything.
"Even you having to give him instructions & list out these things is ridiculous," the commenter wrote.
The Tiktoker noted in a future video she is not fully happy with their counselor.
Another commenter, user6067380431969, pointed out that it took someone else to validate the idea to hang a whiteboard before he agreed to it.
"This is him actively choosing *not* to listen to you, but will listen to others," they wrote.
Some even suggested ending the marriage.
"Just leave him," Lucia wrote. "My ex did this our entire relationship. Then I left and he suddenly knew how to clean up after himself. For a new [woman]."
"Leave him," sadpits commented. "His brain is fully developed at 33, he ain't changing. He's looking for a mommy not a partner."
In the comments section, @bonniedoes acknowledged the high number of views her video received
"Also I'm aware this now [has] half a mil views and someone we know may see it. GOOD. Maybe he'll change his behavior then," she wrote.
The TikToker filmed and posted a subsequent video responding to a viewer's comment about her husband making an effort now that she is fed up with his previous behavior.
"Now all of a sudden he's trying to hurry up and scrape things together and make it seem like he hasn't been doing what he's been doing for the last decade," she said.
The TikToker said she now has to decide whether she wants to wait to see if the change is long-term while wondering why he did not change earlier when she asked.
"It's the heartbreak of suddenly seeing your spouse was capable all along and able, but they just chose not to for all those years," Chelsea Lewis commented.
Newsweek reached out to @bonniedoes for comment.