'Just Mercy' Is Also a Cry for the Guilty | Opinion
Just Mercy was released on Friday in theaters across the country, catapulting the work and life of heroic civil rights lawyer Bryan Stevenson onto the big screen and into the mainstream American consciousness. Stevenson is best known for founding the Equal Justice Initiative in Montgomery, Alabama—now home to the National Memorial for Peace and Justice and the Legacy Museum—and his tireless work representing those sentenced to death over the past few decades, primarily in the Deep South.
The film (spoilers ahead) is based on Stevenson's best-selling memoir and centers on the story of his real-life client Walter "Johnny D." McMillian, who spent six years on Alabama's death row for a murder he did not commit. McMillian is a captivating subject, and his plight highlights so much of what is wrong, and deeply racist, about our legal system—a black man, accused of killing a white woman, is sentenced to be electrocuted by the state despite an airtight alibi.
But as the director of a youth sentencing reform organization, I most identified with the subplot about a man named Herbert Richardson. Like McMillian, Richardson was on death row in Alabama, convicted of murder, and was a client of Stevenson's. Like McMillian, he was black and poor.
Richardson was also a Vietnam War veteran and experienced extreme trauma during his time serving. In Just Mercy, he's portrayed in his cell awaiting his execution, suffering from post-traumatic stress disorder. Like so many veterans, Richardson was never offered the medical and emotional support he so desperately needed upon returning home. And once he was accused of a crime, none of that seemed to matter anymore.
Unlike McMillian, Richardson was not innocent. Intending to scare an ex-girlfriend, he left a pipe bomb on her porch, and a child picked it up and was killed. Richardson's life was tragic from the start, but that does not make the unimaginable pain and horror he wrought any less so. And yet, that doesn't change the unmistakable pangs of injustice the viewer experiences as he takes his final breaths before being executed. The audience understands that he was doomed from the start. That we, as a society, failed him.
Richardson makes me think of the children for whom we advocate at the Campaign for the Fair Sentencing of Youth, and to whom Stevenson has devoted much of his work in recent years. Like Richardson, most of them committed harm that resulted in death and acute pain for survivors. Most of them are black and brown and come from impoverished communities. Most of them were exposed to violence, resulting in trauma that went untreated and was disregarded altogether when they caused harm. Many of them did not have appropriate legal representation, let alone a lawyer like Stevenson. And all of them were given the most extreme punishment available to them.
In Richardson's case, that was the death penalty, and in the case of the population we serve, it was life in prison without parole, a sentence our country alone in the world imposes on children.
To be clear: These crimes cannot be excused, and the outcomes of these crimes are no less tragic simply because they were committed by people who endured trauma themselves. A full examination of the factors that led to these crimes—and our failure as a society to intervene before they happened—however, must be considered when determining how to hold these individuals accountable. And in the case of children, the unique characteristics of youth must always be a factor.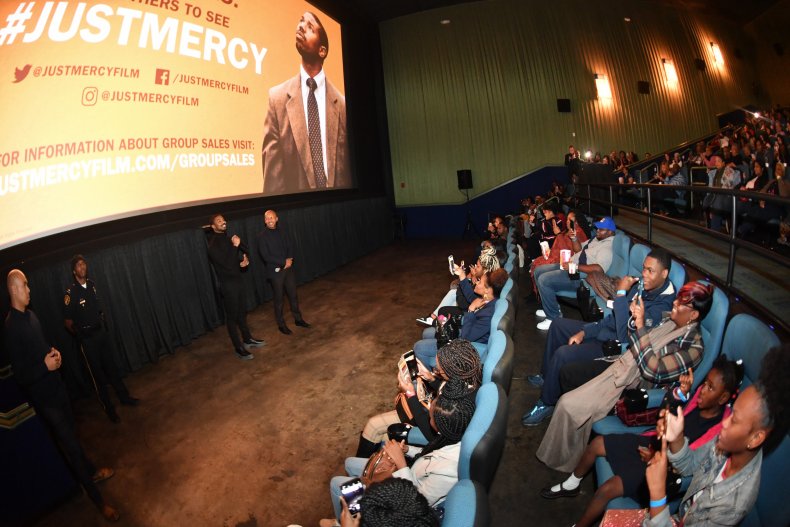 Thankfully, the U.S. Supreme Court has stepped in three times in the past decade—twice in cases in which Stevenson was the attorney—to limit the imposition of life without parole on children. In doing so, the court requires us to look closely at the life of the children who commit a serious crime—everything those children endured before they caused harm, as well as their innate capacity for change.
In essence, these decisions also demand that we see the humanity of children those who commit harm and consider it when we hold them accountable. If we do this, it's clear that the imposition of life without parole on children is disproportionately harsh. Similarly, in highlighting Richardson's humanity in the film and the gross failure of society to provide the interventions he needed, it becomes clear that his death sentence was also disproportionately harsh. He sums it perfectly in telling Stevenson hours before his execution that people have asked him more times that day if he needs anything than they ever have before in his life.
Some of the people, like McMillian, who have been egregiously wronged by our justice system are innocent, but it is important to remember that most are not. Stevenson often says that people are more than their worst acts. It is my hope that people who watch Just Mercy will internalize this and leave with a newfound understanding of the ways in which our criminal legal system is overly harsh and punitive, particularly for the most vulnerable and disenfranchised among us. Only once we recognize the humanity of the children we serve and individuals like Richardson—and the ways in which our society has failed them—can Stevenson's bold vision for justice and mercy be realized.
Jody Kent Lavy is executive director of the Campaign for the Fair Sentencing of Youth, a Washington-based national nonprofit that leads efforts to ban life without parole and other extreme sentences for children, and supports those incarcerated as children who are released after serving long sentences.
The views expressed in this article are the author's own.​​​​​​
'Just Mercy' Is Also a Cry for the Guilty | Opinion | Opinion