The T.L. Roach Unit in Childress, Texas, is the only prison in the state without any cases of coronavirus—and it's all thanks to the warden.
"This warden has gone above and beyond to make sure that everything is being done right," Ricardo Gutierrez, an inmate at the Roach Unit, said.
Gutierrez told The Texas Tribune that the facility has followed "everything that the government has mandated: social distancing, the masks, sanitizing everything."
He said that when an inmate is suspected of having an infection, he is immediately removed and tested, while the other male prisoners who share a wing with the sick inmate are put under quarantine until test results came back. Nurses reportedly check on the other inmates regularly for symptoms of COVID-19.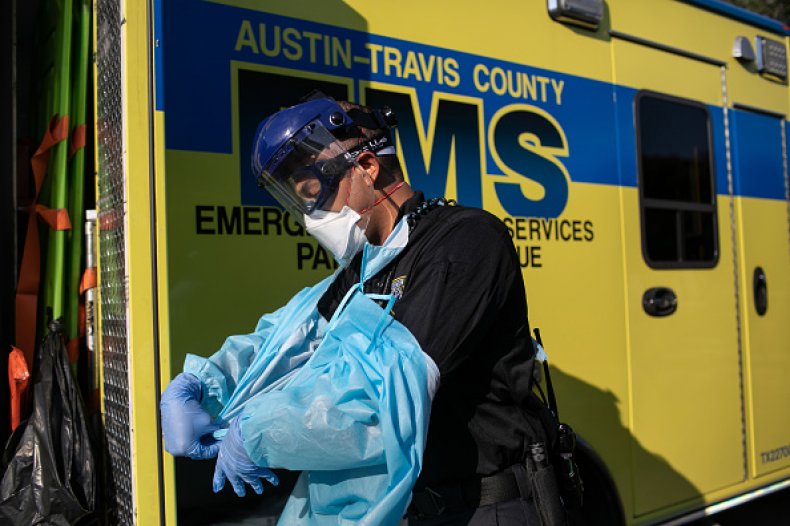 A prison spokesperson confirmed to the Tribune that none of the more than 17,700 inmates and nearly 3,700 facility employees who have tested positive for the virus in Texas were at the Roach Unit.
Texas prisons have been the scene of the nation's largest prison outbreaks. The Federal Correctional Institution in Seagoville is the federal prison with the highest number of positive-testing coronavirus inmates, according to data from the Federal Bureau of Prisons.
"We've been lucky so far that here in the community of Childress there hasn't been a big number of coronavirus cases," Gutierrez said. "I think that helps out a lot to not get the staff infected."
Despite Texas' spike in infections, Childress County has had relatively low coronavirus figures throughout the pandemic. Of the county's roughly 7,000 residents, only 37 have tested positive as of Thursday, August 6, according to data from the state's health department.
Jeremy Desel, a spokesperson for the Texas Department of Criminal Justice (TDCJ), told the Tribune that the county's location in the Texas Panhandle has helped isolate the Roach Unit from the virus's spread. But because the inmates make soap and package hand sanitizer, there is still "significant traffic" at the facility, he added.
The TDCJ has refused to allow the state's prisoners from accessing hand sanitizer throughout the pandemic. During a federal lawsuit investigating the TDCJ's care for vulnerable populations in the state's prison system, prison attorneys argued that inmates might ingest the hand sanitizer or use it to set a fire in the facilities.
Although prisoners are not allowed to use the hand sanitizer, Gutierrez said they have been receiving more soap and surface cleaner since the pandemic began.
He added that additional cleaning supplies have been made available in the prison's dining hall and that prisoners have been limited to smaller groups when participating in recreational activities.
Newsweek reached out to the TDCJ's Desel for comment but did not hear back before publication.