Just Over Half Of Americans Say They Consistently Wear Masks Amid Pandemic: Poll
Only a little over half of Americans say they consistently wear a mask when outside their home amid the novel coronavirus pandemic, new polling has shown.
The polling by Axios and Ipsos showed that by the end of June, 53 percent of respondents said they were always wearing a mask. There was also a stark partisan divide, with just 34 percent of Republicans saying they wore a mask at all times compared with twice as many Democrats—or 68 percent. Independents were evenly split at 50 percent.
Only 36 percent of Republicans said they were concerned about COVID-19, the disease caused by the novel coronavirus, which appears to align with the demographic's lack of mask-wearing. Meanwhile, 77 percent of Democrats said they were concerned while 55 percent of independents said the same.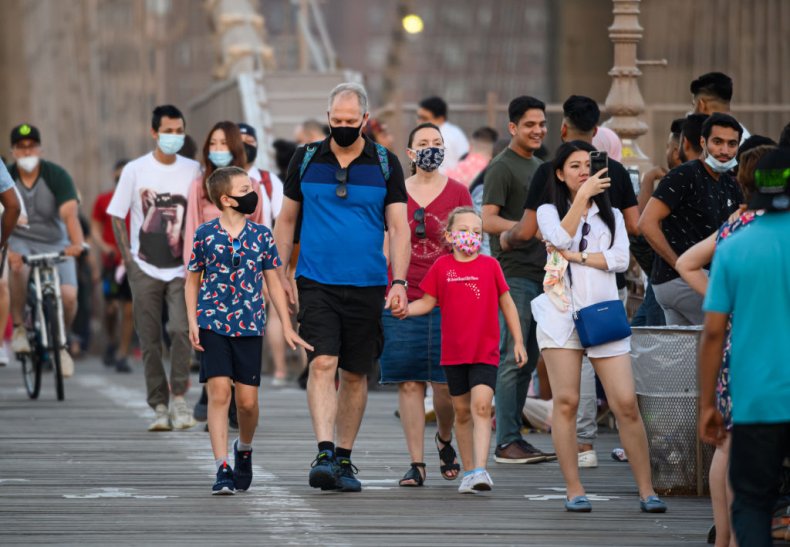 Notably, the number of concerned Republicans has declined significantly since April, when 49 percent were worried. Among independents, the decline has been more subtle, dropping just 5 points from 60 percent. Concern among Democrats has increased 5 points, up from 72 percent in April.
"We know that America has failed to contain the coronavirus pandemic, and we can't get past partisanship," pollster Chris Jackson, senior vice president for Ipsos Public Affairs, told Axios.
In early April, the Centers for Disease Control and Prevention (CDC) issued new guidance that encouraged Americans to wear face coverings in public to curb the spread of the novel coronavirus. "Cloth face coverings fashioned from household items or made at home from common materials at low cost can be used as an additional, voluntary public health measure," the CDC guidance said.
Additional guidance issued by the CDC at the end of June said: "Your cloth face covering may protect them. Their cloth face covering may protect you."
Jason McDonald, a member of the CDC's media team told Newsweek in an email that the agency "recommends that people wear cloth face coverings in public settings and when around people who don't live in your household, especially when other social distancing measures are difficult to maintain."
"Cloth face coverings may help prevent people who have COVID-19 from spreading the virus to others and are most likely to reduce spread when widely used by people in public settings," McDonald said. "Cloth face coverings should not be worn by children under the age of two or anyone who has trouble breathing, is unconscious, incapacitated, or otherwise unable to remove the mask without assistance."
In recent weeks, public health experts and many lawmakers have increasingly encouraged Americans to wear masks in public as the U.S. has seen its highest single-day increases in new infections. While President Donald Trump has often appeared dismissive of masks, his administration has repeatedly urged the public to wear a face-covering in public and to practice social distancing.
The reasons why people choose not to wear a mask aren't clear. Misinformation has spread online about masks, with conspiracy theorists claiming that the face coverings could lead to serious health risks. Health experts have attempted to debunk these claims, noting that many professions have long required workers to wear masks consistently without any risks. Some conservatives have also argued that wearing a mask violates their individual freedom. Public health experts have pushed back on this as well, comparing face coverings to requiring seat belts or barring smoking in public places.
Meanwhile, the U.S. continues to be the country in the world with the highest number of novel coronavirus infections and deaths. As of Tuesday morning, the U.S. had recorded more than 2.9 million confirmed cases and over 130,000 deaths, according to a tracker updated by The New York Times. The country has consistently reported well over 40,000 new cases per day since June 30, with a new high of more than 56,000 reported last Friday.
This article has been updated with comment from the CDC.