Just a Quarter of Voters Say Biden Should Make Canceling Student Loan Debt a Top Priority in First 100 Days: Poll
President-elect Joe Biden recently affirmed his support for canceling some student debt immediately, but only about a quarter of registered voters say it should be a top priority within his administration's first 100 days.
Just 26 percent of registered voters said Biden should prioritize canceling some student debt for all Americans, according to a new poll released Wednesday.
Most voters said top priorities for the incoming administration should be controlling the spread of coronavirus, coming up with a plan to distribute vaccines, passing economic relief legislation and stimulating the economy.
The Morning Consult/Politico poll was conducted from November 13 to 16 and surveyed 1,992 registered voters. The survey has a margin of error of plus or minus 2 percentage points.
Under Biden's plan for the student debt crisis, as outlined on his campaign website, individuals making $25,000 or less annually will not owe any payments on their undergraduate federal student loans. Everyone else would pay 5 percent of discretionary income (defined as income minus taxes and essential spending like housing and food) toward the loans. After 20 years, the remainder of the debt for those who have "responsibly made payments through the program" will be completely forgiven.
Biden's proposal also includes forgiving debt for public servants. The program would offer $10,000 of undergraduate or graduate student loan relief for every year of national or community service. A person would also qualify for forgiveness for five years of prior service.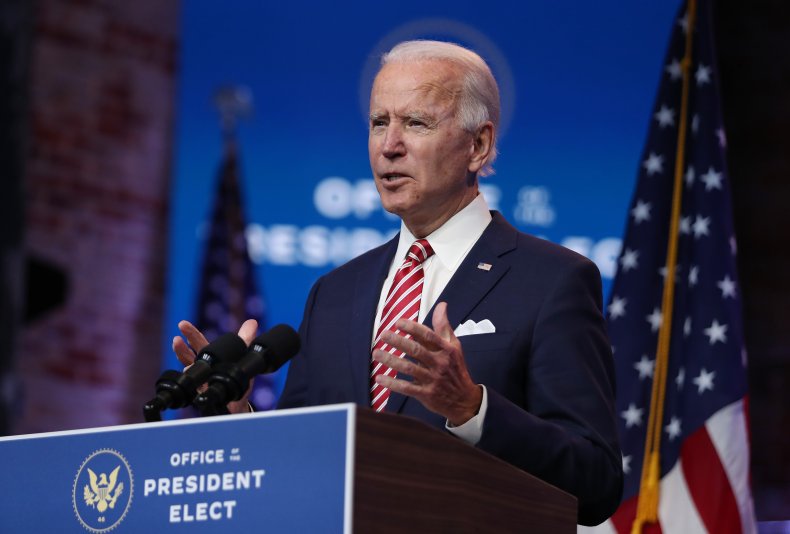 The president-elect told reporters on Monday that student loan relief was one element of his economic recovery plan.
"It's holding people up," Biden said about student debt. "They're in real trouble. They're having to make choices between paying their student loans and paying their rent, those kinds of decisions. It should be done immediately."
But he didn't elaborate on how much debt he'd support eliminating or how he would implement reform.
Some lawmakers, including Senate Minority Leader Chuck Schumer and Senator Elizabeth Warren (D-Mass.), have urged Biden to cancel student loan debt through executive action.
"I have a proposal with Elizabeth Warren that the first $50,000 of debt be vanquished, and we believe Joe Biden can do that with the pen as opposed to legislation," Schumer, a New York Democrat, said in a pre-election interview.
Warren, whose name has been floated as a candidate for treasury secretary, said that eliminating student loan debt would be the "single most effective action" the Biden-Harris administration could take on "day one" to provide an economic stimulus.
But a Biden official told Fox News on Tuesday that the president-elect was calling on Congress to take "immediate" action to forgive $10,000 of student loan debt.