President Joe Biden's new infrastructure and jobs plan has received criticism from some opponents since he unveiled the proposal earlier this week, partly because of the amount it would spend on improving roads and bridges.
According to a White House fact sheet breaking down the American Jobs Plan's areas of focus, the Biden administration proposes spending $115 billion to "modernize" bridges and roads that are "in most critical need of repair."
The fact sheet says that at least 173,000 miles along major U.S. highways and other heavily trafficked roads, as well as about 45,000 bridges, need repair. Under Biden's plan, the money set aside for roads and bridges will help repair an estimated 20,000 miles of roadways and 10,000 small bridges. The money will also help repair some of the country's larger bridges that are "most economically significant," the fact sheet says.
An additional $20 billion would go toward improving road safety through existing programs and a new Safe Streets for All initiative, which the fact sheet says will "fund state and local 'vision zero' plans and other improvements to reduce crashes and fatalities, especially for cyclists and pedestrians."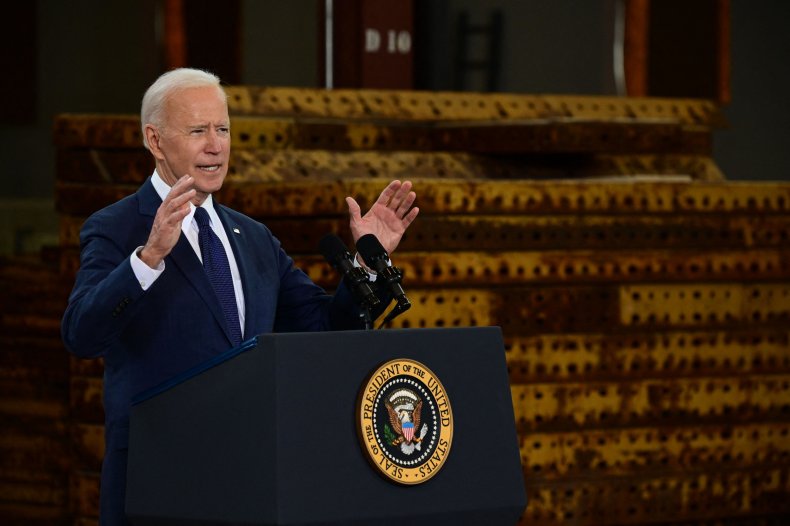 The $115 billion set aside for improving roads and bridges is just under 6 percent of the plan's $2 trillion total in spending and just under 7 percent when the additional $20 billion for investing in road safety programs is factored in. The $115 billion set aside for updating roads and bridges is about 18.5 percent of the $621 billion the plan devotes to transportation infrastructure.
That comparatively low percentage has received pushback from some Republicans, who have suggested that calling the American Jobs Plan an infrastructure bill allows it to work as a "Trojan horse" in Democrats' pursuit of progressive legislation.
"There would be bipartisan support for a serious, targeted infrastructure plan," Senate Minority Leader Mitch McConnell tweeted Wednesday. "Unfortunately, less than 6% of this massive White House proposal would go to roads and bridges. It would spend more on electric cars than on roads, bridges, ports, airports, and waterways combined."
An administration official pushed back against the criticisms on Friday, calling them "simply false" and pointing out that additional money is set aside in the bill for expanding and improving other areas of transportation.
"The president's Jobs Plan calls for over $600 billion for transportation and resilience investments alone," the administration official, who asked not to be identified, told Newsweek.
According to the White House's fact sheet, the bill also proposes spending $85 billion to improve existing public transit, $174 billion on electric vehicles, $25 billion to improve airports and an additional $17 billion to update waterways and ports that the fact sheet says are "essential to our nation's freight."
The administration official referenced a recent study published by Georgetown University's Center on Education and the Workforce, which estimated that three-quarters of the money the American Jobs Plan proposes spending over the next eight years will go toward infrastructure projects. The study refers to the legislation as "good medicine" that Georgetown economists said could help the U.S. recover from the coronavirus pandemic. The study estimated the proposed legislation would create 15 million jobs over the next decade.
"This plan makes once-in-a-century investments that will strengthen our economy and allow us to compete with countries like China," the administration official said. "It's more than just roads and bridges. It's investments in manufacturing and R&D, it's bringing supply chains back to American shores, and countless other measures that will create good-paying jobs and make our economy more resilient."