Justice for Ahmaud Arbery Petition Surpasses 900,000 Signatures After Autopsy Report Shows Black Jogger Shot Twice in Chest
One of several online petitions seeking justice for Ahmaud Arbery has acquired nearly 1 million signatures as the late Georgia resident's February murder draws global attention and outrage.
Arbery, an unarmed 25-year-old black man, was shot and killed on February 23 while out for a jog in Brunswick, Georgia. Two white men, Gregory McMichael and Travis McMichael, have been arrested and charged with murder and aggravated assault of Arbery after a video of the shooting went viral last week.
Both men initially told law enforcement they attacked Arbery because he looked like someone involved in burglaries said to have been reported nearby, according to a police report obtained by the New York Times.
An autopsy report released by the Georgia Bureau of Investigation (GBI) earlier this week and obtained by Newsweek on Tuesday confirmed Arbery's cause of death was due to multiple gunshot wounds "sustained during a struggle for the shotgun," which can be partially seen on the video. The autopsy, conducted on February 24, recorded two "close range" shotgun wounds to Arbery's chest and a third "graze wound" to his right wrist, in addition to numerous abrasions incurred during the altercation. It classified his death as a homicide.
Since its creation on April 28, a Change.org petition has surpassed 908,000 signatures of its 1 million goal as of Wednesday morning. It is one of many online petitions that have surfaced recently in response to the February shooting, as well as the delayed prosecution that followed.
"McMichael's questionable account of events and the police department's poor communication efforts following Arbery's death leads us to believe that Arbery was a victim of racial profiling," the petition's description reads. "No one has the right to pursue, attack and kill an unarmed, non-threatening individual. Ahmaud's voice will be heard."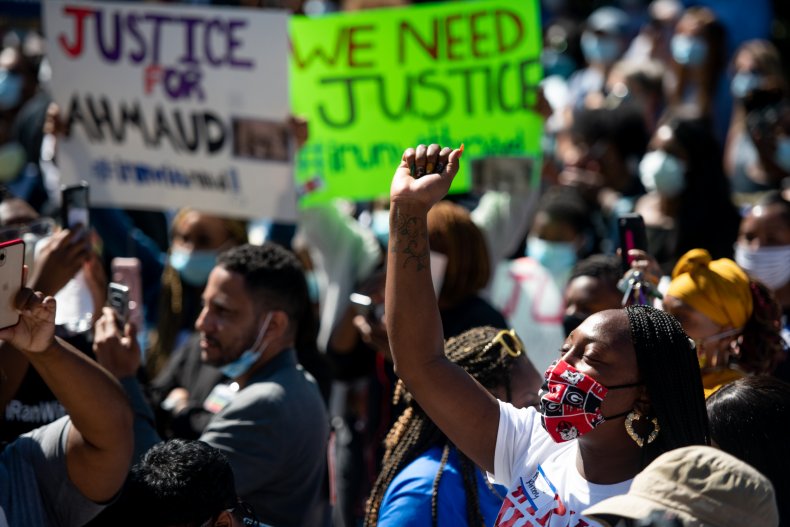 Government officials and members of the public alike have spoken out in pursuit of justice for Arbery since his case gained widespread publicity following the release of lthe video. On Monday, Georgia Attorney General Chris Carr assigned a new prosecutor, Cobb District Attorney Joyette Holmes, to lead the case after recusals from two previous District Attorneys came under scrutiny.
At Carr's request, the GBI announced it will launch a criminal investigation into "possible prosecutorial misconduct" by those two district attorney offices previously assigned to the case. The U.S. Department of Justice has also opened an investigation to determine if the case warrants federal hate crime charges following Carr's request for the federal agency's involvement. The DOJ is also considering investigating the handling of the case by the district attorneys, but has not formally announced that one has begun.