Court Denies DOJ Request to Immediately Reinstate Travel Ban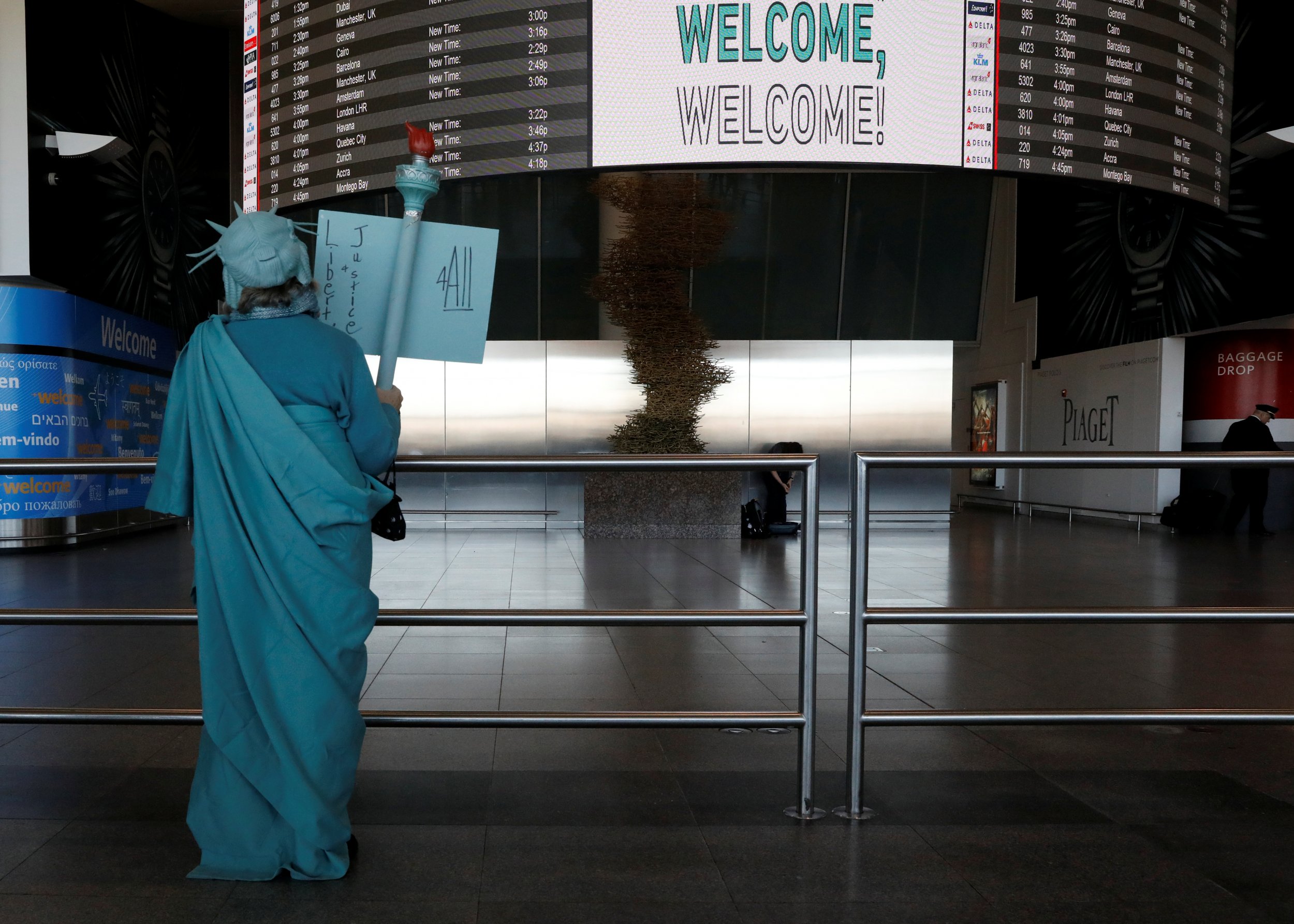 Updated | A U.S. appeal court late on Saturday denied an emergency appeal from the U.S. Department of Justice to restore a immigration order from President Donald Trump that temporarily bars citizens from seven mainly Muslim countries and suspends refugees.
"Appellants' request for an immediate administrative stay pending full consideration of the emergency motion for a stay pending appeal is denied," the ruling by the U.S. Court of Appeals for the Ninth Circuit said.
It was awaiting further submissions from Washington and Minnesota states on Sunday, and from the government on Monday. Meanwhile the judge's order and the appeal ruling have created what may be a short-lived opportunity for travellers from the seven affected countries to get into the United States while the legal uncertainty continues.
"This is the first time I try to travel to America. We were booked to travel next week but decided to bring it forward after we heard," said a Yemeni woman, recently married to a U.S. citizen, who boarded a plane from Cairo to Turkey on Sunday to connect with a U.S.-bound flight. She declined to be named for fear it could complicate her entry to the United States.
RELATED: DHS suspends immigration ban, Trump blasts judge
The government had been seeking to overturn Judge James Robart's ruling that blocks the application of Trump's executive order, which stopped immigration from seven Muslim-majority nations for 90 days, halted the refugee program for 120 days and suspended all refugee admissions from Syria. Trump had assailed both the ruling and the "so-called judge" who issued it in a series of tweets on Saturday and told reporters: "We'll win. For the safety of the country, we'll win."
Saturday's Appeals Court ruling capped a week of confusion and multiple court challenges to the order, which went into effect last weekend with no advance notice to several affected agencies, travelers and the general public. Government agencies confirmed Saturday that they were complying with Robart's order, as the Department of Homeland Security suspended all aspects of Trump's directive and the State Department publicly announced that valid visa-holders from the affected countries would be let into the United States.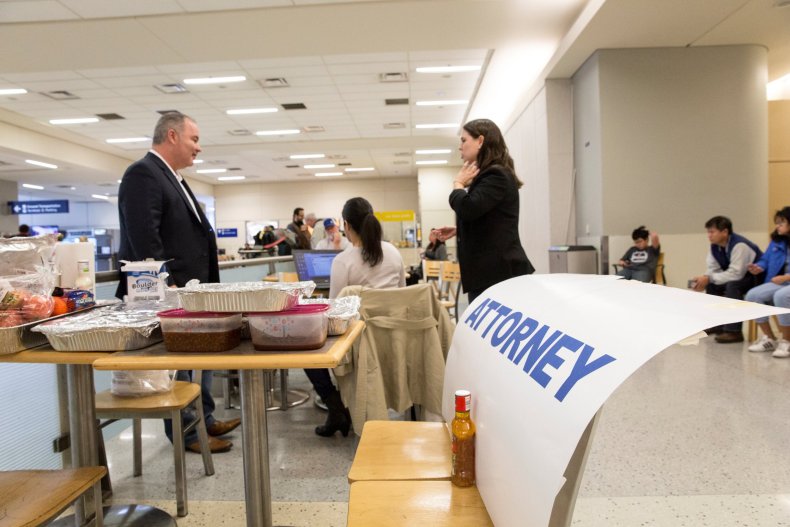 Trump had lashed out at the federal court ruling, tweeting, "When a country is no longer able to say who can, and who cannot, come in & out, especially for reasons of safety &.security - big trouble!" He also targeted Robart himself, tweeting that, "The opinion of this so-called judge, which essentially takes law-enforcement away from our country, is ridiculous and will be overturned!"
Robart had ruled that the executive order harms the Minnesota and Washington's "residents in areas of employment, education, business, family relations and freedom to travel...These harms are significant and ongoing." He wrote that the states "have met their burden of demonstrating that they face immediate and irreparable injury as a result of the signing and implementation of the Executive Order," and rejected the government's arguments that the order was necessary for national security.
His decision prompted uncertainty from travelers from the affected countries, with worries about how long the travel ban would remain unenforced. Josephine Abu Assaleh, 60, who was stopped from entering the United States after landing in Philadelphia last week with five members of her family, told Reuters from Damascus that, "I will not say if I have hope or not. I wait, watch and then I build my hopes. We left the matter with the lawyers. When they tell us the decision has been canceled, we will decide whether to go back or not."
Trump resumed his criticism of Robart's ruling later Saturday, tweeting, "What is our country coming to when a judge can halt a Homeland Security travel ban and anyone, even with bad intentions, can come into U.S.?...The judge opens up our country to potential terrorists and others that do not have our best interests at heart. Bad people are very happy!"
Jonathan Turley, a law professor at George Washington University, said Trump's criticism could undermine the credibility of Justice attorneys as they fight the ruling.
"It's hard for the president to demand that courts respect his inherent authority when he is disrespecting the inherent authority of the judiciary. That certainly tends to poison the well for litigation," Turley said.
INFLUX EXPECTED
The U.S. State Department and Department of Homeland Security said they were complying with Robart's order and many visitors are expected to start arriving on Sunday, while the government said it expects to begin admitting refugees again on Monday.
Iraqi Fuad Sharef, his wife and three children spent two years obtaining U.S. visas. They had packed up to move to America last week, but were turned back to Iraq after a failed attempt to board a U.S.-bound flight from Cairo.
On Sunday, the family checked in for a Turkish Airlines flight to New York from Istanbul.
"Yeah, we are very excited. We are very happy," Sharef told Reuters TV. "Finally, we have been cleared. We are allowed to enter the United States."
Rana Shamasha, 32, an Iraqi refugee in Lebanon, was due to travel to the United States with her two sisters and mother on Feb. 1 to join relatives in Detroit until their trip was cancelled as a result of the travel ban.
She is now waiting to hear from U.N. officials overseeing their case. "If they tell me there is a plane tomorrow morning, I will go. If they tell me there is one in an hour, I will go," she told Reuters by telephone in Beirut, saying their bags were still packed. "I no longer have a house here, work, or anything," she said.
An official at Beirut airport said three Syrian families had left for the United States via Europe on Sunday morning.
Airline sources in Cairo said that 33 people from the seven affected countries had been allowed to board U.S.-bound flights since Saturday.
Iraq expressed its satisfaction on Sunday with the appeals court ruling.
"It is a move in the right direction to solve the problems that it caused," a government spokesman, Saad al-Hadithi, told Reuters.
Trump's ban put restrictions on the entry to the United State of Iraqis and citizens from six other Muslim-majority countries. Iraqis fleeing violence in their country were among those impacted.
UPDATE: This article was updated to include the result of the DOJ appeal, comments from visa holders heading to the U.S. and the Iraqi government's comment.