Justice for Breonna Taylor Petition Organizer Says 'She Deserved More Than This' After Grand Jury Verdict
Brett Hankison of the Louisville Metro Police Department in Kentucky, who was fired from the department on June 19, was indicted with three felony charges of wanton endangerment by the Jefferson County Grand Jury on Wednesday. These charges are for shooting into other peoples' apartments, and are not directly related to Taylor's killing. No one was charged for causing Taylor's death in her Louisville apartment.
Many were upset by this decision. Taylor's family's attorney, Ben Crump called it "outrageous and offensive."
Taylor's name has been part of a movement against racial injustice, decrying her wrongful death. One Change.Org petition, asking several politicians including President Donald Trump, governor Andy Beshear, and Louisville District Attorney Tom Wine.
Loralei HoJay's petition has garnered over 11 million signatures since she started, with its current goal of 12 million. HoJay told Newsweek how she felt about this news. "What I can say definitively is that what we saw today was not justice. Breonna deserved more than this. She was not a threat to any of those officers, yet she paid for their negligence with her life."
"Seeing Daniel Cameron's lack of a backbone in this case has been incredibly discouraging, but my team and I will continue to push on Mitch McConnell and other Senate republicans to pass the Justice for Breonna Act and hopefully get justice for her through legislation," she added.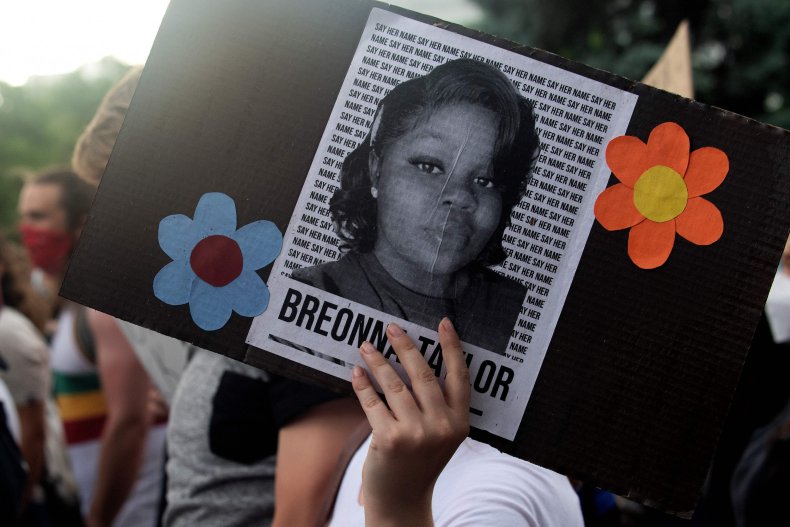 Moving forward, HoJay said that she and her team are planning to launch a crowdfunded national campaign, starting in Kentucky. The campaign will call on Mitch McConnell and other GOP members to pass the Justice for Breonna Act.
"Though we didn't get the officers that killed Breonna behind bars, we'll do everything in our power to make sure this legislation is passed, and that nobody dies the way Breonna did, ever again," HoJay concluded.
"Breonna Taylor was an award-winning EMT and model citizen. She loved her family and community, working at two hospitals as an essential worker during the pandemic," the petition that HoJay set up begins. "Over six months ago, a division of the Louisville Police Department performed an illegal, unannounced drug raid on her home. Not a single officer announced themselves before ramming down her door and firing 22 shots, shooting Breonna 6 times, killing her."
Taylor was fatally shot on March 13 by Louisville Metro Police Department officers Jonathan Mattingly, Brett Hankison, and Myles Cosgrove. The plainclothes LMPD officers entered her apartment and executing a no-knock search warrant. The officers fired over 20 shots, and five of them hit Taylor. No officers have been charged with her killing.