Justice for Breonna Taylor Petition Surpasses 100,000 Signatures After Family of Woman Shot And Killed By Police Files Lawsuit
An online petition demanding justice for Breonna Taylor has surpassed 100,000 signatures.
Taylor, who was asleep when the Louisville Metro Police Department (LMPD) entered her home just after midnight on March 13, was shot eight times by police officers and killed. The officers were executing a search warrant for another individual in a narcotics investigation.
The 26-year-old had been working as an EMT at the time.
"She loved her family and community. She worked at two hospitals as an essential worker during the pandemic," the Change.org petition reads.
Taylor's boyfriend, Kenneth Walker, was also in the apartment when LMPD forced entry into their home. The LMPD said in a statement that officers were met with gunfire to which they fired back. Neither Taylor and Walker had a criminal history and no drugs were found in their apartment.
No charges have been made in connection to her death.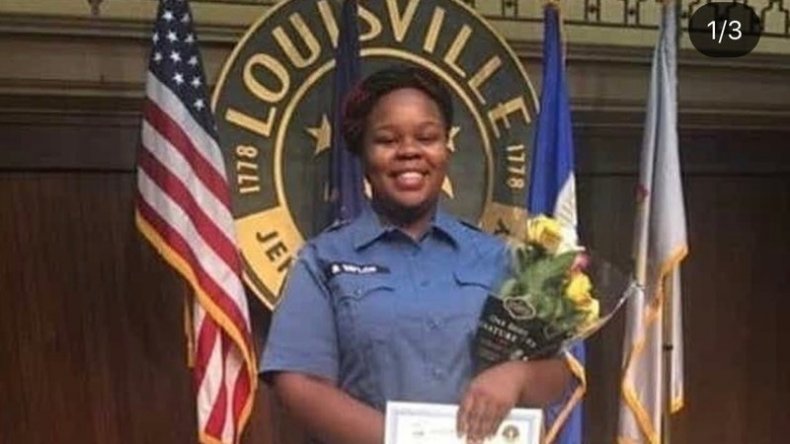 Taylor's mother, Tamika Palmer, filed a wrongful death lawsuit against three LMPD officers, Brett Hankinson, Myles Cosgrove and Jonathan Mattingly, on April 27. The lawsuit argues that the search at Taylor's apartment should have been called off because the suspect in question had already been in police custody at the time of the raid.
Palmer is being represented by attorney Ben Crump, who has represented other black victims of police brutality, including the families of Trayvon Martin and Michael Brown. He is also one of three lawyers representing the family of Ahmaud Arbery, a 25-year-old black man shot while out jogging in Georgia in February.
"You can't walk while black. With Ahmaud, you can't jog while black. Driving while black," Crump said in a news conference. "But Breonna Taylor was sleeping while black in the sanctity of her own home."
The petition demands that charges be brought against the police officers involved and that Taylor's family be paid in damages for wrongful death and negligence on part of the LMPD.
The LMPD has not responded to Newsweek's request for comment at this time.
The petition also calls on Kentucky Governor Andy Beshear to "speak up on behalf of Breonna, and appoint a special prosecutor to investigate the Louisville Police Department immediately."
Beshar said in a statement on Wednesday that, "the commonwealth's attorney, the U.S. attorney and the Kentucky attorney general should carefully review the results of the initial investigation to ensure justice is done at a time when many are concerned that justice is not blind."
Taylor's story spread across social media in recent days after activist Shaun King posted pictures of Taylor on Instagram writing a caption to accompany the photos that reiterate the same three demands as the petition.
"This has carried on for over a month," the petition reads. "For weeks, the city treated Breonna like she was a criminal, calling her a 'suspect' before finally admitting that she was an innocent, crimeless victim. She had no drugs. She committed no crime. Yet, she is dead, and the perpetrators are facing no charges."