Justice Brown Jackson's Historic Reign Will Be Marred by the Conservative Court | Opinion
Justice Ketanji Brown Jackson's entrance onto the Supreme Court of the United States is a historic event in its symbolism. Black women have been part of some of the Court's most important decisions but have never been among the decision makers.
Yet the beauty of what Justice Brown Jackson symbolizes may very soon meet a sobering reality in which Justice Brown Jackson's vote will be impotent against her reactionary colleagues, who hold a super majority. A jurist who clerked for her predecessor, Justice Stephen Breyer, and was thoroughly vetted by the Biden Administration, we can assume Justice Brown Jackson will rule with the other liberal justices, for the good of the Black community. And yet, while our nation should and will celebrate her arrival as progress and approach her with "a profound sense of pride," as the Justice has reported people have been, the next Supreme Court session could be disastrous for African Americans.
Justice Brown Jackson will hear two very important cases related to elections and voting rights that could have dire consequences for Black voters. Moore v. Hodges involves the state legislature in North Carolina, which gerrymandered its congressional map to such an extent that the evenly split swing state ended up with 10 GOP districts out of a total of 14. To reach this result, Republicans intentionally weakened Black voting power.
The North Carolina Supreme Court later struck down the map, calling it an "egregious and intentional partisan gerrymander," after which Republican legislators took the case to the Supreme Court, who will now decide the case.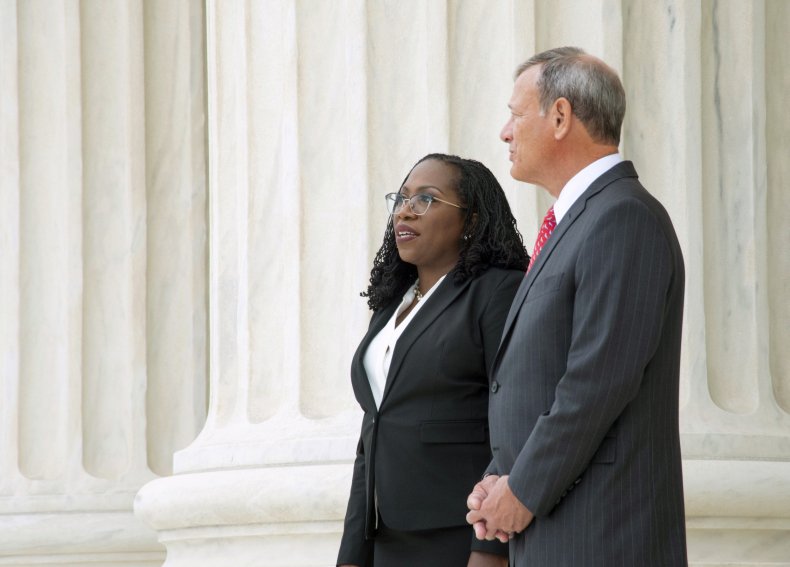 Given that the vast majority of Black Americans—including in North Carolina—identify as Democrats, this case will have a direct and sizable impact on the Black franchise. But it's not the only case like it that Justice Brown Jackson and the other justices will preside over.
Many of us learned about Dr. King, John Lewis and other Civil Rights heroes walking across the Edmund Pettus Bridge in Selma, Alabama and facing police violence and brutality to win voting rights for African Americans. Their bravery resulted in the Voting Rights Act of 1965. Unfortunately, several decades later, the fight for voting rights continues, and Alabama is again the epicenter of the battle with the case of Merrill v. Milligan.
That case concerns congressional maps, too. Alabama is 27 percent Black, but only one of its seven congressional districts gives Black voters a legitimate chance at electing a Black representative. A three judge panel, two of whose judges were selected by Donald Trump, ordered new congressional maps be drawn that would essentially double the number of Black representatives. But the Supreme Court voted 5-4 to reinstate the challenged maps for the 2022 midterms, and now the Court must decide whether to reinstate those maps permanently.
These are the cases that Justice Brown Jackson will be deciding—along with a supermajority of justices who are coming at these questions from a very different orientation. And it may turn out that her staunchest opponent as it relates to voting rights is the other Black justice on the court. Recall that Justice Clarence Thomas was the lone dissenting vote trying to keep former President Donald Trump from having to turn over documents to the January 6 Committee investigating his attempt to thwart democracy and stop the peaceful transfer of power. Needless to say, overturning the election would have disproportionately disenfranchised Black voters, who voted overwhelmingly for President Biden.
It's not just voting rights, either. The Supreme Court is once again being called upon to review the environmental standards that regulate our water ways—a topic of particular importance to Black Americans; according to the advocacy group Clean Water Action, "75 percent of Black Americans are more likely to live near polluting facilities." The Clean Water Act forbids pollution in the "waters of the United States," yet it uses vague language to determine what exactly that refers to. Another case this court will rule on, Sackett v. EPA, questions what qualifies as water of the United States, another case that impacts Black people more than other Americans. The EPA's research shows that public water systems that are perpetual violators of the Safe Drinking Water Act are 40 percent more likely to serve people of color. From Flint, Michigan to Jackson, Mississippi, Black people have disproportionally suffered from contaminated water.
And yet, once again, the cruel irony strikes: It is likely that Justice Brown Jackson will be in a minority in trying to protect the community she comes from.
Finally, the court will examine Medicaid in a case called Health and Hospital Corporation of Marion County v. Talevski. In Talevski, the defendants are asking the court to prevent Medicaid recipients from suing state officials who deny, reduce, or terminate benefits in a manner not in accordance with the law. That would leave the federal government as the only enforcers of Medicaid law. Now consider that 25 percent of Black women are covered by Medicaid, including 65 percent of births to Black mothers.
Judge Brown Jackson, a mother and a woman from humble beginnings herself, will have the daunting task of protecting the rights and health care of other black women—as a minority on a majority conservative court.
Justice Ketanji Brown Jackson is indeed making history. But she is coming into her position on the court handcuffed and shackled, and African Americans are going to bear the most severe pain of any demographic from the next Supreme Court term.
While we should take time to praise Justice Brown Jackson in this historic moment, we must also think about the midterm elections and legislative work to mitigate the damage that could come from the decisions of this court.
Dr. Jason Nichols is an award winning senior lecturer in the African American Studies Department at the University of Maryland College Park and was the longtime editor-in-chief of Words Beats & Life: The Global Journal of Hip-Hop Culture. He cohosts the "Vince and Jason Save the Nation" podcast.
The views expressed in this article are the writer's own.