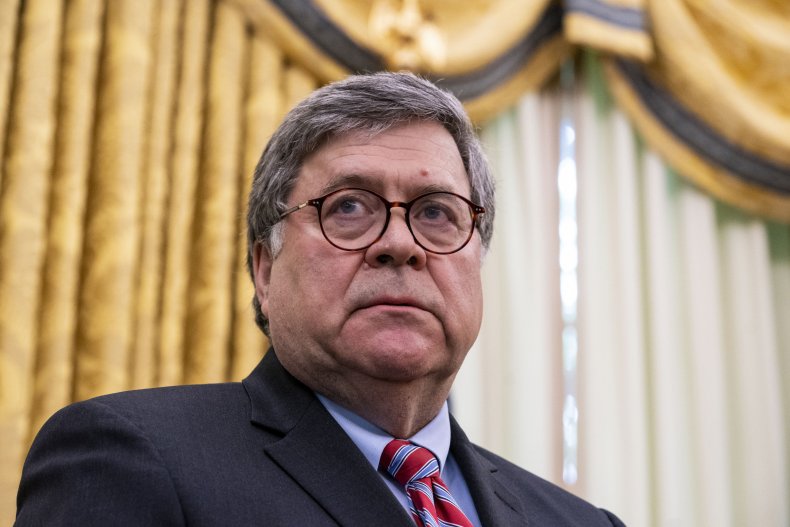 More than 50 people have been arrested by federal agents in connection with violence, riots or looting during week-long protests over the killing of Minneapolis resident George Floyd, U.S. Attorney General William Barr announced Thursday.
"While many have peacefully expressed their anger and grief, others have hijacked protests to engage in lawlessness, violent rioting, arson, looting of businesses and public property, assaults on law enforcement officers and innocent people, and even the murder of a federal agent," Barr said during a news conference announcing the arrests.
He added that "extremist agitators" were "hijacking the protests to pursue their own separate and violent agenda." Barr further claimed that antifa, a loose coalition of anti-fascist agitators, and "foreign actors" were deliberately stoking unrest.
"Senseless acts of anarchy are not exercises of First Amendment rights," he said. "They are crimes designed to terrify fellow citizens and intimidate communities."
Barr did not offer names or details of those arrested. However, information from the Department of Justice shows, for example, that a Tennessee man was among those charged by the federal government over the past week. Wesley Somers, 25, is accused of attempting to set fire to the Nashville City Hall building as a protest coalesced following Floyd's death.
A state public defender previously assigned to Somers did not return a request for comment.
Another man, Matthew Lee Rupert, was charged with rioting and possession of destructive devices. According to the Department of Justice, Rupert posted a video to his Facebook profile declaring his intention to "start a riot" in Chicago and destroy property. An attorney for Rupert did not return a request for comment.
Both Rupert and Somers are among the dozens of individuals in recent days who the Trump administration believes have hijacked anti-government sentiment to inflame tensions.
Barr has previously said that the FBI's Joint Terrorism Task Forces will be directed to pursue "criminal organizers and instigators" of violent movements.
President Donald Trump and other high-ranking officials have seized on the mix of violence and looting amid otherwise peaceful demonstrations in order to justify an aggressive response from police.
However, some officers have been recorded perpetrating abuses against protestors and clearly marked journalists, angering activists.
Six Atlanta police officers were charged criminally this week after they dragged two motorists stuck in protest-related traffic out of their vehicle and shot them with stun guns. These are unrelated to the arrests of protestors announced on Thursday.
"Throughout the George Floyd protests, there have been numerous, well-documented instances of deliberate abuse against journalists by law enforcement officers," the American Civil Liberties Union said. "Law enforcement officers who perpetrate these abuses must be held accountable for their actions to the fullest extent of the law."
Fury over what critics describe as an indiscriminate reaction to the protests from police, such as in Atlanta, have led to calls for reining in police agencies through methods such as budget cuts and other legal reforms.
In Los Angeles, City Council President Nury Martinez introduced a motion this week seeking to slash the police department's budget by over $100 million. New York State Senator Julia Salazar called on legislators to "defund the NYPD" by reducing the department's budget.
Many officials in positions of oversight have rejected allegations of excessive use of force. When a reporter asked New York Governor Cuomo on Thursday whether video of New York City police officers attacking protestors violating curfew with batons was appropriate, he called the question "offensive" and "incendiary."
"It's not a fact," Cuomo said, though he later added that "anyone who did do that would be obviously reprehensible."