Justice Department Argues Donald Trump Can Legally Profit From Foreign Officials Staying in His Hotel
The United States Justice Department on Monday defended President Donald Trump's ability to profit when foreign officials stay at his D.C. hotel.
The state of Maryland and the District of Columbia has accused Trump of using his presidency to drive business to the Trump International Hotel, giving it a significant advantage over other D.C.-area hotels. The lawsuit centers around different interpretations of the Constitution's Emoluments Clause, which prohibits government officials from accepting benefits from foreign governments without approval from Congress.
"A federal office-holder does not violate the constitution by owning an interest in a company that may do business with a foreign government," Brett Shumate, a Justice Department lawyer, argued Monday, according to BuzzFeed News.
The argument centered on the definition of "emolument," with Justice Department lawyers arguing that Trump would have to have received a specific benefit in exchange for service performed in his capacity as president.
Get your unlimited Newsweek trial >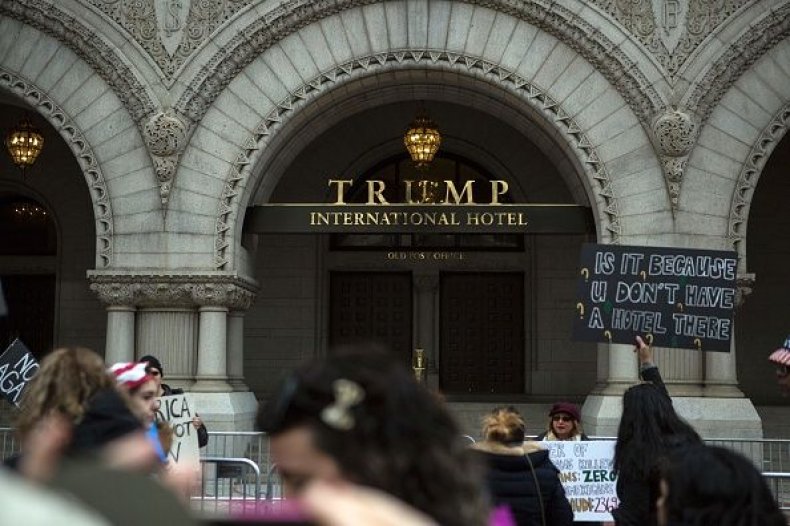 Karl Racine, the D.C. Attorney General, told the Associated Press last week, "This case is about the president of the United States making an affirmative decision to use the government to enrich itself."
In February, the Trump Organization voluntarily paid the U.S. Treasury an undisclosed annual sum to compensate for profits from foreign officals. "This voluntary contribution fulfills our pledge to donate profits from foreign government patronage at our hotels and similar businesses during President Trump's term in office," George Sorial, the company's chief compliance counsel, told NPR.
In June of last year, Saudi Arabia lobbyists spent more than $270,000 at Trump International Hotel in D.C., while diplomats from Bahrain, Kuwait and Azerbaijan have also moved events to the property after Trump was elected.
Get your unlimited Newsweek trial >
Trump said in 2017 he would hand the Trump Organization over to his sons, Donald Jr. and Eric, instead of divesting from it himself. "They're going to be running it in a very professional manner," Trump said in January 2017. "They're not going to discuss it with me."
An email from Jeng Chi Hung, the director of revenue management at Trump's D.C. Hotel, obtained by The Daily Beast in December, indicated Trump remains involved in the business operations of the hotel.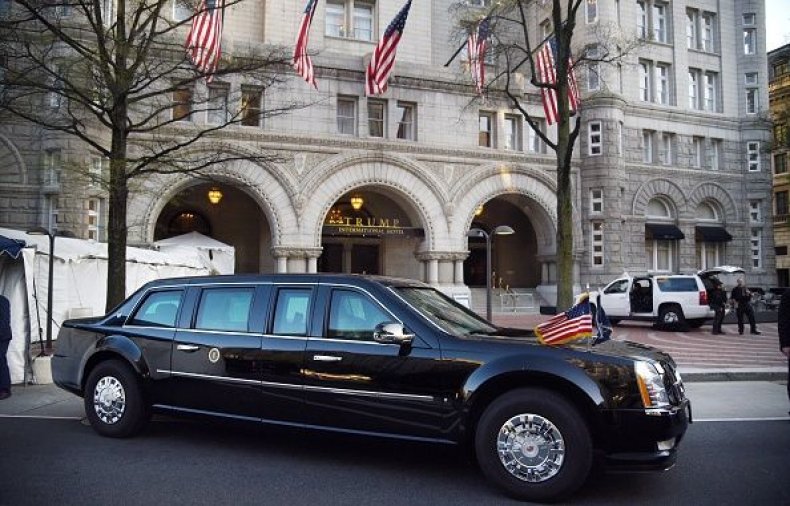 "The company is interesting to work for being under the Trump umbrella. DJT is supposed to be out of the business and passed on to his sons, but he's definitely still involved... so it's interesting and unique in that way," the email said. "I had a brief meeting with him a few weeks ago, and he was asking about banquet revenues and demographics. And, he asked if his presidency hurt the businesses."
He added, "I am far left leaning politically, so working here has been somewhat of a challenge for me. But, it's all business." Mickael Damelincourt, the managing director of the hotel told The Daily Beast that the email was "total nonsense" and was written by the director of revenue "in an effort to enhance his sense of importance to a former employer."
U.S. District Judge Peter Messitte ruled in March the lawsuit could proceed but that D.C. and Maryland could not target Trump hotels outside of the immediate Washington, D.C., area.
Justice Department Argues Donald Trump Can Legally Profit From Foreign Officials Staying in His Hotel | U.S.