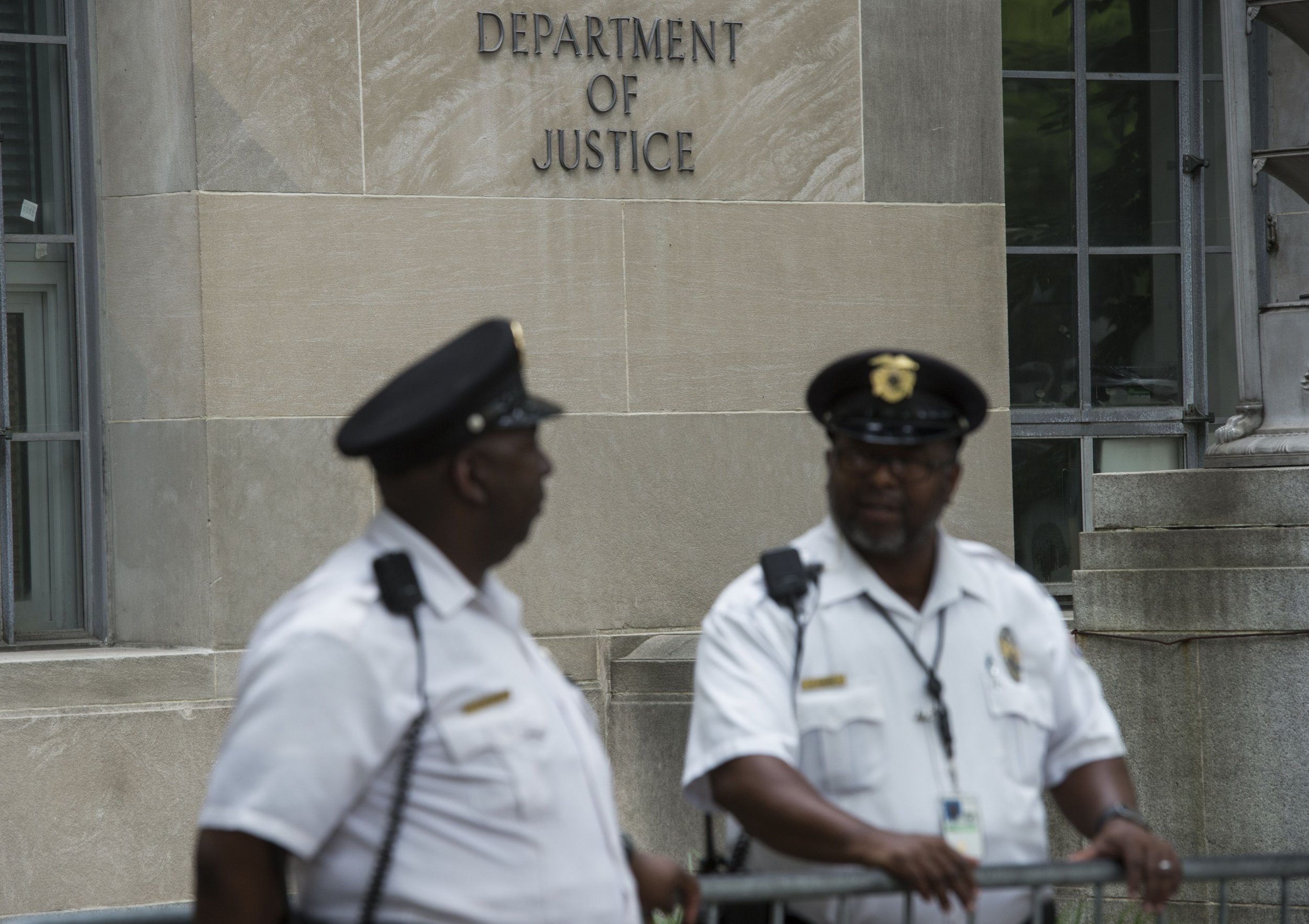 When the Department of Justice's Civil Rights Division sued the University of North Carolina for alleged discrimination against transgender people, Eric Dreiband stepped up to defend the university. On Wednesday, more than a year after the department announced that lawsuit, Dreiband will testify before the Senate Judiciary Committee in a confirmation hearing to lead that Justice Department division.
His having represented the university is one of many examples that 47 LGBT groups cited in a letter sent to the Senate Judiciary Committee on Tuesday opposing Dreiband as President Donald Trump's pick to lead the Civil Rights Division. "Experienced and principled leadership is needed to ensure that the civil rights of our most vulnerable populations are protected and enforced," the letter said. "Mr. Dreiband's record of opposing civil rights renders him ill-suited to provide that kind of leadership to the Civil Rights Division."
Related: Opinion: Trump is waging war against LGBTQ Americans
Dreiband is a partner at the firm Jones Day, where his focus includes cases involving civil rights, employment discrimination and whistleblowers. He attended Princeton, Harvard Divinity School and the Northwestern University School of Law.
When Bill Clinton was president, Dreiband worked under Kenneth Starr, the independent counsel who was investigating Clinton. During the George W. Bush administration, Dreiband served in the Department of Labor and later became general counsel for the Equal Employment Opportunity Commission. Leading up to the 2016 presidential election, he provided legal services to the Trump campaign, according to a disclosure he made to the Senate Judiciary Committee. Trump has previously looked to Dreiband's firm to fill positions in his administration.
Civil rights groups are trying to block the appointment, which they view as the latest sign that the Justice Department is no longer making civil rights efforts a priority. "We have seen the power of the Civil Rights Division when they use not only their litigation but also their moral authority to speak out on the most significant civil rights challenges of the day," says Sharon McGowan, director of strategy for Lambda Legal, a nonprofit legal organization for LGBT people and people living with HIV, which organized Tuesday's letter.
"To see the kind of about-face that we have witnessed over the last eight months is a dramatic shift that affects not only LGBT people but affects all of the different communities of which LGBT people are a part," she said.
In their letter, the LGBT groups point out that Dreiband once defended the clothing company Abercrombie & Fitch in an employment discrimination case brought by a Muslim woman who alleged the company would not hire her because of her head scarf. (The case went to the Supreme Court, and the woman won.) He once represented organizations seeking religious exemptions from the contraceptive requirement in the Affordable Care Act. He also defended a company against 65 employees who alleged violation of the Pregnancy Discrimination Act. (A judge dismissed the case.) As a private citizen, he testified before Congress against legislation that would make it easier for women to sue for discrimination.
"It's sending a message," says McGowan, who worked at the Civil Rights Division during the Obama administration, that "the Civil Rights Division is no longer going to be in the business of civil rights."
LGBT groups aren't the only ones voicing concerns about Dreiband, who a Justice Department spokesperson said was not available to comment on Tuesday. "Dreiband has devoted most of his career to defending corporations in employment discrimination cases and advocating for weaker antidiscrimination protections in the workplace," Kyle Barry of the NAACP Legal Defense Fund has written. Jesselyn McCurdy, deputy director of the American Civil Liberties Union's Washington Legislative Office, has said in a statement, "Dreiband has made a career going against women and LGBT rights."
In a statement, Vanita Gupta, who led the Civil Rights Division during the Obama administration and is now president and CEO of the Leadership Conference on Civil and Human Rights, a nonprofit coalition of more than 200 organizations, has called Dreiband "woefully unqualified" for the post. "He has made a name for himself as one of corporate America's go-to lawyers in an effort to restrict the rights and remedies for discrimination victims," she said.
Supporters of Dreiband feel differently, and several have submitted letters to the Senate Judiciary Committee backing his confirmation. "I consider him to be a person of the highest intelligence, competence and ethics," wrote Solomon Wisenberg, a partner at the firm Nelson Mullins Riley & Scarborough, who once worked with Dreiband. "In fact, Eric is one of the most decent, caring human beings it has ever been my privilege to know."
Victoria Lipnic, the commissioner and acting chairwoman of the Equal Employment Opportunity Commission, who said she has known Dreiband for 15 years, wrote to the committee, "The American public would be well-served by having this intelligent, fair-minded, dedicated man return to public service." Eighteen labor and employment lawyers also submitted a letter supporting his confirmation.
The Trump administration has responded to criticisms about Dreiband. "The White House judges nominees on the merits of their character and not on the clients they once represented as counsel," White House spokeswoman Kelly Love told CNN. "Mr. Dreiband is highly qualified to run the Civil Rights Division, and we are privileged to have his service."
If confirmed, Dreiband will oversee a division that is facing cuts under the Justice Department's budget proposal, which seeks to eliminate 121 positions.