Justice Department Files Lawsuit to Block Public Release of John Bolton's Upcoming Book
The U.S. Department of Justice filed suit Tuesday to prevent the release of former National Security Adviser John Bolton's book about his time in the White House.
Bolton's memoir, The Room Where It Happened, purports to include information about President Donald Trump's phone call with Ukraine President Volodymyr Zelenskiy in July 2019. During the conversation, Trump allegedly asked for the Ukraine government to announce an investigation into the financial dealings of Hunter Biden and his father, Joe Biden. Hunter Biden became a member of the board of Ukraine energy company Burisma Holdings while the elder Biden served as vice president during the administration of President Barack Obama. Bolton's book allegedly claims that Trump refused to give Ukraine promised military aid unless the investigation into the Bidens was announced.
In the lawsuit, the DOJ alleges that Bolton "breached his legal obligations" by submitting the manuscript to publishers without finishing the White House's standard prepublication review and that the book "contains classified information."
Since Bolton's book has already been printed and sent to warehouses to await its June release, the lawsuit asks Bolton's publisher Simon & Schuster to "retrieve and dispose of any copies of The Room Where It Happened that may be in the possession of any third party in a manner acceptable to the United States."
The lawsuit also calls for a "constructive trust for the benefit of the United States" involving an accounting of all monies derived from the sale of the book, including movie rights. Bolton received approximately $2 million dollars in advance from Simon & Schuster to write the book.
In a statement sent to Newsweek on Tuesday, a spokesperson for Simon & Schuster called the lawsuit "nothing more than the latest in a long running series of efforts by the Administration to quash publication of a book it deems unflattering to the President."
"Ambassador Bolton has worked in full cooperation with the NSC in its pre-publication review to address its concerns and Simon & Schuster fully supports his First Amendment right to tell the story of his time in the White House to the American public," the statement continued.
Newsweek also reached out to the Department of Justice for comment. This story will be updated with any response.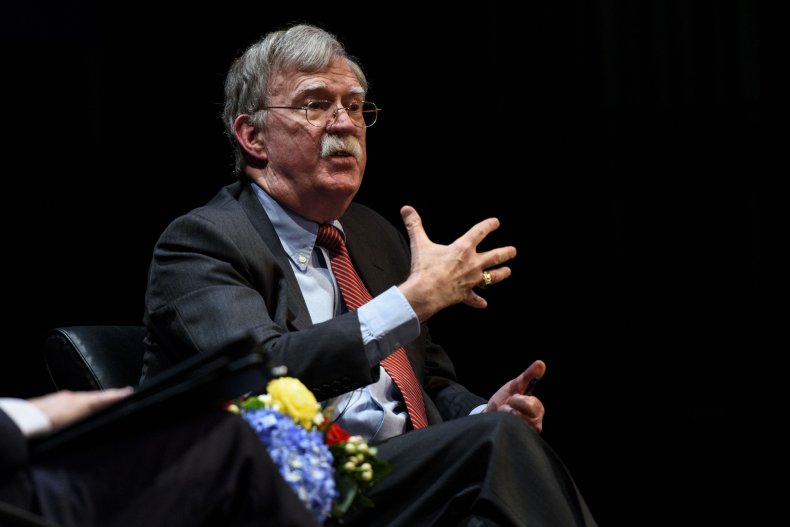 Trump said Monday that the release of Bolton's book would be a criminal offense.
"I will consider every conversation with me as president highly classified," Trump said during a roundtable meeting. "So that would mean if [Bolton] wrote a book and if the book gets out, he's broken the law. I would think he would have criminal problems."
Trump also implied that the book may include some misinformation because Bolton has "been known not to tell the truth, a lot."
Bolton's attorney Charles Cooper wrote in an op-ed for The Wall Street Journal on Wednesday that any attempt to keep the book under wraps would constitute a violation of Bolton's "constitutional right to speak on matters of the utmost public import."
In a description of Bolton's memoir found on the Simon & Schuster website, Bolton paints Trump as being overly concerned with obtaining a second term in the White House.
"I am hard-pressed to identify any significant Trump decision during my tenure that wasn't driven by reelection calculations," Bolton wrote.
Bolton began serving the Trump Administration in 2018. After conflicts with Trump concerning points of foreign policy, Trump fired Bolton via tweet in 2019.
"I disagreed strongly with many of his suggestions, as did others in the Administration, and therefore I asked John for his resignation, which was given to me this morning," Trump wrote in September 2019.
Within minutes, Bolton replied to Trump's announcement by tweeting, "I offered to resign last night and President Trump said, 'Let's talk about it tomorrow.'"
Updated 7:56 p.m. EST 6/16/2020: This story has been updated with a statement from Simon & Schuster.