Justice Department 'On the Lookout' for Lockdown Policies That Infringe on Civil Liberties, Will Take Action if Necessary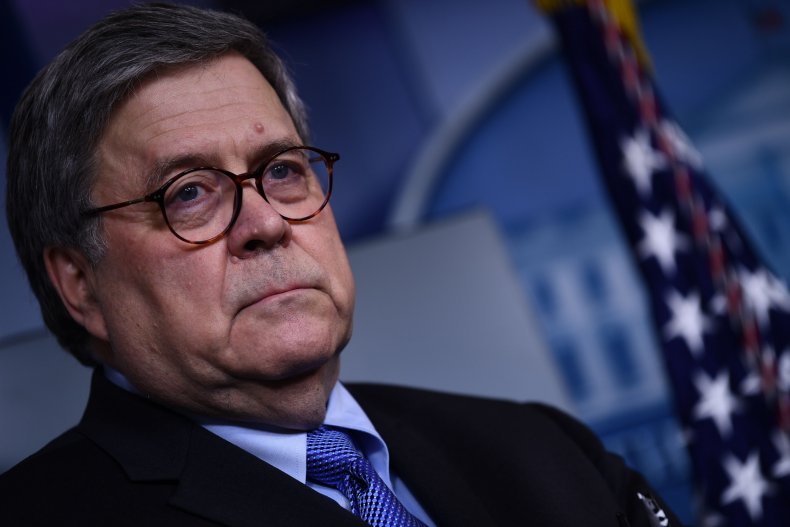 Attorney General William Barr said Friday that the Department of Justice is "on the lookout" for state-level COVID-19 restrictions he believes are "too generalized" to be compatible with civil liberties protections in the Constitution, adding that his department will attempt to "work with the state and local governments" to address concerns about infringements, but "would consider taking action" when necessary.
The statement came in response to a query Friday in the department's #AskAGBarr question-and-answer session on Twitter. User @CatherineDarsey, a self-described Christian and constitutional conservative, had asked about Barr's plans to safeguard "the Constitutional Rights of Citizens that are currently being impeded by state and city elected officials."
The attorney general had previously announced his intention to seek out state-level COVID-19 restrictions that may be encroaching on constitutional protections. In a memorandum to U.S. attorneys on Monday, Barr directed prosecutors to start surveilling these more localized policies, such as lockdown restrictions impacting religious gatherings or the right to peaceful assembly.
"If a state or local ordinance crosses the line from an appropriate exercise of authority to stop the spread of COVID-19 into an overbearing infringement of constitutional and statutory protections, the Department of Justice may have an obligation to address that overreach in federal court," he wrote.
In the question-and-answer session, Barr said that during a pandemic the government "unquestionably has the right" to impose "reasonable and temporary restrictions." These restrictions, he cautioned, would have to be justified as necessary and the government would have to show it cannot achieve similar results by using less restrictive rules.
Tensions over lockdown orders have flared in recent weeks as protest movements, many connected to fringe organizers, have spilled into public. On Thursday, for example, hundreds of protestors stormed Michigan's Capitol building in Lansing, voicing dissatisfaction with Governor Gretchen Whitmer's handling of the crisis.
That rally was attended by members of the Michigan Liberty Militia—an anti-government group, according to the Southern Poverty Law Center—many of whom came armed. In mid-April, several other states saw anti-lockdown fervor result in public demonstrations.
Disputes over the legality of orders issued during periods of emergency—when experts say state governments are at their most powerful—have also reached the federal judiciary. U.S. District Court Judge John Broomes earlier blocked the enforcement of a Kansas order that would have prohibited large religious gatherings. Broomes concluded in his ruling that religious institutions had been improperly singled out.
"Churches and religious activities appear to have been singled out among essential functions for stricter treatment," Broomes wrote. "It appears to be the only essential function whose core purpose—association for the purpose of worship—had been basically eliminated."
Defenders of lockdown orders argue that much opposition to the restrictions appears to have been generated artificially, or is associated with fringe actors. Public opinion supports maintaining stay-at-home orders until the crisis is more subdued. In an NBC News/Wall Street Journal poll last week, almost 60 percent of U.S. registered voters said they were more concerned about relaxing restrictions than about related economic harm.