Democrats Reach Deal With Trump Justice Department to Get 'Key' Underlying Evidence From Mueller Report
The Justice Department reached a deal Monday with a House panel investigating President Donald Trump for possible abuse of power and obstruction of justice to provide certain underlying evidence from the Mueller report that was previously subpoenaed, according to that panel's chairman.
The documents will begin to be provided to members of the House Judiciary Committee for review later that day, the committee's Democratic chairman, Jerrold Nadler, said in a statement. The evidence will include "Mueller's most important files to us, providing us with key evidence that the Special Counsel used to assess whether the President and others obstructed justice or were engaged in other misconduct," he added.
It was unclear exactly what sort of information the committee will receive. Elaborating slightly at a hearing later that day, Nadler said the Justice Department would provide "interview notes, first-hand accounts of misconduct and other critical evidence."
As a result of the deal struck between the committee and the Justice Department, two entities long at odds with one another over obtaining the unredacted Mueller report and its underlying evidence, Nadler said they will not immediately take court action against Attorney General William Barr to force his compliance with a subpoena. However, a House resolution vote authorizing committees to "enforce its subpoenas in federal court" will still take place on Tuesday, should Nadler or other chairmen need to take legal action.
"If the Department proceeds in good faith and we are able to obtain everything that we need, then there will be no need to take further steps," the New York Democrat said. "If important information is held back, then we will have no choice but to enforce our subpoena in court and consider other remedies."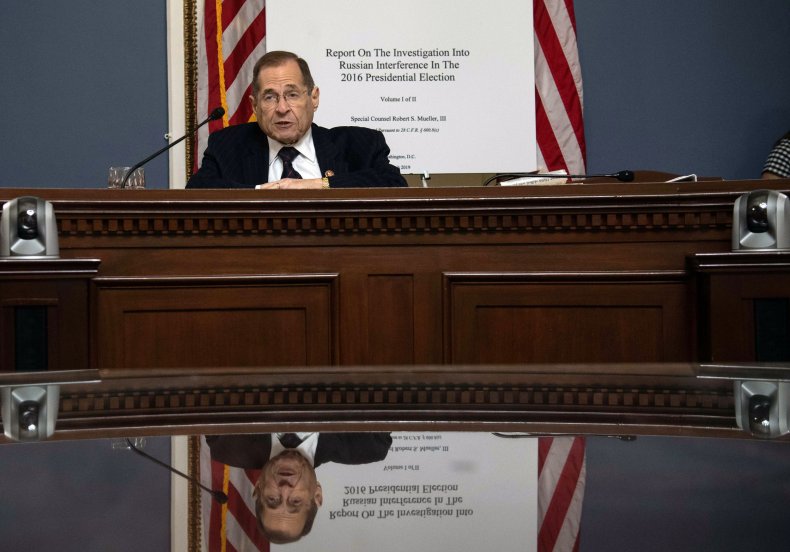 Announcement of the deal came just hours before the committee will hold the first of a series of hearings designed to highlight events laid out in the Mueller report, which Democrats have said amount to criminal wrongdoing. Trump is accused of attempting to obstruct justice, including by trying to have former special counsel Robert Mueller removed from his post during the 22-month-long probe.
Voting along party lines last month, the Judiciary Committee cited Barr for contempt of Congress for refusing to comply with a subpoena to turn over the unredacted report and underlying evidence. Over a series of back-and-forth discussions throughout the past months, the committee's Democratic leadership and the Justice Department could not reach a deal.
"Some enforcement action may be necessary to obtain documents and testimony outside the scope of today's agreement with the Department of Justice, including testimony from former White House Counsel Don McGahn," Nadler added.
McGahn, at the direction of the White House, has defied a subpoena and refused to testify before the committee.
The panel's top Republican member, Representative Doug Collins, applauded the deal, but still ridiculed his counterparts.
"The Justice Department has yet again offered accommodations to House Democrats, and I am glad Chairman Nadler—for the first time in months—has finally met them at the negotiating table," Collins said in a statement. "In light of today's agreement from the Justice Department, it's logical to ask: Is the chairman prepared to rescind his baseless recommendation to hold the attorney general in contempt, or do House Democrats still plan to green light lawsuits against the attorney general and former White House counsel tomorrow?"