'Justice For Fifth Harmony' Calls Grow Amid 'X-Factor' Exploitation Allegations
Fans of Fifth Harmony are calling for "justice" for the band today following a rant by Jedward about how X Factor contestants were treated unfairly on the U.K. version of the show.
The phrase "Justice for Fifth Harmony" began trending on Tuesday morning after twin Irish pop stars John and Edward Grimes—collectively known as Jedward—launched a scathing Twitter tirade against Simon Cowell and his company Syco Entertainment.
The duo, aged 29, were themselves contestants on the show in the U.K. back in 2009 when they finished in sixth place.
One Direction was formed the next year in 2010, while Little Mix emerged in 2011. Fifth Harmony was established on the second U.S. season of the talent show in 2012.
On their joint Twitter account, they wrote on Tuesday morning: "The biggest regret in life was not telling the judges on X Factor to f*** off."
In a follow-up post, the singers name-checked Cowell, posting that "he's nothing but a bad facelift."
The duo went on to criticize the music industry as a whole, saying that it is "corrupt" and that "nobody cares about the artist's mental health."
They also declared their support for their fellow former X Factor contestants One Direction and Little Mix who they allege are "legally f***** in contracts."
"There's nothing MODEST about their previous management dictating their every move from Relationships to how they live their own lives! Justice for 1D & Little Mix," they tweeted.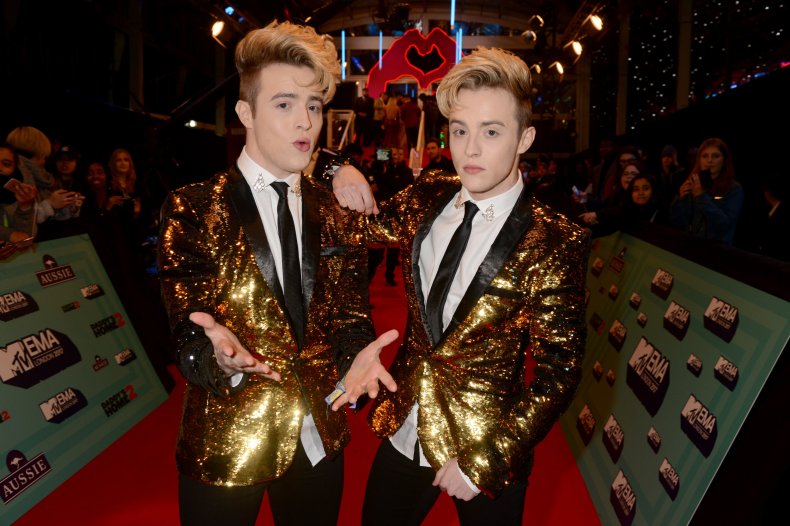 Newsweek has reached out to Syco Entertainment for comment.
The duo also claims to have accidentally received one of One Direction's contracts, tweeting: "We have 1D's contract which was sent to use by mistake cuz we had the same label! Same management! Same security and accountants!"
They added: "This isn't our story to tell! It's an insight of how corrupt the music industry is! We're sending courage & strength to all artists being f***** over! It ends now."
Although Jedward, did not mention Fifth Harmony, their tirade prompted U.S. fans of the girl group to tweet that they too deserve "justice" with more than 70,000 tweets posted featuring the trending phrase.
"JUSTICE FOR 1D AND LITTLE MIX, JUSTICE FOR FIFTH HARMONY. They were just kids with goals and dreams, They don't deserve this," reads one viral tweet.
Many tweets claim that the group was exploited and sexualized at a young age when they rose to fame, however, it is not clear how such justice would be achieved.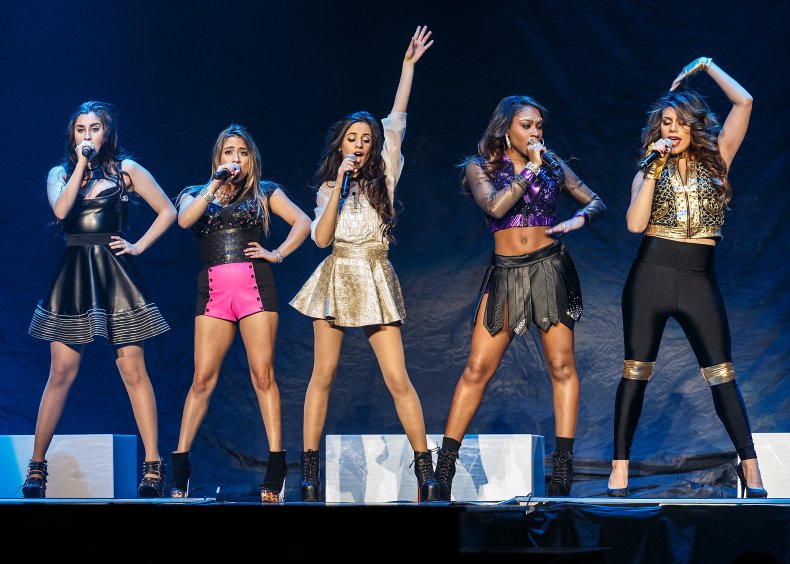 In 2016, a tape leaked that appeared to feature group member Lauren Jauregui complaining to Ally Brooke Hernandez.
"They are making decisions on a regular basis to f*** us over, to make us literal slaves, like literally slaves, Ally," the recording showed.
The leak came after months of canceled shows and clips of band members appearing to break down on stage.
In the same year, Jauregui told Billboard magazine: "They sell you this present of rainbows and butterflies, and as a 16-year-old that's what I bought. It's why I did X Factor and why I ended up in a group. But then you're working so hard, so young...[Meanwhile] my friends are in college, telling me about their days and what they're studying. You're having to put on a smile on a red carpet. It's like, 'Who am I? Am I for myself or for this?"
Dinah Jane Hansen also opened up about their grueling schedule at the time.
"I love touring, but the schedule traumatized me," Hansen told the publication. "I was like, 'What kind of job are we doing?' I watched my great-grandmother be buried on FaceTime. We're all so family-oriented, and we've all lost people on the road."
The group have been on hiatus since March 2018.