Over 60 Arrested as NYC Protesters Block Highway During March in Solidarity with Baltimore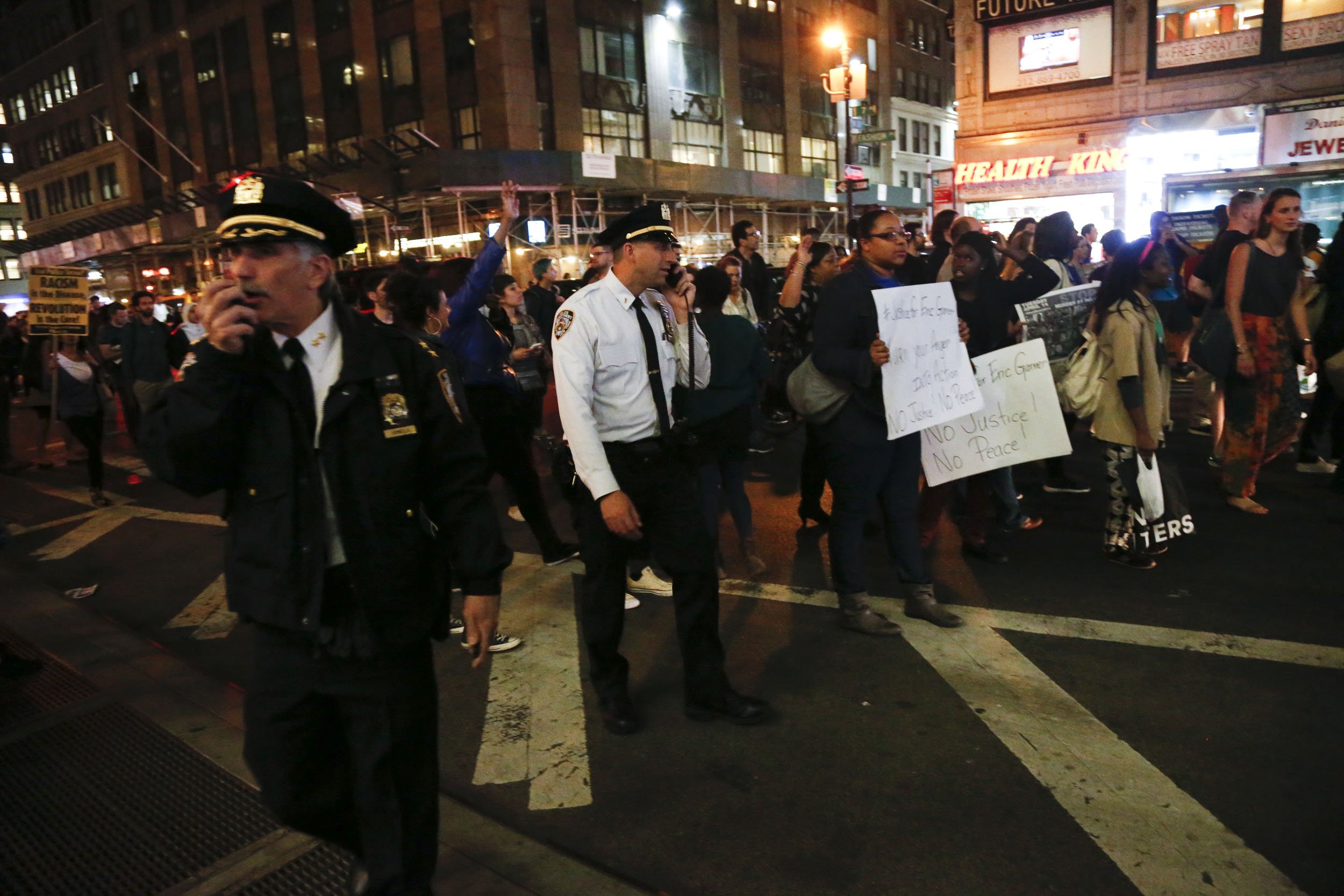 New York City protesters marching on behalf of Freddie Gray, an African-American man who died following an arrest in Baltimore, managed to block the West Side Highway for a brief period Wednesday night. Police reopened the road, detaining 12 to 15 people in just one area, one officer who wanted to remain anonymous said. It's unclear what charges they will face. Helicopters circled overhead as people standing or sitting in traffic were taken away in zip ties. In total, over 60 people were arrested.
The march started in Manhattan's Union Square, where protesters chanted "black lives matter," a phrase made popular during protests over the August 2014 death of unarmed teenager Michael Brown at the hands of a police officer. Several speakers kicked off the New York demonstration; including relatives of Eric Garner, a Staten Island man who died after an altercation with police in July 2014; and the aunt of Ramsey Orta, the man who filmed Garner's arrest.
Demonstrators in Union Square carried signs that said "Document White Violence" and "We Are All Baltimore." At one point, the crowd split, with one group heading northwest toward Times Square and the other southwest toward the Hudson River. The Times Square crowd was led by a large banner that read "black lives matter." The Hudson group, a bit larger, moved south down Broadway.
When the gathering first began, the New York Police Department had played a recording warning that stopping traffic and walking in the streets is illegal. Community officers passed out signs that read "Pedestrians are not permitted to walk in the roadway or street. Anyone interfering with either vehicular or pedestrian traffic may be subject to arrest for disorderly conduct."
Marchers for the most part ignored those warnings. As the southbond crowd left Union Square, they entered the streets, bringing traffic to a halt while passing through Greenwich Village. At the intersection of Broadway and Houston, one group of about 50 protesters sat and laid on the ground. They chanted messages that included, "Who are the thugs? They are the thugs," while pointing at NYPD officers.
Part of crowd turned west on Canal Street and the mood, which had started out defiant but solemn, turned aggressive. On the corner of Watts and Hudston streets, the first of many police lines was formed. The officers held wooden batons and wore riot helmets. Behind them, several police vans were assembled.
By the time the crowd reached the West Side Highway, the NYPD had brought in a number of vans, cars and emergency vehicles. Roughly 50 officers stood in a line formation on the highway, urging protesters to move towards the sidewalk, which was sectioned off with a concrete barricade. Many protesters scaled barriers.
Police wearing riot helmets quickly swooped in on the protesters who remained on the highway. They were taken to the median and held. Their hands were restrained with thick plastic zip ties. Half an hour later, the group of people who were detained were moved into police vans.
Marchers who asked police officers for news on those arrested were told to go to One Police Plaza. One arrested protester tried to pass his car keys to a significant others as he was being led away. "I'm not going to help you do that," an officer said. One of the women arrested wore a plastic Guy Fawkes mask.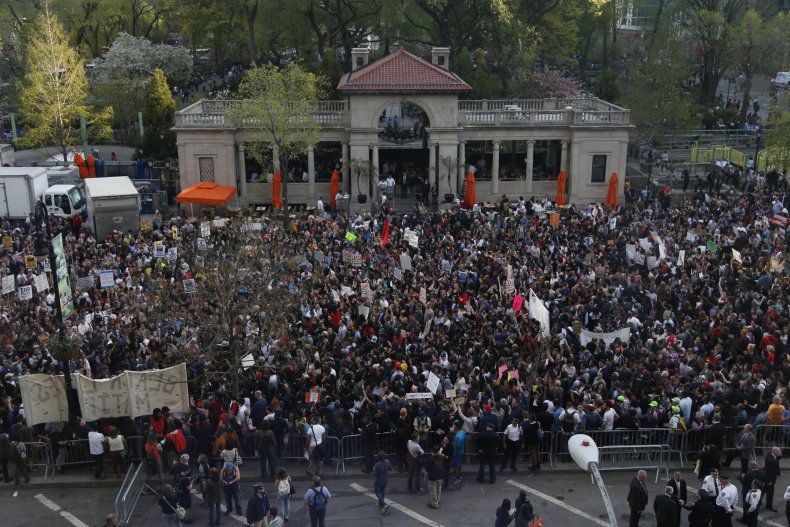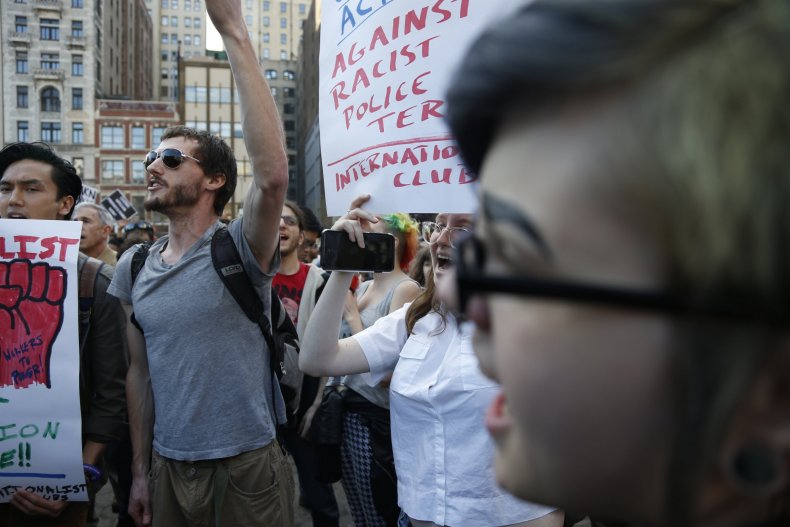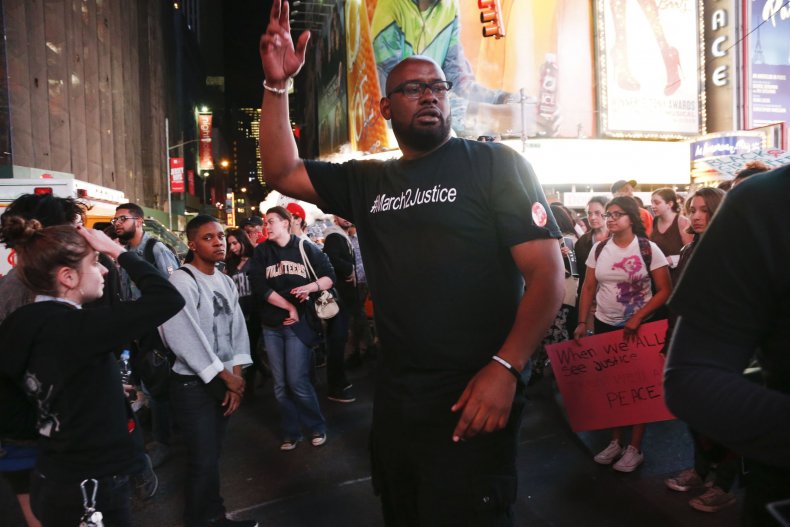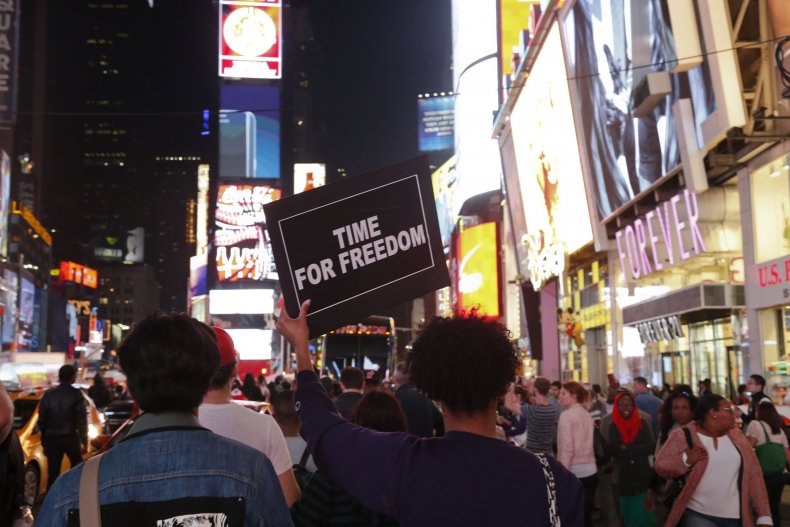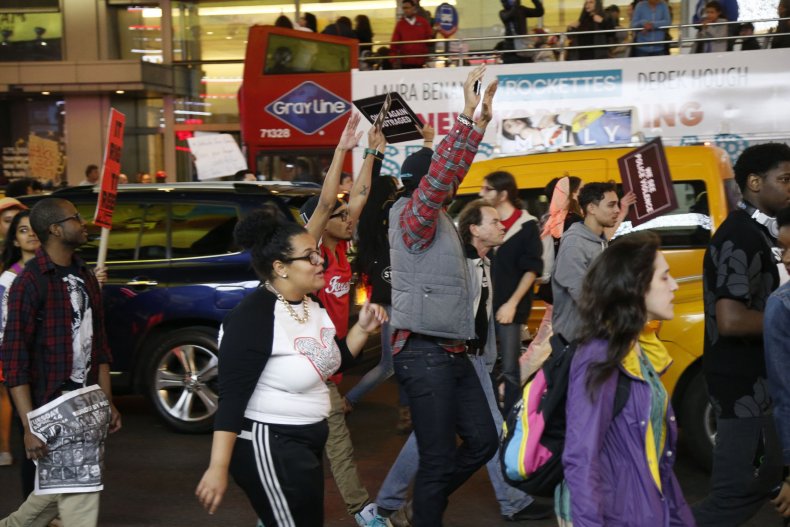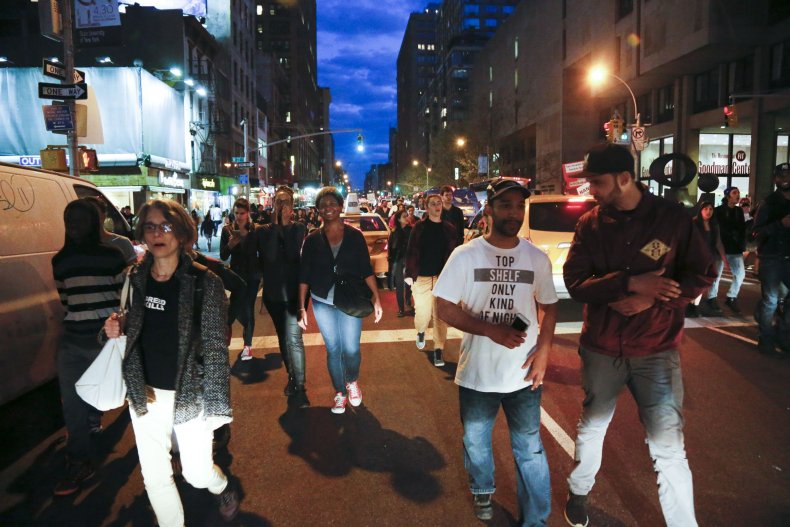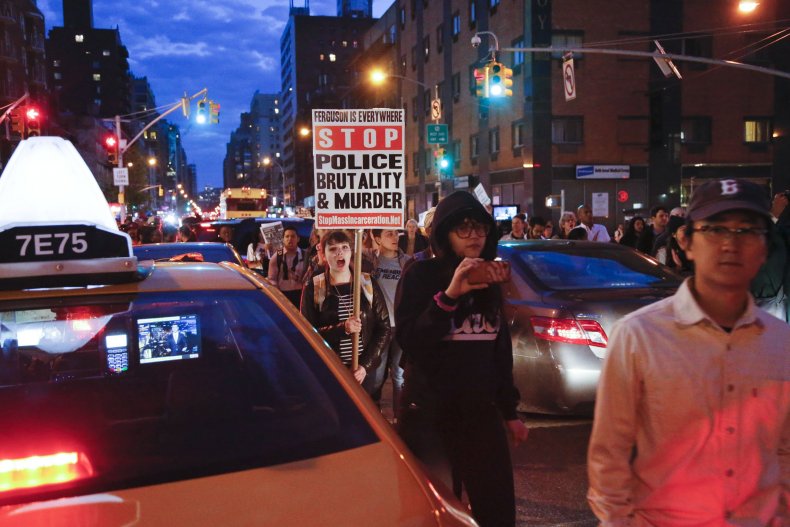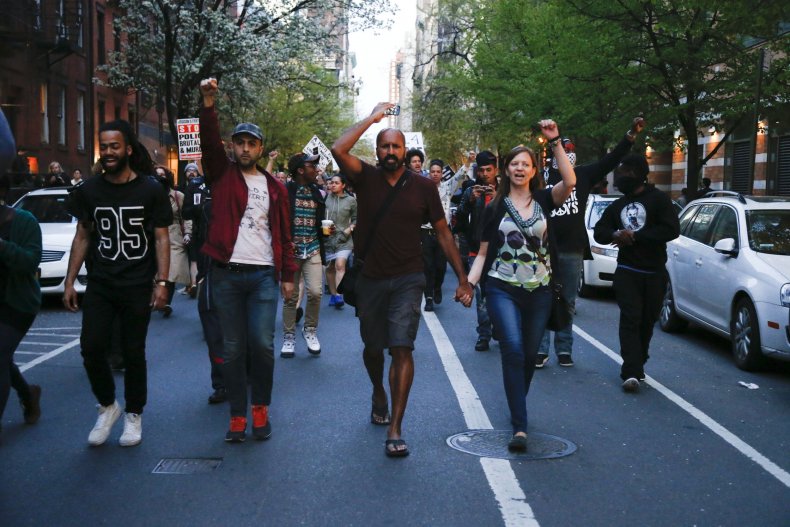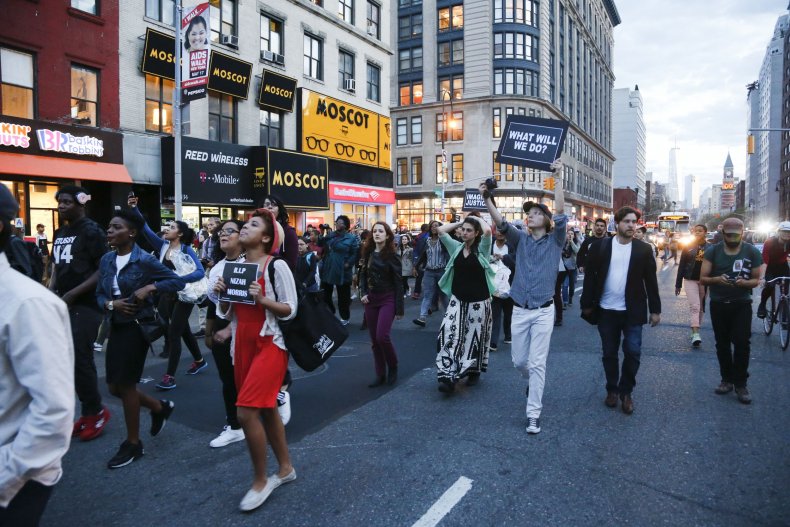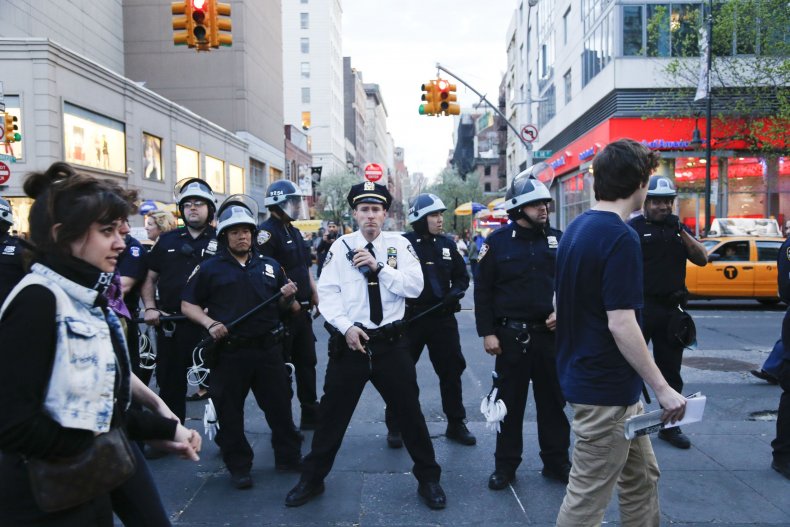 Coordinated by the Millions March organization, Wednesday's demonstration was organized "to show the people of Baltimore that we stand in solidarity with them and with their resistance because their resistance is for justice and their justice is our justice," according to a Facebook page set up for the event. Similar demonstrations were held in New York after the deaths of both Garner and Brown.
"It's exhuasting. I'm tired of hearing the same stories," New York organizer Sabaah Jordan said Wednesday. "But I'm proud we're no longer going to sit at home. I'm proud to see us out here."
Another organizer, addressing the crowd through a bullhorn, gave this statement: "Police do not equal safety. Prisons do not equal justice. This country was founded on a document that said all lives matter and a couple documents that made a couple of exceptions."
There have also been rallies in Ferguson, Missouri—where Brown was killed—on Gray's behalf. On Monday, demonstrations in Baltimore turned violent as rioters threw rocks at police, looted stores and set fire to a number of buildings.