'Justice For George Floyd' Petition Surpasses 10 Million Signatures as Protests Rage Across Country
An online petition seeking criminal charges against the former law enforcement officers involved in George Floyd's death had acquired more than 10.2 million signatures by Monday morning, as demonstrators across the United States and elsewhere continue to rally in protest of police violence.
The petition, titled "Justice for George Floyd" and shared via Change.org, was created after Floyd died during a violent arrest that took place in Minneapolis last week, which bystanders recorded on video and later posted to social media. The first video, released Tuesday, showed ex-city law enforcement officer Derek Chauvin kneeling on Floyd's neck for several minutes leading up to his death, while another officer faced civilians gathered at the scene. A second video, released Friday, showed two additional officers pinning Floyd to the ground alongside Chauvin.
All four officers—Thomas Lane, Tou Thao and J. Alexander Kuengwere, in addition to Chauvin—were fired from the Minneapolis Police Department on Tuesday for their roles in Floyd's death. However, only Chauvin has been charged. Hennepin County Attorney Mike Freeman announced Friday that Chauvin faced third-degree murder and manslaughter charges.
The attorney representing Floyd's family in their case against the Minneapolis Police Department, Benjamin Crump, has since suggested a first-degree murder charge would be more appropriate, given that Chauvin and Floyd were employed by the same Minneapolis club venue and may have known each other to some degree before last week.
In an updated statement attached to the Change.org petition's landing page on Saturday, its host urged Freeman to "make sure the other three involved officers are held accountable." The petition is also addressed to Minneapolis Mayor Jacob Frey.
Freeman's office did not reply to Newsweek's request for comment by publication. An announcement shared to the county attorney's website Sunday said there would be further investigation and that Minnesota Attorney General Keith Ellison had agreed to assist Freeman "in the cases arising" from Floyd's death.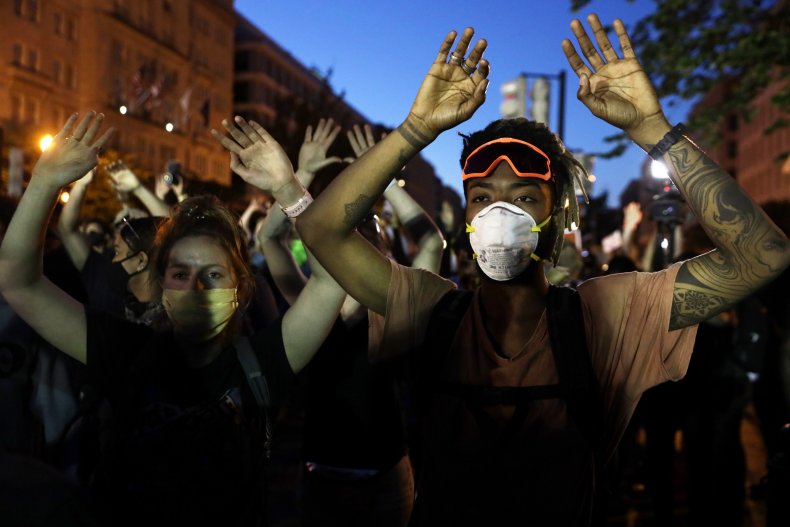 "There have been recent developments in the facts of the case where the help and expertise of the Attorney General would be valuable," Freeman stated in the announcement.
Mayor Frey's office referred Newsweek to a statement given Friday about Floyd's death and subsequent legal proceedings. "What's happened in Minneapolis is bigger than any one city and any single event," Frey said in the statement. "We are a nation at a crossroad, and today's decision from the County Attorney is an essential first step on a longer road toward justice and healing our city."