Is 'Justice With Judge Jeanine' Cancelled? Fox News Addresses the Rumors
Is Justice with Judge Jeanine cancelled? Some are speculating that the Fox News show featuring legal analyst and former district attorney Pirro has been suspended or cancelled since her show was not on Fox News this past weekend.
Despite the rumors swirling, Judge Pirro is not going anywhere.
A Fox News spokesperson told Newsweek via email: "Judge Pirro was never scheduled to be on due to ongoing election coverage and she will be back next week along with all regularly scheduled programming that was also preempted due to ongoing breaking news coverage."
Justice with Judge Jeanine did not run last weekend after Joe Biden was announced president-elect, and Fox News aired his speech instead. This change in coverage led, falsely, to rumors on social media that Pirro had been ousted.
"So someone can check on this Judge Jeanine Pirro source with Newsmax as to if the show was suspended or she was fired," one user thought. "I think Rupert Murdoch is going to pull the plug of Trump big time."
Someone else commented: "Fox [N]ews sucks, it is terrible! They fired Judge Jeanine [P]irro! they want to fire every one!, and put in piss [W]allace, and Donna [B]razil, they are terrible! watch (sic) Newsmaxx!"
However, these rumors are false. The show premiered in January 2011, and airs live on Saturdays at 9 p.m. EST.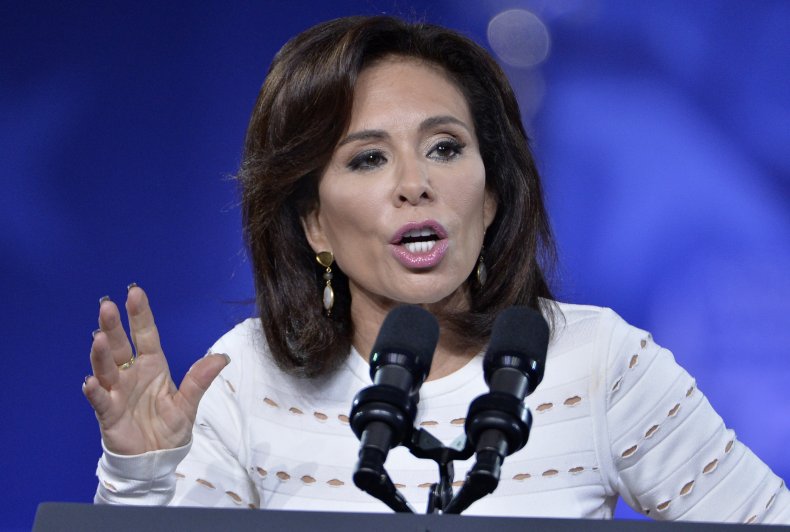 Newsmax falsely reported that the show was suspended over a disagreement concerning President Donald Trump.
"Sources close to the network tell Newsmax, because she made a very staunch defense of President Trump and wanted to expose the vote fraud that took place in the election, Fox News decided not to air her show," the outlet claimed. "It had extended coverage of Democrat Joe Biden's acceptance speech of a contested election."
Throughout her tenure hosting Justice with Judge Jeanine, Pirro was suspended for two weeks in 2019 over Islamophobic remarks. "Think about it: Omar wears a hijab," Pirro said of Minnesota Democrat Ilhan Omar. "Is her adherence to this Islamic doctrine indicative of her adherence to Sharia law, which in itself is antithetical to the United States Constitution?"
"We strongly condemn Jeanine Pirro's comments about Rep. Ilhan Omar," the network said in a statement. "They do not reflect those of the network and we have addressed the matter with her directly."
Trump pleaded the network to bring her back amid the suspension.
Pirro, however, said that she intended to ask a question and start a debate. "Of course because one is Muslim does not mean you don't support the Constitution," she said at the time. "I invite Rep. Omar to come on my show any time to discuss all of the important issues facing America today."