Will Trump Get To Name Another Supreme Court Justice This Year, Shaping U.S. Policy For Decades?
The Senate's most vulnerable Republican has his fingers crossed that Supreme Court Justice Anthony Kennedy will announce his retirement ahead of the 2018 midterm elections—according to him, it could be the only way to save his seat.
"Kennedy is going to retire around sometime early summer," Nevada Senator Dean Heller said at an event last week, according to audio Politico obtained. "Which I'm hoping will get our base a little motivated because right now they're not very motivated. But I think a new Supreme Court justice will get them motivated."
Trump and members of the GOP have long been anticipating Kennedy's retirement so that they can replace the centrist justice with one who will support overturning Roe v. Wade, one of Trump's most popular, if sometimes forgotten, campaign pledges.
Trump had already released a list of 21 Supreme Court prospects, which at the time included Justice Neil Gorsuch, during the 2016 presidential election. In November 2017, with few other legislative victories under his belt, the president added the names of five new judges with anti-choice records to the list of potential contenders who could fill a vacancy on the court that has yet to exist.
Months later, with the president's approval ratings still relatively low, Trump, in addition to endangered Republicans like Heller, could still use a victory on the Supreme Court bench.
"The future of the court and the future of Roe v. Wade are one reason why so many people still back Trump," Michael Gerhardt, a constitutional law professor at University of North Carolina at Chapel Hill, told Newsweek in November. "I think Trump reasonably perceives that his election was due, in part, to that constituency, so he feels he owes this kind of appointment to them."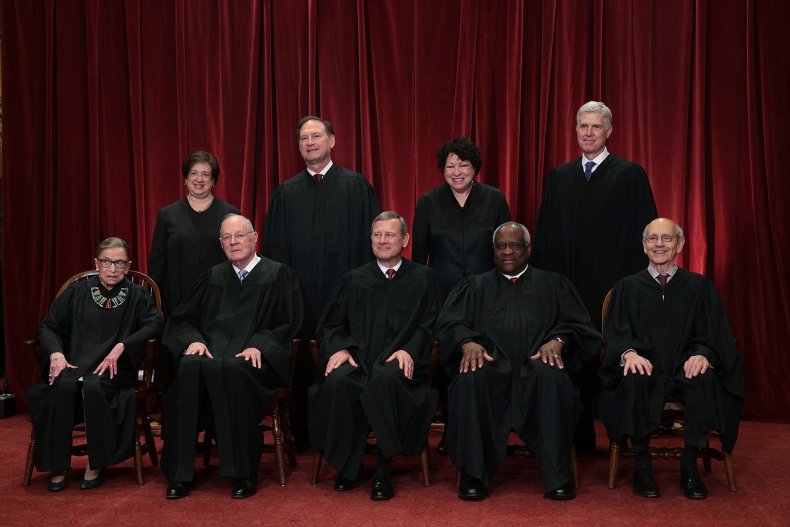 Heller will likely face off against current Nevada Representative Jacky Rosen in a state that has shown strong signs of going from a purple state to a solidly blue one over the last few election cycles. Heller may have hurt his chances of winning further with his indecisive votes on the Affordable Care Act repeal bills and puzzling relationship to President Donald Trump: Heller has spoken out against Trump in the past, but the president reportedly will put differences aside to campaign for the endangered senator leading up to the November's midterms.
What's more, Heller has been largely supportive of Trump's immigration policies, and history has shown that any candidate running in Nevada who fails to excite the state's thriving Latino population will likely come up short at the ballot box.
Kennedy has said he's "seriously considering" retiring, but the 81-year-old has yet to make a formal announcement or put a firm date on when he plans to step down from his post for good.