Justice Neil Gorsuch Slammed for Not Wearing Mask, Endangering Diabetic Sonia Sotomayor
U.S. Supreme Court Justice Neil Gorsuch is being slammed by legal contemporaries after refusing to wear a mask around fellow Justice Sonia Sotomayor, who suffers from diabetes.
This is despite all of the other justices on the court masking up when asked to do so by Chief Justice John Roberts.
An exclusive report from NPR described how Sotomayor, 67, was not present on the bench earlier in January when the court returned for oral arguments after the holiday break. Sotomayor appeared to be participating in the proceedings via microphone setup from within her private chambers.
The other justices who were present in the courtroom were all wearing masks, except for Gorsuch. This includes even the court's most conservative justices such as Samuel Alito and Clarence Thomas.
As someone with diabetes, Sotomayor is at high risk from serious complications or even death related to COVID-19, according to the U.S. Centers for Disease Control and Prevention (CDC). While all nine justices on the court have received their COVID booster shot, the CDC still recommends wearing a mask in indoor settings to help mitigate the spread of the virus.
Roberts reportedly asked the other justices "in some form" to wear masks after Sotomayor expressed concerns that she did not feel safe around unmasked people due to her condition. This was exacerbated by the recent surge of the Omicron variant.
Gorsuch also happens to sit directly next to Sotomayor on the bench, further cementing Sotomayor's decision to stay out of the room.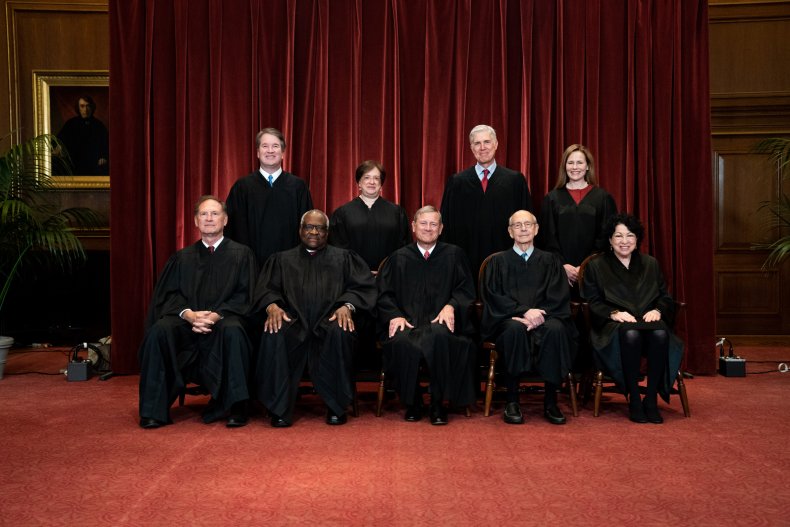 In addition to participating in the oral arguments remotely, Sotomayor also skipped the in-person weekly justices' conference. Instead, she attended the meeting, in which the facts of oral arguments are debated, via telephone.
While the other justices have not made their opinion on this matter known, they likely fall along ideological lines. During an earlier debate regarding President Joe Biden's vaccine mandate for large employers, Justice Elena Kagan, one of the most liberal members of the court, called the pandemic "the greatest public danger that this country has faced in the last century."
However, outside of the court's walls, legal analysts and scholars were quick to lash out at Gorsuch for his decision to forgo a mask.
"Gorsuch's refusal to mask up on the bench even when asked by the Chief Justice to do so in order that the diabetic and hence immunocompromised Justice Sotomayor could attend in person shows just what kind of jerk Gorsuch is," tweeted Harvard University law professor Laurence Tribe. I wish he weren't a [Harvard] alum."
Richard Signorelli, an attorney and member of the Supreme Court bar, echoed a similar sentiment.
"As a member of the Supreme Ct bar, I condemn in the strongest terms possible Justice Gorsuch refusing to wear a mask to protect his high risk colleague, Justice Sotomayor, from being killed by Covid," Signorelli tweeted. "Shame on him."
Former U.S. Attorney Joyce Vance stated that she wished Gorsuch was a better role model.
"Putting on a mask would have cost Gorsuch nothing, but then he didn't care about risk to front line workers, either," Vance added, referring to Gorsuch joining the 6-3 vote to strike down the vaccine mandate.
Brian Fallon, press secretary for Hillary Clinton's 2016 presidential campaign, appeared on MSNBC and lambasted Gorsuch as a "mean-spirited and ghoulish person." However, he also noted his surprise that any of the conservative justices were willing to mask up.
"I'm somewhat surprised that justices like Alito and Clarence Thomas took the high road and put on a mask because it has become such a politicized issue on the right."
Newsweek has reached out to the Supreme Court for comment.