The Key Reforms in Democrats' Proposed Justice in Policing Act
As the death of George Floyd spotlights law enforcement in the U.S., a group of Democrats have proposed a swathe of reforms in their Justice in Policing Act.
Floyd, a 46-year-old African American, died after a white police officer put his knee on his neck for almost nine minutes while arresting him in Minneapolis, Minnesota. He was taken to a local medical facility, where he was pronounced dead.
Following this, protests have spread across the U.S. and the world, with concerns voiced over systemic racism and police brutality.
On Monday, Democrats unveiled the Justice in Policing Act of 2020, with a number of proposed measures aimed at increasing accountability and transparency in policing.
The act breaks down measures into roughly four sections: police accountability, police transparency through data, improving police training and policies, and justice for victims of lynching.
Sen. Kamala Harris (D-CA), a co-sponsor of the act, said it is "about accountability and consequence for bad behaviors by those who have been invested by society, and the people, with the ability to wear a badge and carry a gun."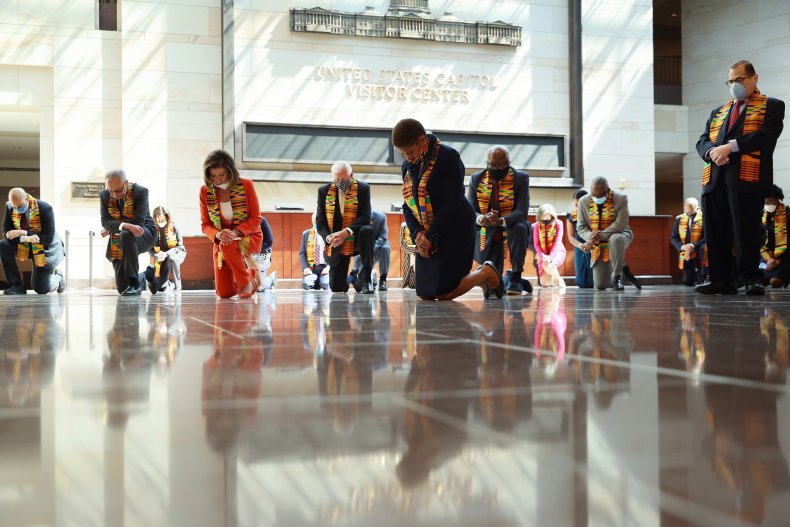 Accountability
The act aims to adapt legislation around prosecuting law enforcement officers, focusing particularly on 18 U.S.C. 242: Deprivation of rights under color of law.
This law outlines the prosecution of officers who deprive anyone of their rights enshrined by the Constitution or laws of the United States, while acting as though their behavior is within their lawful power.
It outlines punishments for if further harm comes of the action, such as bodily injury or death, with life imprisonment or the death penalty even outlined for sentences in the most extreme circumstances.
However, the Democrats' bill takes issue with the passage which suggests punishment is based upon if the officers acted "willfully."
At present the law reads: "Whoever, under color of any law, statute, ordinance, regulation, or custom, willfully subjects any person in any State, Territory, Commonwealth, Possession, or District to the deprivation of any rights, privileges, or immunities secured or protected by the Constitution or laws of the United States, or to different punishments, pains, or penalties, on account of such person being an alien, or by reason of his color, or race, than are prescribed for the punishment of citizens, shall be fined under this title or imprisoned."
The bill would change "willfully" to "knowingly or with reckless disregard."
It would add a definition for a death resulting from such situations, suggesting this would be any action that was a "substantial factor contributing to the death."
The act proposes another change to civil rights law, looking at Section 1983 litigation, which allows people to sue for civil rights violations.
The act also addresses the problem that courts have "interpreted qualified immunity to bar individuals from recovering damages when law enforcement officers have violated their constitutional rights." It proposes modifying the law to allow people to recover damages when subject to such behavior at the hands of law enforcement officers.
House Speaker Nancy Pelosi (D-CA) said: "We cannot settle for anything less than transformative structural change."
She spoke of a goal to "remove barriers" to prosecuting police misconduct and in covering damages.
In another move to increase accountability, the act would require the use of bodycams for federal officers, as well as dashboard cameras on their vehicles.
In addition to these changes at federal level, the act would require state and local law enforcement agencies to use existing federal funds to make sure their officers use body cameras.
Use of force
The bill has a number of measures that look to reduce the use of force by law enforcement.
It proposes a complete ban on chokeholds and carotid holds by federal officers, seeking funding for state and local law enforcement agencies to prohibit these forms of restraint through law. Carotid holds are a form restraint in which pressure is applied to the sides of someone's neck, which can cut off blood flow and render someone unconscious.
The act also looks to shift the standard for when force can be used by federal officers, from "reasonableness" to only when it is "necessary to prevent death of serious bodily harm."
It would also legislate for federal officers to work on deescalation techniques, requiring deadly force to be used only as a last resort.
Another measure would see a ban on no-knock warrants in drug cases, ending these at a federal level, and conditioning funding for state and local level law enforcement to also move to prohibit them.
Such action was used to enter the home of Breonna Taylor, who was shot dead by officers in March.
Taylor was at home with her partner in in Louisville, Kentucky, when police officers forced entry into her apartment. Her partner said he opened fire on them coming into the apartment as he believed they were intruders, with Taylor fatally shot in the gunfight that ensued.
The bill also takes issue with military-grade equipment being transferred to state and local law enforcement, calling for this to be limited under the "Stop Militarizing Law Enforcement Act."
Transparency
The bill would push for a federal registry to be used to compile a list of all federal, state and local officers, detailing misconduct complaints, discipline records, termination records and records of certification.
Those proposing the bill said this could address the issue that: "Too often, problematic officers leave (or are fired by) one agency, and then move to another jurisdiction without any accountability."
It would also require reports to be made to the Justice Department by states when force is used against civilians or law enforcement officers, with a demographic breakdown of civilians who have been subjected to force. It would also ask for reasoning of why force was used.
As well as these acts to create more data on policing, the legislation would widen the scopes of investigations.
It would grant the Justice Department's Civil Rights Division subpoena power to conduct pattern and practice investigations, while providing grants to state attorneys general to help them conduct similar such work too.
A grant program would also be set up for state attorneys general to create an independent investigation process to look at misconduct or excessive force by law enforcement.
Training on racial profiling
Action to reduce racial profiling is contained in the bill, with an aim to: "Prohibit federal, state, and local law enforcement from racial, religious and discriminatory profiling."
In a bid to do this, it would mandate training on racial, religious, and discriminatory profiling.
Another program would be introduced to cover racial and implicit bias, with mandatory training on this at a federal level, while funds would be conditioned to establish it at state and local levels.
As well as this training, the act would require attorney general to create a law enforcement accreditation standard, while creating programs to develop best practices.
The bill states that it is a problem that police departments "lack uniform standards to ensure adherence to best practices and community accountability," suggesting accreditation standard could be one solution.
Justice for victims of lynching
The bill would make lynching a federal crime, with Congress having not yet passed legislation doing so.
It adds that it would also be a "federal crime to conspire to violate existing hate crime laws."
It comes after a lynching act, named the Emmett Till Antilynching Act, aimed at making the act a federal hate crime, punishable by life in prison, stalled in the Senate.
Sen. Rand Paul (R-KY) had called for revisions of the bill, arguing that its definition of lynching provided "a low threshold on what could be considered a lynching."
Sen. Harris commented on the situation when presenting the Justice in Policing act, stating: "Just last week, we couldn't even pass an anti-lynching bill in the United States Senate. So, when we look at where we are now with this piece of legislation, we have to understand. Yes, as a country, we've seen great progress. But just last week in the year of our Lord 2020, we could not get an anti-lynching bill passed in the United States Senate."
Newsweek has contacted the lawmakers mentioned and the Justice Department for comment.