Justice Ruth Bader Ginsburg Will Participate in Oral Arguments Day After Gallbladder Hospitalization
U.S. Supreme Court Justice Ruth Bader Ginsburg underwent treatment for a gallbladder condition Tuesday but plans to participate in Wednesday's court session from the hospital, according to the court.
Ginsburg was hospitalized at Johns Hopkins Hospital in Baltimore, Maryland after a gallstone had moved to her cystic duct, creating an infection known as acute cholecystitis. Treatment for the infection was non-invasive.
"The Justice is resting comfortably and plans to participate in the oral argument teleconference tomorrow morning remotely from the hospital," the Supreme Court said in a statement. "She expects to stay in the hospital for a day or two."
Ginsburg, who was appointed to the Supreme Court in 1993 by then-President Bill Clinton, has been treated for cancer four times in the last twenty years. In 2019, Ginsburg was treated for both lung and pancreatic cancer.
Ginsburg told CNN in January that she was cancer free. "That's good," she added.
Johns Hopkins Hospital declined Newsweek's request for comment.
Ginsburg has long been a judicial proponent of women's rights. In 1996, Ginsburg explained the U.S. Supreme Court's decision in a case against Virginia Military Institute (VMI), which at the time, only allowed men. When the school's gender restrictive policy was challenged, VMI asserted that women would not be able to handle its rigorous curriculum. Instead, the institute offered a different program called the Virginia Women's Institute for Leadership, hosted on a different campus.
"A purpose genuinely to advance an array of educational options is not served by VMI's historic and constant plan to afford a unique educational benefit only to males," Ginsburg wrote in the Supreme Court's ruling. "However well this plan serves Virginia's sons, it makes no provision whatever for her daughters."
After the ruling from the Supreme Court, VMI voted to admit women into its programs.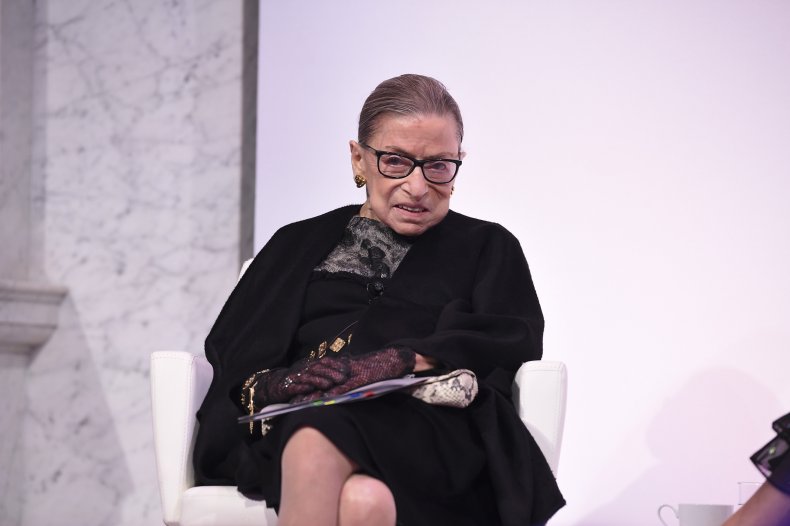 During the 2016 presidential race, Ginsburg called Donald Trump a "faker."
"He has no consistency about him," Ginsburg told CNN in a 2016 interview. "He says whatever comes into his head at the moment. He really has an ego."
Ginsburg later apologized for her remarks, saying in a July 2016 statement that judges "should avoid commenting on a candidate for public office. In the future I will be more circumspect."
Conflict between Trump and Ginsburg continued into his presidency. In February, Trump said that Ginsburg and U.S. Supreme Court Justice Sonya Sotomayor should both recuse themselves from any case involving him or his administration. Trump's comments came after Justice Sotomayor alleged that justices placed on the Supreme Court by President Trump were inclined to show him favor.
"That is a terrible thing to say," Trump tweeted in February. "Trying to 'shame' some into voting her way? [Sotomayor] never criticized Justice Ginsberg when she called me a 'faker.' Both should recuse themselves on all Trump, or Trump related matters! While 'elections have consequences,' I only ask for fairness, especially when it comes to decisions made by the United States Supreme Court!"
In July 2019, Ginsburg praised conservative Justice Brett Kavanaugh, who was appointed by President Trump, for having all women on his staff.
"All of his law clerks are women," Ginsburg said. "And with his four women as law clerks, it's the first time in the history of the United States that there have been more women clerking at the court than men."