Justice Sotomayor Issues Scathing Dissent to Supreme Court's Asylum Rule Decision: The Stakes 'Could Not Be Higher'
Justice Sonia Sotomayor wrote a scathing dissent issued Wednesday after the Supreme Court approved President Donald Trump's request to allow his administration to enforce its new aggressive asylum rules.
The new asylum rules ⁠— first unveiled by the Departments of Justice and Homeland Security in July ⁠— is expected to considerably reduce the number of asylum seekers in the U.S. from Central America. It will also make those who pass through another country before arriving in the U.S. ineligible for asylum, unless they were denied asylum in the country they were passing through first. Victims of trafficking are also exempt.
Out of the four liberal justices sitting on the Supreme Court, Sotomayor and Ruth Bader Ginsburg were the only judges to dissent.
"Once again the Executive Branch has issued a rule that seeks to upend longstanding practices regarding refugees who seek shelter from persecution," Sotomayor wrote in her dissenting opinion. "Although this Nation has long kept its doors open to refugees — and although the stakes for asylum seekers could not be higher — the Government implemented its rule without first providing the public notice and inviting the public input generally required by law."
Sotomayor also slammed the Trump administration for requesting the Supreme Court to allow the rule when lower courts ruled against the move. "Unfortunately, it appears the Government has treated this exceptional mechanism as a new normal," she wrote. "Historically, the Government has made this kind of request rarely; now it does so reflexively."
"This is an extraordinary request," Sotomayor continued. "Unfortunately, the Court acquiesces. Because I do not believe the Government has met its weighty burden for such relief, I would deny the stay."
The decision "sidesteps the ordinary judicial process to allow the Government to implement a rule that bypassed the ordinary rulemaking process," she added.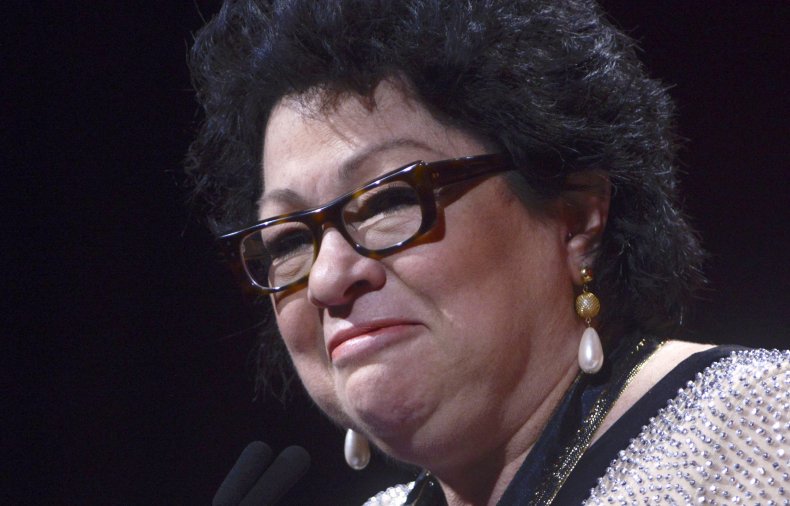 After the ruling, Trump took to Twitter to celebrate his victory. "BIG United States Supreme Court WIN for the Border on Asylum!" the president tweeted on Wednesday afternoon.
White House Deputy Press Secretary Hogan Gidley also praised the court's decision as one that would enable the administration to fix the country's "broken asylum system."
"We are pleased the Supreme Court has ruled our Administration can implement important, needed fixes to the broken asylum system," he said in a statement after the ruling on Wednesday. "This greatly helps build on the progress we've made addressing the crisis at our southern border and will ultimately make American communities safer."
"While there is much more work still to be done, thankfully the Supreme Court took a decisive step here and rejected the lower court's egregious ruling," Gidley added.