Justice Clarence Thomas on Monday criticized the federal government's "contradictory" marijuana laws, stating their ban on the drug may no longer be necessary.
His comments came as the Supreme Court declined to take up an appeal from a Colorado medical marijuana dispensary that was denied the federal tax breaks other industries are given.
Thomas argued in his dissenting opinion that the top court's 2005 ruling to uphold federal marijuana prohibition may be outdated given all of the pro-cannabis policies that have been put into place over the past 16 years.
"Once comprehensive, the Federal Government's current approach is a half-in, half-out regime that simultaneously tolerates and forbids local use of marijuana," Thomas wrote. "This contradictory and unstable state of affairs strains basic principles of federalism and conceals traps for the unwary."
Thomas concluded, "A prohibition on intrastate use or cultivation of marijuana may no longer be necessary or proper to support the Federal Government's piecemeal approach."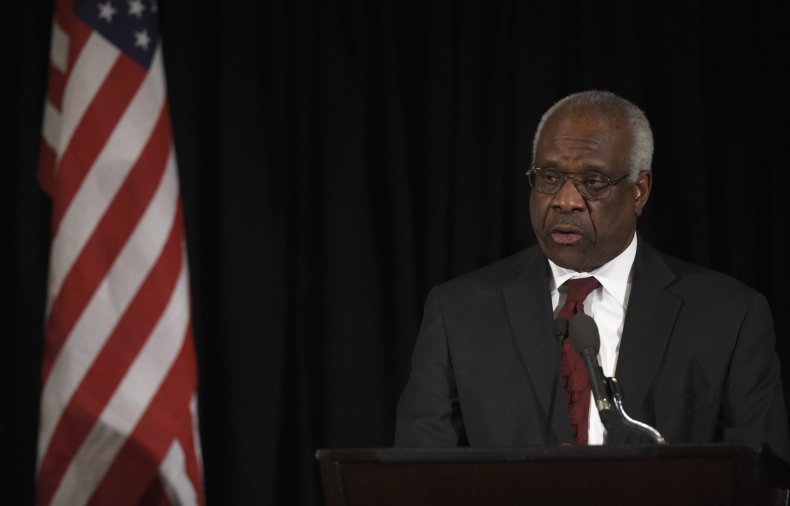 Medical marijuana is now legal in 36 states, and at least a dozen states allow adults over the age of 21 to use the drug recreationally. So far this year, four state legislatures—Connecticut, New York, New Mexico and Virginia—have passed laws to legalize recreational cannabis.
The pro-legalization group NORML celebrated Thomas's opinion, arguing it reflects "what has been obvious to the vast majority of Americans for some time now."
"With nearly half of all Americans residing in a state where the use of marijuana by adults is completely legal, it is both absurd and problematic for the federal government to continue to define cannabis as a prohibited Schedule I controlled substance," Erik Altieri, NORML's executive director, said in a statement.
Recent polling has shown overwhelming support for marijuana legalization. The latest survey from the Pew Research Center found 60 percent of U.S. adults said either that marijuana should be legal for medical and recreational use. Fewer than one-in-ten (8 percent) said marijuana should not be legal for use by adults.
Democrats have recently introduced two bills in Congress that would decriminalize cannabis at the federal level.
In May, Representative Jerry Nadler and others reintroduced the Marijuana Opportunity Reinvestment and Expungement (MORE) Act. The bill would remove the drug from the Controlled Substances Act, where it shares the same classification as heroin and ecstasy, and expunge records for those with cannabis-related convictions.
In June, congresswoman Cori Bush and Bonnie Watson Coleman introduced legislation to decriminalize all drugs at the federal level. The two lawmakers also called for the U.S. to shift to a more health-centered approach when it came to substance abuse.
"It's time to put wellness and compassion ahead of trauma and punishment," Bush said in a statement.