Justice Thomas Wants SCOTUS to Revisit Statute Granting Social Media Platforms Protection from Users' Content
Supreme Court Justice Clarence Thomas argued in a Tuesday statement that the nation's top court should reconsider its interpretation of the statute that social media companies use to claim immunity from liability for content published on their platforms.
Thomas, a staunch conservative, referred to Section 230 of the Communications Decency Act of 1996, which says "no provider or user of an interactive computer service shall be treated as the publisher or speaker of any information provided by another information content provider." Social media companies—like Facebook and Twitter—rely on this statute to remain protected from lawsuits resulting from offensive or inappropriate content that may be published by users.
"Paring back the sweeping immunity courts have read into §230 would not necessarily render defendants liable for online misconduct. It simply would give plaintiffs a chance to raise their claims in the first place. Plaintiffs still must prove the merits of their cases, and some claims will undoubtedly fail. Moreover, States and the Federal Government are free to update their liability laws to make them more appropriate for an Internet-driven society," Thomas wrote.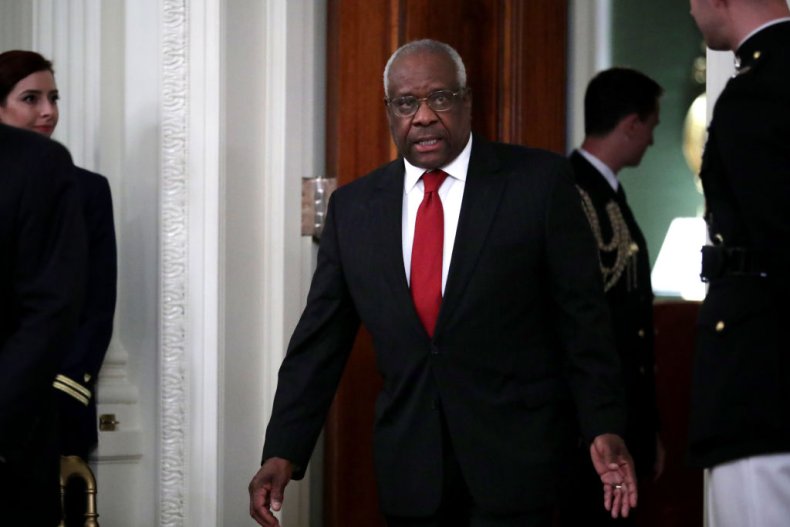 While Thomas said that the Supreme Court did not need to decide the correct interpretation of Section 230 right away, he noted that "in an appropriate case, it behooves us to do so."
Social media platforms have essentially argued, when faced with legal challenges over content published on their sites, that they operate like distributors of information, not as publishers. They have argued that it's not their fault if a user acts in bad faith to share offensive, false or inappropriate content. These platforms do also enforce community guidelines and have teams focused on removing posts that violate those standards.
Thomas believes that the protection courts have provided social media companies under Section 230 is overly broad. Republicans and Democrats have both raised concerns about how social media giants and other tech companies—including Facebook, Google, Amazon and Twitter—are regulated by the government.
The House Judiciary subcommittee—which is led by Democrats—last week released a 449-page report making the case that tech giants Apple, Amazon, Facebook and Google all hold monopoly power. The document included a roadmap for how the federal government can better regulate the companies moving forward.
Meanwhile, Republican members of the subcommittee have expressed concern that social media companies discriminate against conservatives. But there is little evidence to back these claims. Facebook's data shows that conservative posts are consistently the most popular content on its platform.
Newsweek reached out to Facebook for comment on Thomas' remarks, but it did not respond by the time of publication.
Justice Thomas Wants SCOTUS to Revisit Statute Granting Social Media Platforms Protection from Users' Content | U.S.