#JusticeForJohnnyDepp Trends After Amber Heard Admits to Hitting Actor in Audio Clip
After a leaked audio recording appears to reveal Amber Heard admitting to starting physical fights with her ex-husband Johnny Depp, the hashtag #JusticeForJohnnyDepp trended on Twitter as fans expressed support for the actor.
The couple have accused each other of domestic violence in legal documents after Depp filed a $50 million lawsuit, saying Heard defamed him after the Aquaman star published an op-ed in The Washington Post.
Although Heard, 33, didn't mention 56-year-old Depp by name, the actor claimed it was clear she was talking about him. The lawsuit said Depp had suffered financial losses and his career has suffered as a result of the accusations, including being dropped from the Pirates of the Caribbean film franchise, the Associated Press reported.
Since then, Heard has provided evidence to support her allegations of abuse in court filings, including photos of her with bruises on her face and scars on her arms. Depp has denied the abuse and claimed it was Heard who was abusive toward him during their marriage.
Now an alleged audio recording obtained by the Daily Mail that was recorded during a conversation the pair had to talk through their marriage problems in 2015 appears to lend credence to Depp's version of events.
In the clip the couple are heard discussing numerous arguments and Heard admits to "hitting" Depp and pelting him with pots and pans during one violent altercation.
"It's not true. It's not true. I'm not the one who throws pots and whatever the f***ing else at me," Depp replied after Heard claimed he took her for granted.
Later, Heard denied punching Depp but conceded she had hit him.
"I'm sorry that I didn't, uh, uh, hit you across the face in a proper slap, but I was hitting you, it was not punching you. Babe, you're not punched," she said.
"I don't know what the motion of my actual hand was, but you're fine, I did not hurt you, I did not punch you, I was hitting you."
The publication of the taped conversation prompted many to flood Twitter in support of Depp, with hundreds of thousands of supporters using the hashtag #JusticeForJohnnyDepp.
TV producer Jesse Zook Mann wrote, "I have been in recovery circles of many kinds and stories of men receiving abuse are far too common. Johnny Depp is sadly not an isolated case. No matter your gender you deserve to be safe from abuse be it emotional or physical."
Andy Signore tweeted that the leaked audio reveals the truth and is "immensely troubling."
"I listened to it all, and after being a fly on the wall of their fight, it shows she's an abuser & not sharing the full truth," he wrote.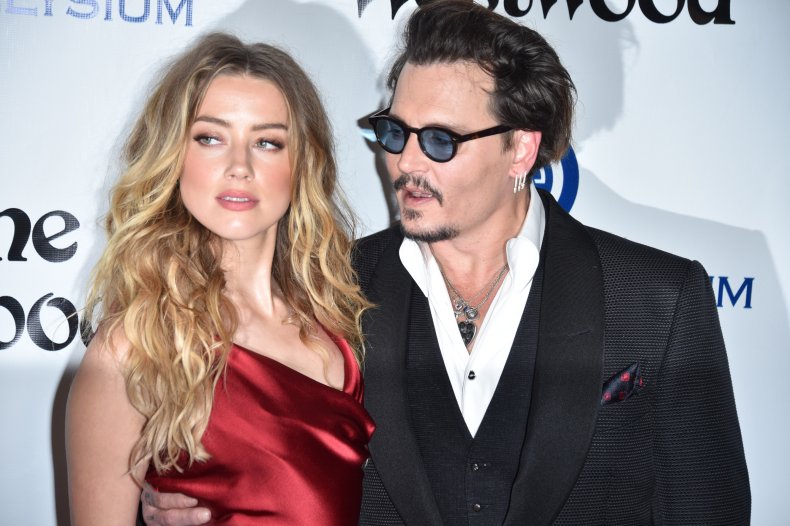 Actor Dash Kennedy Williams added, "Johnny Depp wasn't canceled in my book. We all heard the rumors and saw his finger and the pictures from last year and didn't want to jump to conclusions when all the evidence was to the contrary. But now we have audio to prove what was happening."
Jacklyn Krol wrote, "I just listened to the two audio files, I'm gobsmacked that a woman would make false claims about ANY kind of abuse. This set us back years and it makes it that much harder to report real assaults and have people believe victims when things like this happen."
Heard's attorney Roberta Kaplan told Newsweek: "The fact that a woman fights or talks back does not mean that she has not been the subject of repeated domestic violence and abuse. It's a myth to say, as Mr. Depp apparently is implying, that if Ms. Heard slapped him, then she can't also be a victim. That is just not true."
Depp and Heard met on the set of their 2011 film The Rum Diary. They married in 2015 and divorced two years later. Newsweek has contacted an attorney for Depp for comment.
This article has been updated with a comment from Heard's attorney.