Justices John Roberts and Brett Kavanaugh Express Skepticism About Striking Down Obamacare
Conservative Justices John Roberts and Brett Kavanaugh signaled Tuesday that they are not prepared to strike down the entirety of the Affordable Care Act.
The act—also known as Obamacare—was back before the Supreme Court on November 10 as justices heard oral arguments challenging the constitutionality of the law. The lawsuit was organized by Republican attorneys general in Texas and other states.
The case is centered on a decision by Congress in 2017 that essentially eliminated the individual mandate by reducing the tax penalty for people who did not buy insurance—as required by the law—to zero.
The coalition of red states argues that eliminating the penalty made the entire law unconstitutional. So far, two lower courts have sided with Texas in saying that the individual mandate was unconstitutional.
A group of liberal states, led by California and supported by the House of Representatives, is defending Obamacare. Its position is that the tax penalty is still a tax even if the price is zero. They also argue that even if the court were to strike down the individual mandate and penalty, the rest of the health care law can be "severed" from it.
Chief Justice Roberts and Justice Kavanaugh expressed support for the severability argument during Tuesday's hearing.
While questioning the Texas solicitor general, Roberts said "it's hard for you to argue that Congress intended the entire law to fall if the mandate was struck down."
Kavanaugh agreed, stating that "it does seem fairly clear that the proper remedy would be to sever the mandate provision and leave the rest of the act in place."
Roberts also noted that some Republican lawmakers may have wanted the Supreme Court to strike down the law, "but that's not our job."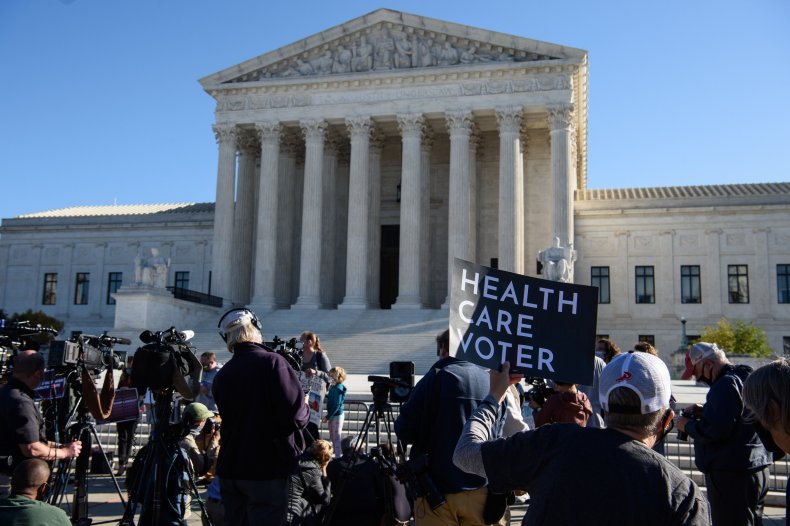 A decision in the case, titled California v. Texas, isn't expected until 2021.
This is now the third time challenges to Obamacare have made their way to the Supreme Court. But it will be the first time Justice Amy Coney Barrett, President Donald Trump's newest appointee, will rule on a case regarding the health care law. With Barrett on the bench, Republicans have a 6-to-3 majority.
The case came before the high court just a week after the election between Trump and President-elect Joe Biden. Trump has said he would only appoint anti-Obamacare judges, while Biden has pledged to build on the health care law during his own administration.
Last month, Trump told CBS News that he wanted the Supreme Court to invalidate the 2010 health care law entirely.
"I hope they end it," the president said, adding that "it'll be so good if they end it."