Who Owns Justify? Triple Crown Winner Reportedly Failed Drug Test Ahead of Kentucky Derby
A recent report from The New York Times claimed that Justify, an American Thoroughbred racehorse, failed a drug test before winning one of the necessary races to become an American Triple Crown winner.
Justify became the 13th Triple Crown winner—a term used for a horse that wins the Kentucky Derby, Preakness and Belmont Stakes in the same year—in 2018. Shortly after his victory, the colt retired from racing due to a bad ankle.
At the time of his retirement announcement, his rider, Mike Smith, credited the horse with being a "gift from God." When he was riding Justify, Smith shared that there was never a time when he thought he would be beaten.
However, Justify may have had some help in solidifying his place in horse history. On Wednesday, The New York Times reported that Justify failed a drug test weeks before the 2018 Kentucky Derby. Given the sport's rules, the horse should have been disqualified and unable to enter the race, therefore, making it impossible for him to win the Triple Crown.
Get your unlimited Newsweek trial >
Instead of the disqualification, The New York Times claimed the California Horse Racing Board took more than a month to confirm the results and then decided to drop the case instead of filing a public complaint. Moving forward, horses that were found to have scopolamine, the banned substance Justify tested positive for, in their system would receive a lighter penalty, as well.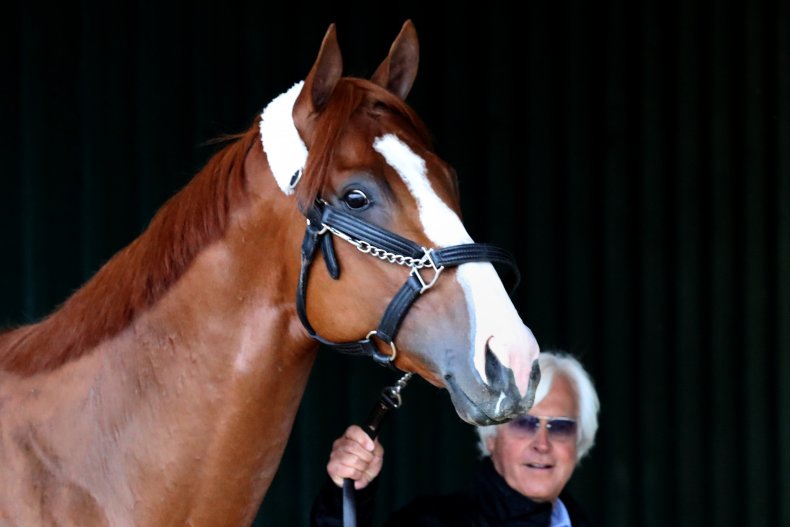 Being a successful racing horse can bring in a pretty penny for owners and Justify was awarded $2.94 million for winning the three races that made him a Triple Crown winner, according to CNBC. That's not a bad payday considering Justify was reportedly purchased for $500,000.
When Justify was purchased, he was co-owned by WinStar Farms, China Horse Club and SF Racing, an equine investment club linked to billionaire George Soros. SF Racing later sold racing rights to Starlight Racing but retained breeding rights, according to the Louisville Courier-Journal.
Get your unlimited Newsweek trial >
Although Justify is no longer racing, he's still a profitable investment. Following his victory at the races, Coolmore Stud, an Ireland-based thoroughbred racehorse breeding operation, reportedly purchased Justify's breeding rights. The exact number has been disputed and The New York Times reported it was for $60 million, but ESPN reported it was up to $75 million.
During his retirement, Justify mates as often as three times a day at a $150,000 price tag per mating. He was originally brought back to WinStar Farm in Kentucky but now lives in Australia, according to The New York Times.
Rick Baedeker, the executive director of the California Horse Racing Board, told The New York Times that scopolamine can be found in jimson weed and get mixed in with feed, therefore making its way into a horse's system completely unbeknownst to the team. Baedeker said it would have been careless to ask an investigator to conduct an investigation that should take two months in days. Newsweek reached out to the California Horse Racing Board but did not receive a response in time for publication.
"We take seriously the integrity of horse racing in California and are committed to implementing the highest standards of safety and accountability for all horses, jockeys and participants,'' the California Horse Racing Board said in a statement to ESPN.
Who Owns Justify? Triple Crown Winner Reportedly Failed Drug Test Ahead of Kentucky Derby | U.S.