Justin Amash Argues Republicans and Democrats Are 'Destroying Our System,' Says They Are 'Making It Impossible' to Enjoy Our Lives
Congressman Justin Amash of Michigan, who is seeking the Libertarian Party's presidential nomination, strongly criticized the country's two-party system, arguing that Democrats and Republicans are "making it impossible" for Americans to enjoy their lives.
Amash was elected as a Republican but formally left the party last summer, declaring himself an independent on the Fourth of July. He has been a strong critic of President Donald Trump since his 2016 presidential campaign, and was the only conservative member of the House of Representatives to vote with Democrats to impeach the president in December.
Last week, Amash announced he had launched an exploratory committee to seek the presidential nomination of the Libertarian Party. He spoke about his decision and how he plans to appeal to voters in an interview with CNN's State of the Union on Sunday.
"I'm going to go out there and get the message out there about what's wrong in Washington. I think we're at a crossroads. There is a difference over the last decade or so, where people are more polarized, more upset," Amash said. "But actually, most Americans are delightful people, are polite people, want to work with each other, respect each other," he added.
"And these two factions [Republicans and Democrats] that really control our political system are destroying our system," the congressman warned, "and making it impossible for the rest of us to frankly, enjoy our lives," he said.
Amash asserted that he aims to represent the Americans frustrated with the current political divide. "I think we are at that crossroads where this kind of change can happen," he said.
Posting to Twitter after the interview, Amash wrote: "No candidate is entitled to your vote or a presumption of victory. Vote for the person you want to win."
Any third-party candidate would face an uphill battle to win the presidency. The U.S. political system has been dominated by the two-party system for decades, with only one independent (Amash) serving in the House of Representatives, and just two serving in the Senate. The Libertarian Party's 2016 presidential nominee, Gary Johnson, garnered only 3.27 percent of the national popular vote, which was the political party's best-ever election result.
Some analysts, including other conservatives who are against Trump, have raised concerns about Amash entering the race. They have warned that his run could draw votes away from Democratic presidential candidate Joe Biden, who many conservative Trump critics have backed, leading the Republican president to victory and another four years in office.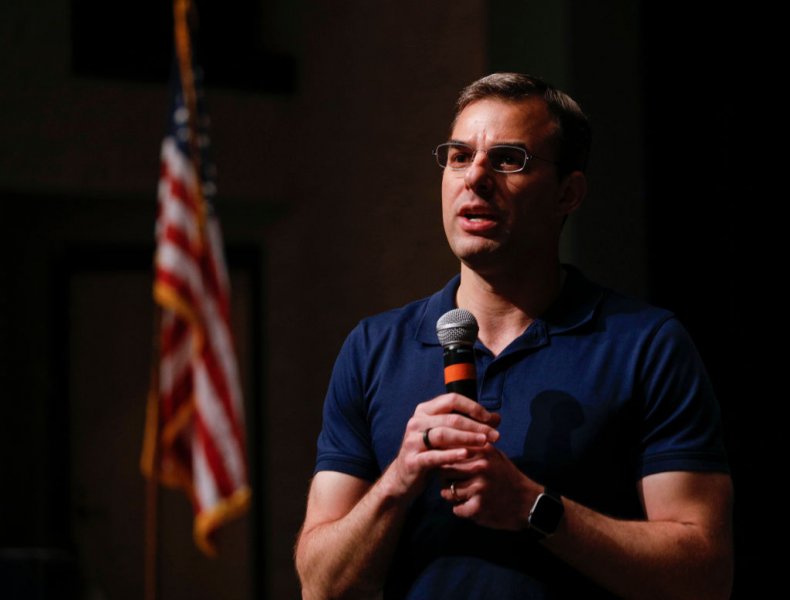 "He can siphon enough votes from the Democratic nominee, Joe Biden, to hand the election to Trump," former Republican Representative Joe Walsh of Illinois, who unsuccessfully mounted a GOP primary challenge to Trump, wrote in an opinion article for The Washington Post. "And you don't have to be happy with your choices at this point to see that the only candidate who can beat Trump is the Democratic Party nominee."
But Amash has expressed confidence in his ability to win the election, not just to siphon votes from other candidates.
"I'm in the race to win it," he told Fox News this weekend. "I would not have entered the race unless I thought there was a path to victory."