Republican Justin Amash Trolls Donald Trump Jr. After First Son Threatens to Campaign Against Impeachment Supporter
The lone Republican in favor of impeaching President Donald Trump, Representative Justin Amash, trolled the president's eldest son Donald Trump Jr. after the first son threatened to campaign against the Michigan congressman.
Trump Jr., an executive vice president of the Trump Organization who often speaks at Trump campaign rallies, challenged Amash on Thursday morning by quote-tweeting a 2020 Michigan Republican primary poll by Practical Political Consultants (PPC) indicating Amash was polling at 33 percent, 16 points behind challenger Jim Lower's 49 percent.
"See you soon Justin..." Trump Jr. tweeted. "I hear Michigan is beautiful during primary season."
Shortly after, Amash quote-tweeted Trump Jr. and wrote, "If it's what you say I love it especially later in the summer."
Amash did not elaborate on his hit back at Trump Jr. The congressman in Michigan's third district since 2011, began calling for Trump's impeachment in May after reading the full report prepared by Special Counsel Robert Mueller. Amash became the first Republican to openly declare that Trump had committed obstruction of justice and had "impeachable conduct." The congressman also said Trump's actions were "inherently corrupt."
Trump has responded by dubbing Amash a "lightweight" and "loser." The president has also reportedly considered supporting Amash's challenger Lower, who is a Michigan state representative.
Amash has also considered running against Trump in the 2020 presidential election.
"I haven't ruled anything out," Amash told The Hill on Wednesday, adding he has "no interest in playing spoiler."
"When I run for something, I run to win," Amash said.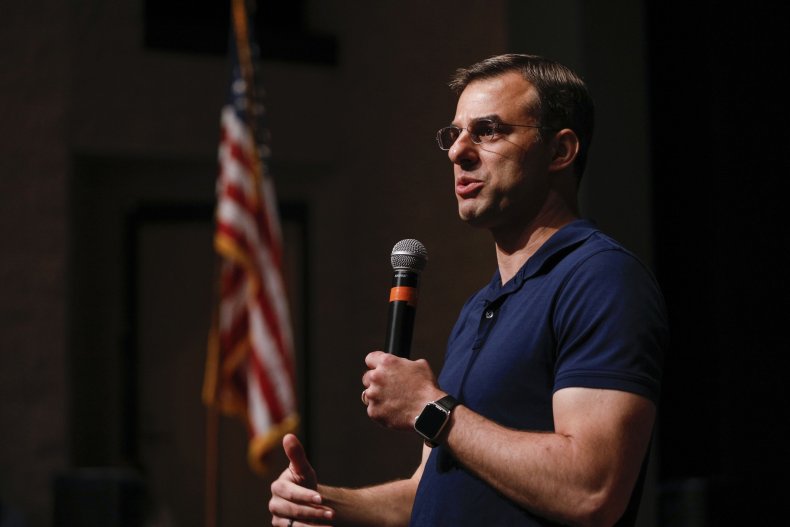 Some Republican lawmakers are concerned that Amash, who leans Libertarian, running for president could take tens of thousands of votes from Trump and cause Rust Belt states that went to Trump in 2016 including Michigan, Pennsylvania and Wisconsin, to turn blue.
The PPC poll, conducted from July 5 to 9 and distributed by MIRS News, also found that if Trump backed Lower, the margin of Amash's challenger would actually go down 43 percent to 32 percent. The poll involved 360 Republican voters and had a margin of error of about 5 percentage points.
"Justin Amash is not going to run for re-election," PPC consultant Mark Grebner stated. "When he runs polling, if he hasn't already, and sees these types of numbers, he's going to find something else to do."
Amash did not immediately respond to a request for comment from Newsweek on Thursday.