Justin Amash: Washington 'Much Worse' Than Netflix's 'House of Cards,' 2-Party System Destroyed Government
Michigan Congressman Justin Amash, who recently left the Republican Party to become an Independent, said Americans in both parties will be let down and that Washington is "much worse" than as its depicted in Netflix's House of Cards.
Amash, who was described as a "total loser" by President Donald Trump for leaving the GOP earlier this summer, told constituents in Grand Rapids, Michigan, on Wednesday that the two-party system in Washington D.C. has broken the federal government. Amash referenced the Netflix show House of Cards, which followed a calculated and manipulative congressman, Frank Underwood, as he took revenge on rivals in order to expose Washington corruption.
The real-life Michigan congressman said dysfunction in the District of Columbia is actually much worse than it's depicted in the fictional program, The Detroit News reported Wednesday from the Rising Grinds Cafe coffee shop.
"One of the problems we face is that people at home are often unaware of how bad the system is," Amash, 39, told constituents of the state's 3rd District. "You'll see 'House of Cards' or whatever and say, 'Oh, it can't be like that. That's fiction in some of these shows that depict Washington.' Well, actually, it's much worse in most respects. It's much worse than 'House of Cards.'"
Amash said people in the real world of Washington care little about making policy changes or helping constituents, but instead are only interested in their own re-election. He reiterated that Washington politicians almost always put the interests of their respective party over the interests of everyday Americans.
"People actually seem to care about policies a lot of the time," Amash said of House of Cards, explaining how the show which featured the murder of a journalist is actually more productive than the real-life nation's capital. "And in Washington what actually happens is they care about the party first. It's very much about some sort of self-preservation."
Amash took shots at partisanship from both Democrat and Republican leaders including House Speaker Nancy Pelosi, former House Speaker Paul Ryan and GOP Senate Majority Leader Mitch McConnell.
"They'll do everything in their power to marginalize you if you don't play ball with them," Amash said, detailing how former House Speaker John Boehner pushed him out of a budget committee for not voting with the party 100 percent of the time.
"When they do something for you like they put you on a committee or they give you a chairmanship, they actually give you a bill that says how much you have to raise for the party," he said. "It's total corruption."
The Detroit News' Jonathan Oosting reported that Amash has organized several town hall-style events as he seeks reelection without the backing of the Republican Party or Trump––who has the support of more than 72 percent of Republicans according to recent surveys. Five other Republicans and five Democrats have already filed to run in Amash's 3rd Congressional District.
Last month, Trump lashed out at Amash for announcing his departure from the Republican Party and attempted to paint the move as a win for both himself and the GOP. Since then, Amash has spent much of his energy on social media taking shots at the president as well as illustrating how the two-party structure of U.S. politics has destroyed the government.
"Great news for the Republican Party as one of the dumbest & most disloyal men in Congress is "quitting" the Party. No Collusion, No Obstruction! Knew he couldn't get the nomination to run again in the Great State of Michigan. Already being challenged for his seat. A total loser!" Trump tweeted on the 4th of July.
This week, Amash pinned at least part of the the vicious cycle of partisan politics on the president himself, saying Trump is only concerned with getting re-elected in 2020: "Trump's presidency is the natural outcome of the not-my-side-ism that pervades today's politics. When you're convinced the other side is uniquely responsible for the country's ills, you're liable to vote for anyone, no matter how unsavory, who will keep the others out of power," Amash tweeted Monday.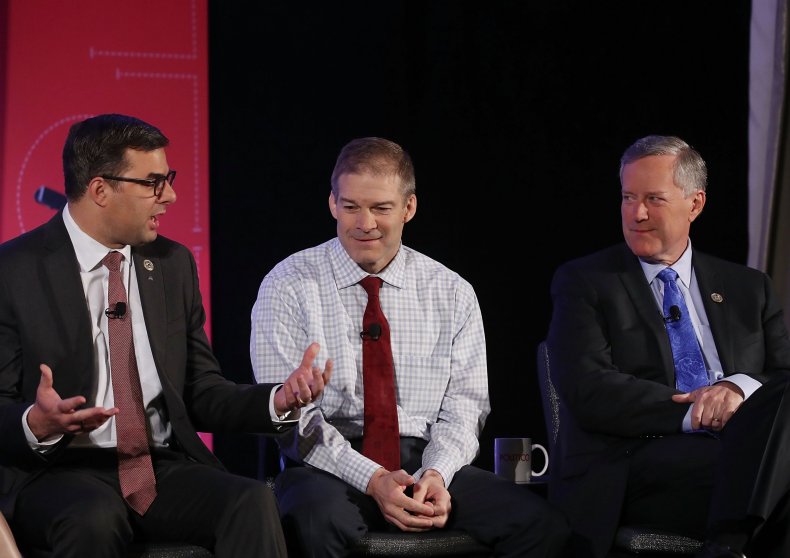 At one coffee shop stop, Amash doubled down on his support for the 2nd Amendment and gun rights. When a woman told him he "likes the Constitution more than lives," he replied, "the Constitution is what protects our lives."
Netflix's House of Cards, which starred Kevin Spacey and Robin Wright, concluded in November 2018 and first aired in February 2013.