Former Republican Justin Amash Slams GOP's Kevin McCarthy as Incompetent, Dishonest for Defending Trump
Republican-turned-Independent congressman Justin Amash laid into the House's top Republican on Sunday, saying House Minority Leader Kevin McCarthy (R-Cali.) lacked competence and was dishonest in a CBS 60 Minutes interview where he defended President Donald Trump's actions involving the Ukraine whistleblower scandal.
"Kevin McCarthy again displays his unique brand of incompetence and dishonesty," Amash wrote on Twitter, along with a portion of McCarthy's 60 Minutes interview.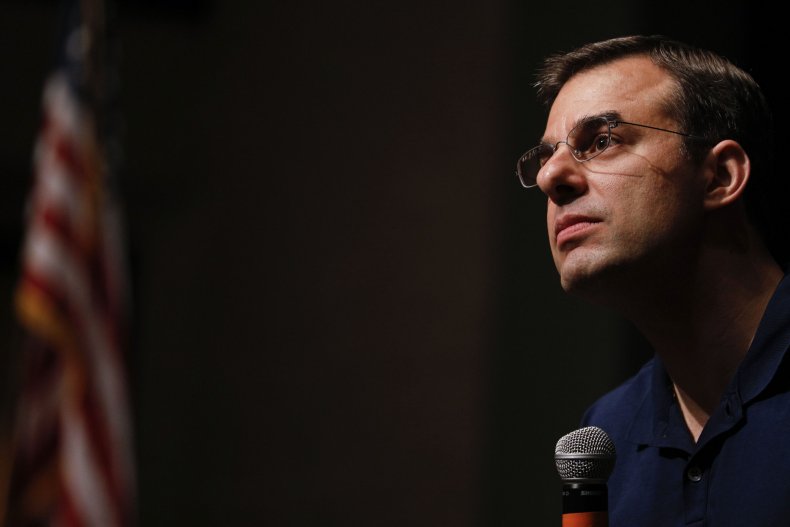 Amash, once a member of the conservative House Freedom Caucus, left the Republican Party in July and became an Independent after becoming the first and only member of his party to call for Trump's impeachment based on evidence from the Mueller report. He pointed to the roughly 10 instances of potential obstruction of justice as the crux for his belief Trump should be ousted from office.
In his 60 Minutes interview, McCarthy appeared confused and unaware about certain portions of the partial White House transcript of a phone call Trump had with Ukrainian President Volodymyr Zelensky, a conversation where Trump asked a foreign counterpart to investigate one of his political opponents: former Vice President Joe Biden and his son Hunter. The call was first brought to light after an anonymous whistleblower from the Intelligence Community (IC) reported it to the IC's inspector general.
Host Scott Pelley pressed McCarthy about the portion when after Zelensky tells Trump that Ukraine is ready to purchase more anti-tank missiles known as Javelins, Trump responds: "I would like you to do us a favor though." Trump then went into his requests for Ukraine to investigate stolen Democratic emails from the 2016 election and the Bidens for their involvement in a Ukrainian gas company.
McCarthy told Pelley he added the word "though" but was informed by the anchor that the word was in the transcript. The California Republican then defended Trump and sidestepped questions about whether the president's actions were appropriate.
"When I read the transcript, President Zelensky brings up—a Javelin is a protection for anti-tank, something that President [Barack] Obama would not sell. That President Trump did to protect the Ukraine," McCarthy said. "The question before the House of Representatives is to impeach the president based upon a phone call the Speaker never even heard... The president did nothing in this phone call that's impeachable."
Trump has escalated his attacks of the House Democrats who are aggressively investigating him as part of their newly launched impeachment proceedings.
In recent days, he's claimed in tweets that a civil war could erupt in America if the House successfully votes to impeach. In a Monday morning post to the social media site, he suggested Intelligence Committee chairman Adam Schiff (D-Cali.) should be arrested for treason—a crime that is punishable by death—for making remarks during a hearing last week for exaggerating the contents of Trump's phone call with Zelensky.