Justin Amash's Presidential Run in 2020 Could Hurt Donald Trump at the Polls
Michigan Representative Justin Amash announced his bid for the 2020 presidential election last week, but his decision could hurt President Donald Trump at the polls.
Amash had been a member of the Republican party, but nine months ago he left to become an Independent. He announced, however, that he would run for president as a Libertarian. It is still unclear whether Amash will win the Libertarian Party nomination, but many have already speculated how his decision could impact the 2020 election.
Although it is not likely that a third-party contender like Amash will receive a majority of votes, according to FiveThirtyEight, he could pose a potential problem in key swing states that can shake up the election. For example, during the 2016 elections, Trump's victory in a key swing state like Michigan helped serve as a major stepping stone to his eventual election—but this could change in the upcoming election because Michigan is Amash's home state.
In addition to impacting the results in a key swing state like Michigan, FiveThirtyEight reported, some believe that Amash could gain the support of "Never Trumpers," who are Republican voters who aren't fans of Trump but want to keep their conservative values in place.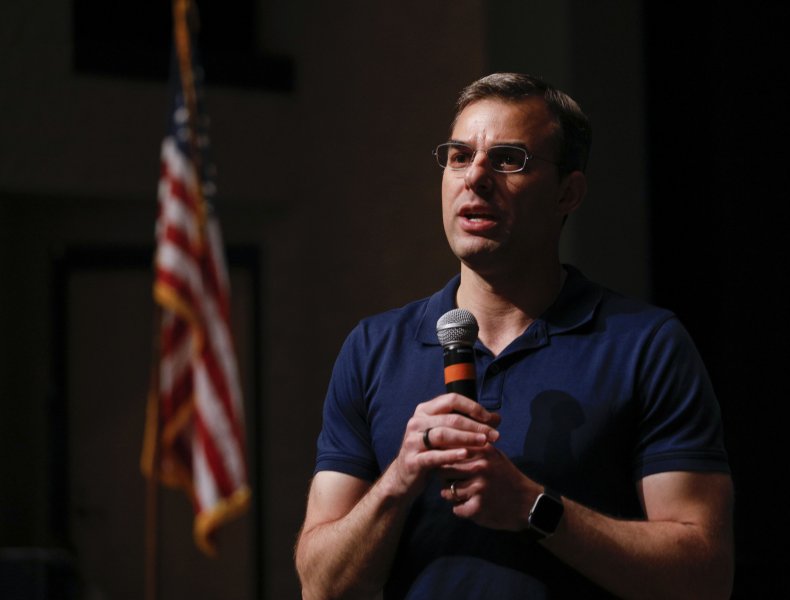 The analysis by FiveThirtyEight also showed that the effects of Amash's run could swing the other way—Joe Biden could lose voters who want an alternative to Trump but who do not like the former Vice President.
Former Democratic Presidential nominee Andrew Yang and Republican Trump critic George Conway recently took to Twitter to talk about Amash's recent decision to enter the election and how it could hurt Biden.
"I like Justin. I love Democracy. But I do think a 3rd party run increases the chances of Trump's re-election," Yang tweeted.
"I admired how @justinamash stood up for the rule of law in Trump's impeachment. And needless to say, my views align more closely with Amash's than Biden's. But the only real effect Amash could have in this campaign is to enhance Trump's chances. This is a terrible idea," Conway wrote on his Twitter.
Amash did not immediately respond to Newsweek's request for comment. However, he recently defended his decision to run, disregarding the idea that he could tip the election to either Trump or Biden.
"We don't know how the additional candidate changes a race. It's too impossible to figure out. There's too many calculations involved," Amash recently said while appearing on CNN's "State of the Union."
"For too long we've had the same system, where these two parties go at each other and Washington is totally dysfunctional. That's why I left the Republican party," Amash added. "We need someone who is going to come in as president, respect our Constitution, defend our rights and fix our representative system of government so people will actually feel represented at home."
The evidence may be mixed for now about how a third-party candidate like Amash may affect the vote, but past elections could provide a hint, FiveThirtyEight wrote: "They didn't go well for the incumbent party in the White House."