Justin Bieber '10' Photo With Ed Sheeran Sparks Collaboration Speculation: What Else Have They Done Together?
Justin Bieber posted a photo on Twitter of himself and fellow musician Ed Sheeran along with the caption "10" Tuesday, sparking rumors a musical collaboration was imminent. If true, it wouldn't be the first time the two had worked together.
The photo was posted on the heels of Taylor Swift's campaign where she posted several pictures on Instagram with the same caption, "4.26," leading fans to accurately predict she was releasing new music on April 26.
Stuart Camp and Scooter Braun, Sheeran and Bieber's respective managers, did little to quell rumors from that a joint project was in the works when both posted identically staged photos of their clients with the same caption on Instagram Wednesday. Based on fan reactions to Bieber's tweet, which showed the two photos side by side with the caption "10," and their previous times working together, a collaborative song could prove quite successful.
Sheeran wrote Bieber's hit song Love Yourself, which he released as a single and included on his 2015 album Purpose. In 2017, Sheeran told Carson Daily on 97.1 AMP Radio that he originally wrote it for his own album Divide. However, he said the song "just wouldn't have made it" and credited Bieber for doing "his thing with it" and making it into the success that it was.
Newsweek subscription offers >
"So going from a song that would have never been released to [being] the biggest song of last year – it just became Billboard's #1 of 2016 of the whole year, and [was] nominated for Song of the Year at the GRAMMYs – it just shows you that you shouldn't always write stuff off," Sheeran said.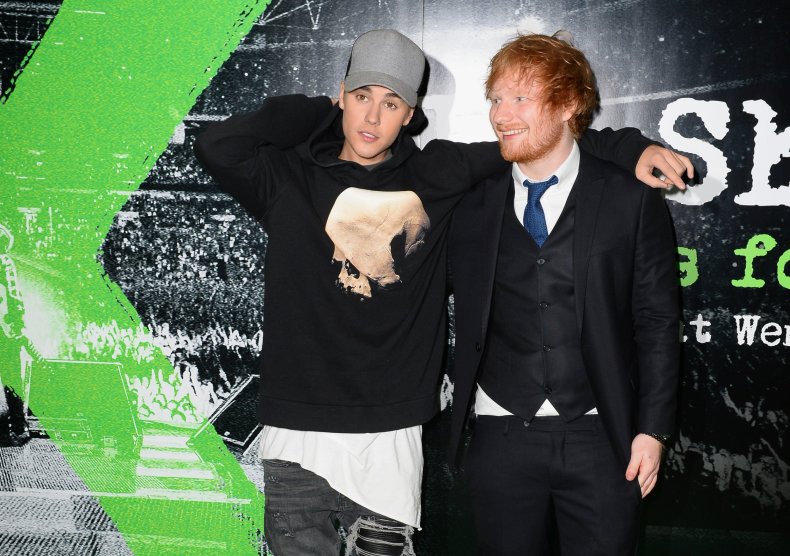 While at producer Benny Blanco's house, Sheeran said he must have "half-written" a song that he "didn't even know" existed. One day, he got an email from the DJ, Diplo, asking if he could have the song and then a second email saying Bieber wanted to "hop on" the song, as well. The song turned out to be Cold Water, which Bieber collaborated with Major Lazer and MØ to release.
"And then the song came out and it was number one and I was like 'Oh, that song!' I remember doing it, but it was really, really slow. I remember hearing it and being like 'That kind of sounds like me. Oh wait, it was me,'" Sheeran told Daly in 2017.
Newsweek subscription offers >
Most recently, the two appeared on Lil Dicky's Earth, which featured a whole host of musicians and actors, cast in the video predominately as animals, for the song promoting saving the Earth. In the music video, Bieber was a baboon and Sheeran was a koala.
Neither Bieber nor Sheeran have detailed the project they're working on, which prompted radio host Dayna B to question if it was a song or collaboration on Hawaiian shirts.
Other Twitter users full supported the collaboration.
On April 25, Bieber tweeted that he was a "big fan" of Sheeran's, but fans will have to wait and see what the big announcement was all about.
Justin Bieber '10' Photo With Ed Sheeran Sparks Collaboration Speculation: What Else Have They Done Together? | U.S.