Justin Bieber Backs Down From Tom Cruise Fight Challenge: 'He'd Probably Whoop My Ass'
Justin Bieber has backed down from his challenge to fight Tom Cruise in the UFC octagon, saying that if he came to blows with the Hollywood star "he'd probably whoop my ass."
The 25-year-old "Sorry" singer made the surprising request for a showdown with the Mission Impossible actor Sunday, saying on Twitter, "I wanna challenge Tom Cruise to fight in the octagon. Tom if you don't take this fight your scared and you will never live it down. Who is willing to put on the fight? @danawhite [the president of UFC]?"
The tweet went viral, racking up more than 217,000 likes, 44,000 retweets and 39,000 comments. Former UFC champion Conor McGregor even chimed in, offering to host the fight.
"If Tom Cruise is man enough to accept this challenge, McGregor Sports and Entertainment will host the bout," he said. "Does Cruise have the sprouts to fight, like he does in the movies? Stay tuned to find out!" McGregor added.
But Bieber has now admitted that he wasn't serious about combating Cruise, and that even if he did, he'd probably lose. When asked about the fight by TMZ while leaving wife Hailey Baldwin's office in Los Angeles on Wednesday, Beiber said, "Nah, I was just playing."
"I don't know him. He's tight. The story is I saw an interview with him, and he was just on my mind. It was just a random tweet. I do that stuff sometimes." the musician explained.
When asked further about what would happen if he traded blows with Cruise, Bieber admitted: "I think he'd probably whoop my ass in a fight."
"I'd have to get in some good shape....I'm really skinny right now. I think he'd probably be out of my weight class. Because he's got that big dad strength," he added.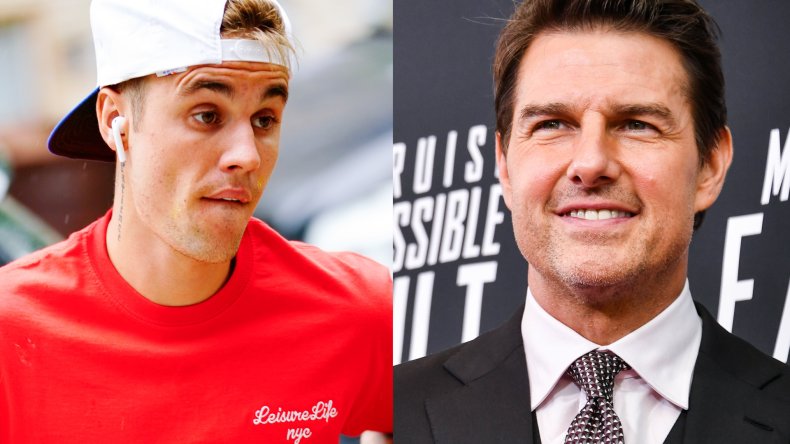 Cruise, 56, has three children, two adopted and one biological. The movie star is well known for doing a number of his own stunts in the spy thriller Mission Impossible series. Previous stunts have seen Cruise scaling the world's tallest building, conducting 106 HALO (high altitude, low opening) parachute jumps and hanging onto a plane as it took off from the runway into the sky.
A day after his initial declaration of wanting to fight Cruise, Bieber shared on Twitter a YouTube video showing a scene from the 1992 historical drama film Far and Away, which starred Cruise. The edited clip is a scene of Cruise's character Joseph Donelly successfully winning a bare-knuckle boxing match, but with the face of Cruise's defeated opponent replaced by a picture of Bieber.
Along with posting the video clip, the singer said on Twitter, "Damn Tom this didn't go as planned."