Justin Bieber x Crocs Release Date, Price Details and Where to Buy
If you like Crocs shoes and are also a "Belieber" then get excited about the new collaboration between the two superstars.
The casual footwear brand—which caters to women, men and children—is partnering with the Grammy Award-winning pop sensation Justin Bieber to release the Crocs x Justin Bieber clog. The design pulls from the Classic Clog range as well as Bieber's signature yellow from his personal clothing brand, drew house. There are also eight custom Jibbitz charms designed to match, letting wearers make their own shoes unique in design.
The idea behind the new collection is promoting comfortable fashion as well as "coming as you are," which is a mantra for the shoe brand. This year the Crocs declared that being comfortable and expressing yourself were not "mutually exclusive."
"As an artist, it's important that my creations stay true to myself and my style," says Bieber. "I wear Crocs all the time, so designing my own pair came naturally.
"With these Crocs, I just focused on making something cool that I want to wear."
Crocs, known for combining comfort and style, make the vast majority of shoes within its Croslite material—a proprietary, molded footwear technology, delivering "extraordinary comfort with each step." With this latest shoe, the brand wants to promote a laidback and "good vibes" feel.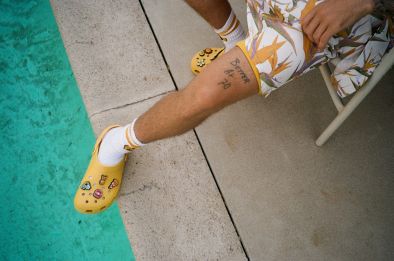 "'Croctober' is a monumental time of year for Crocs fans, so it made sense to up the ante by collaborating with an authentic fan—and one of the world's biggest superstars—Justin Bieber," explains Heidi Cooley, head of global marketing for Crocs. "Having a creative of Justin's caliber wearing Crocs shoes is of the highest compliments and definitely hasn't gone unnoticed.
"But it's his belief in being true to yourself, a value we share, that makes this special partnership so authentic and exciting."
Bieber is a brand in his own right—he has 55 million monthly Spotify listeners and has become the first artist to cross the threshold of 50 million YouTube subscribers. His most recent single "Holy," which features Chance the Rapper, reached #1 on the Spotify Global Chart and was streamed over 120 million times in its debut week.
The Crocs, which are limited-edition, is released globally today (October 13, 2020) and will cost $59.99 across select Crocs and partner e-commerce channels. The Crocs x Justin Bieber with drew Classic Clog will also be sold at Crocs retail stores in China and South Korea as well as on www.thehouseofdrew.com.
Newsweek has affiliate partnerships. If you make a purchase using our links, we may earn a share of the sale.