Where Are Justin Bieber and Hailey Baldwin Getting Married? Inside Luxury Montage Palmetto Bluff in South Carolina
Justin Bieber and Hailey Baldwin (or Hailey Rhode Bieber, as she's now known) are getting married again, this time in South Carolina with all their family and friends present.
The couple are expected to have a lavish wedding ceremony Monday in South Cackalacky. Bieber and Baldwin flew into South Carolina from Los Angeles Saturday and reportedly hosted a rehearsal dinner for their guests on Sunday.
Guests at the rehearsal dinner Sunday included Kendall Jenner, Hillsong pastor Carl Lentz and Bieber's manager, Scooter Braun.
The South Carolina wedding is expected to be a more extravagant affair than Bieber and Baldwin's courthouse wedding in Manhattan, New York, last September. According to Baldwin's father, actor Stephen Baldwin, the young couple want to have a religious ceremony to solidify their nuptials.
Last month, Stephen Baldwin told TMZ: "I just think that as Christians and as believers, they understand that if you don't have the God's spirit working in your marriage it just makes it more and more difficult to make it work and have peace and find happiness. Weddings and marriage are supposed to be a holy commitment, one onto another."
On Monday, Bieber teased his second wedding by posting a throwback photo of him, Baldwin and her parents on Instagram.
He captioned the picture: "Me and the wife! and the in laws !! Thanks for lettin ur daughter marry a savage like me."
Inside Justin Bieber and Hailey Baldwin's luxury wedding venue
TMZ and People both report that Bieber, 25, and Baldwin, 22, will host their second wedding at the luxury Montage Palmetto Bluff hotel in South Carolina's Lowcountry. A wedding invite posted by TMZ is dated Monday.
The Montage Palmetto Bluff is situated between Savannah and Hilton Head, South Carolina, and is along the May River.
The Montage Palmetto Bluff is a 20,000-acre estate that has two villages with nine restaurants, a riverfront marina and its own golf course.
The stunning location has several options for wedding parties, including two chapels, according to the Montage website.
The May River Chapel, which overlooks the river, "features stunning views through its arched windows," and can hold up to 120 people.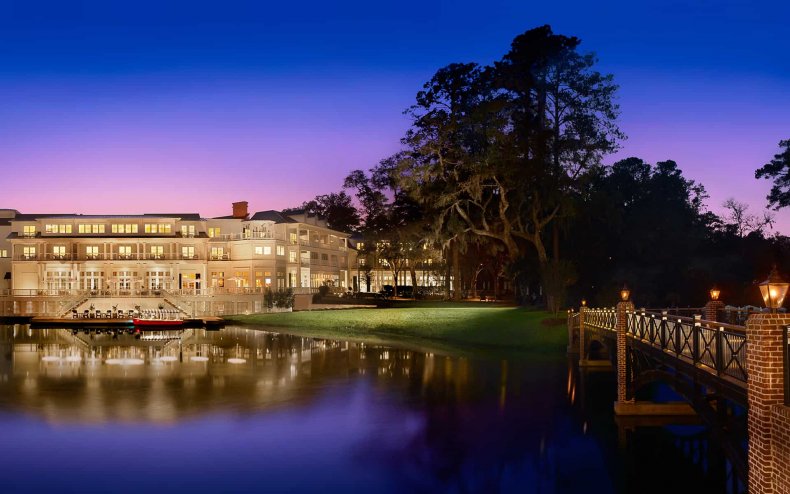 The Somerset Chapel, meanwhile, can host up to 185 people and is described as "a stately welcome to Montage Palmetto Bluff. Beautiful arched windows face east and west providing spectacular lighting from sunrise to sunset as the streams of light filter through, creating a magical setting."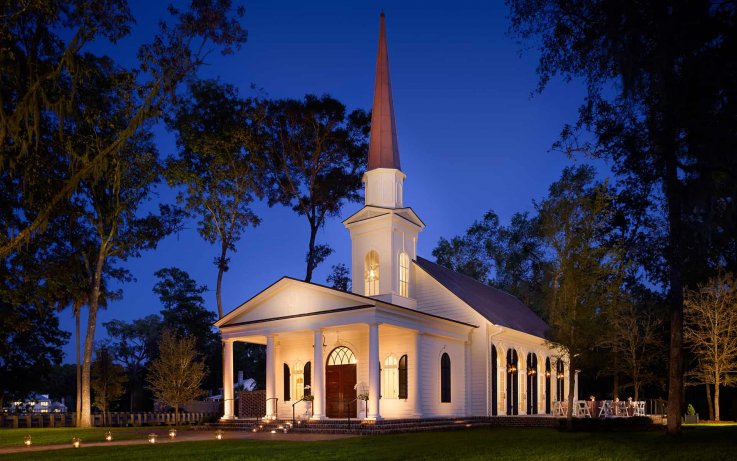 Somerset Chapel.
Montage Palmetto Bluff
The Montage Palmetto Bluff has various venues for formal wedding receptions, too, including two ballrooms, the largest of which can seat 350 people at capacity. Other reception locations include the wine cellar, which "offers a definitively unique setting for a private party," according to Montage. The wine cellar has a stone fireplace, dramatic lighting and a lounge area with couches. The final formal option is the Canoe Club, which is designed to look like the inside of a ship and has arched wooden ceilings and views of the river.