Justin Bieber Joins Health Workers in Fight for Christmas Number One Song
Five years after they beat him to the coveted U.K. Christmas number one, Justin Bieber wasn't about to let the health workers do it again without him.
Members of the Lewisham and Greenwich National Health Service (NHS) Choir—many working on the frontline of the COVID fight this year—first went up against the Canadian superstar in a closely fought race for the U.K. chart top spot back in 2015.
Bieber admittedly did have a hand in their success, urging his fans to support the choir when he learned their single raised money for charity. This time around, he approached the group and asked them to lend their voices to a special version of his track "Holy" in a bid for chart glory again. Profits of the single are split between NHS Charities Together and the choir's local NHS trust charity.
The piano-led "Holy," which also features Chance the Rapper, focuses on Bieber's Christian beliefs and his love for his wife Hailey and includes vocals from the NHS choir recorded at the famous Abbey Road Studios. Bieber, 26, said of the collaboration: "It's great to be reunited with the Lewisham and Greenwich NHS Choir, as we share a fun bit of U.K. chart history together.
"Especially in these difficult times, I'm humbled to team up with them for a charity single that will benefit NHS workers on the frontlines of this pandemic and pay tribute to their unbelievable dedication."
The staff that makes up the choir have been fitting in virtual rehearsals around grueling shifts in intensive care units or in the community wearing full Personal Protection Equipment.
"For some of our members, being part of the choir this year was too much, but a lot of people did find it, when everything was all over the place, a comfort to stay in touch and have a bit of a laugh," choir leader and children's physiotherapist Caroline Smith tells Newsweek.
"When we went into lockdown we were keen to get something up and running as soon as we could because we know that there are people from all across the different hospitals and across the community and we just felt it was really important for everybody to stay in touch.
"In the first call we had with everybody it was just really lovely to see everybody's faces. We just wanted to keep the rehearsals going for whoever wanted it. Some would have the choir call on in the background while they were getting ready for a night shift in the ITU, so it was nice to know that you could be there to give that support."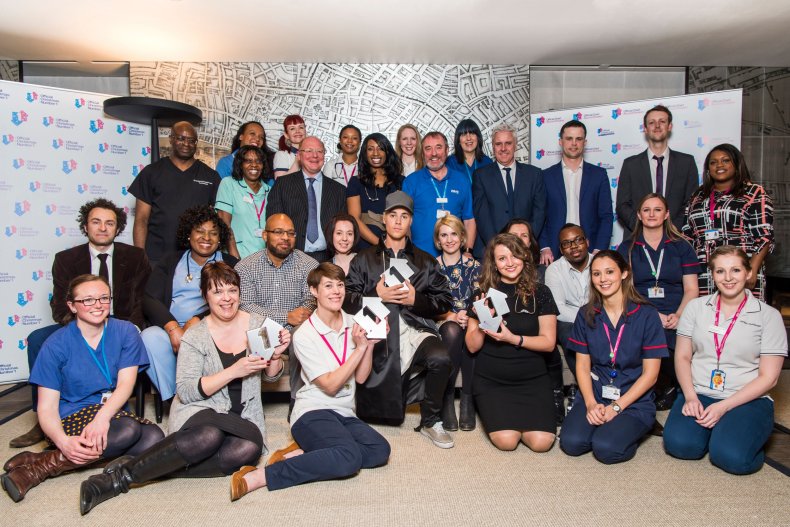 When Smith got an email from Bieber asking if the choir would be willing to collaborate, she says she didn't want to get too excited but admits he won't know how much it motivated the group.
"We'd been so busy, I think the thought of trying to aim for a number one was not in our heads, we were just trying to keep rehearsals going," Smith says. "Five years ago we joked about doing a collaboration but never dreamed it would actually happen so to have him reach out and revisit that moment was really quite nice.
"We've had other things organized and then they've been canceled because of COVID and I just thought I didn't want to get too excited because I just thought I don't know how I can do this. Having a project and something to focus on that is completely different from your day job definitely gave everyone a boost, it was really exciting."
It wasn't until the choir turned up at Abbey Road Studios, perhaps most famously linked to The Beatles, that they sang "Holy" together in-person for the first time. Smith says: "To hear it played back with his vocals, was amazing."
Life for Smith, like millions of others across the world, changed unimaginably when lockdown hit in England. She usually visits her patients, children with disabilities, at home and suddenly found herself working online.
In August, she was able to start seeing her patients face-to-face once again. "It's obviously in full PPE," Smith says, "but it just feels lovely to see people. You go into health care because you like to see people and care for people and it's lovely to start getting back to a bit of normality, whatever that is at the moment."
The unlikely partnership between Bieber and the choir started in 2015 when his hit "Love Yourself" went up against the choir's "A Bridge Over You" in the U.K.'s official singles chart.
Upon hearing about the choir, Bieber told his then 80 million Twitter followers to "do the right thing" and help the choir reach number one. Following their success, the pop star traveled to London and presented them with their chart award.
"Holy" by Justin Bieber and Lewisham And Greenwich NHS Choir is available now.