Justin Bieber's Painting Reflects Image as a 'Tender-Tough Man-Child,' Critic Says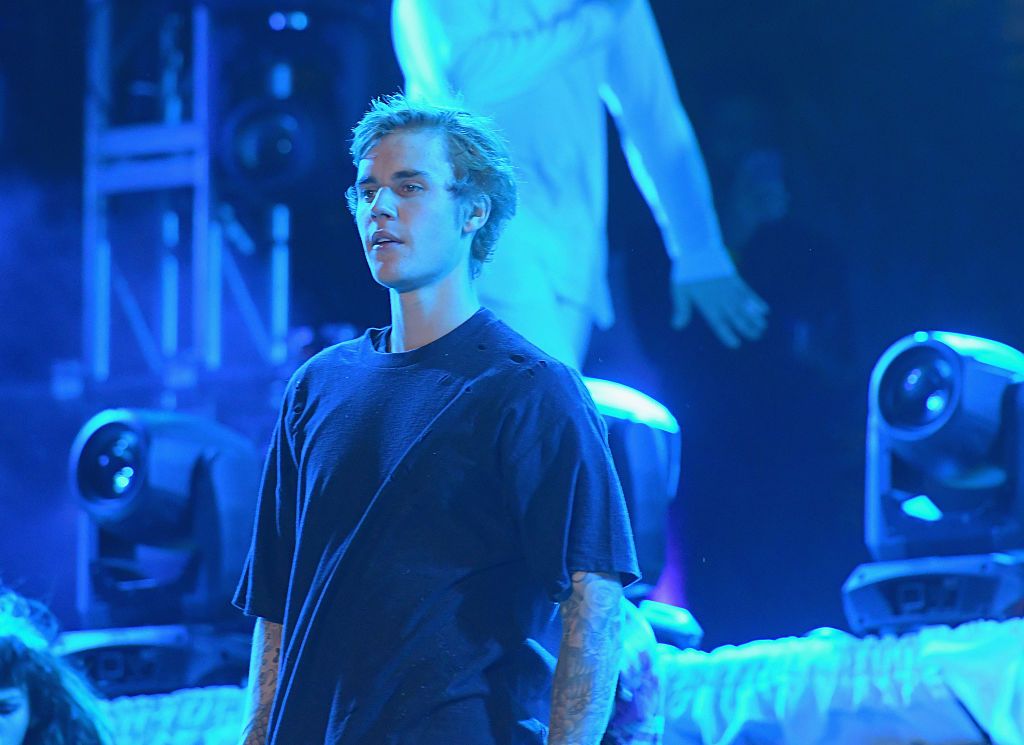 Justin Bieber is channeling his inner Rembrandt. The pop singer has taken up painting—at least as a one-time pursuit to express his Christian faith and to contribute to a cause. He shared his efforts with his more than 95 million followers on Instagram on December 29.
"Selling this painting I did called 'Calvary' ALL PROCEEDS GO TO WILDFIRES IN CA," Bieber wrote in the caption.
Several commenters inquired about purchasing the painting, some wondering how much it might cost. Bieber did not provide those details, nor did he specify an organization, charity or effort he planned to fund. (Bieber and his representatives did not immediately respond to Newsweek's requests for comment.)
The painting depicts a large white cross, its horizontal bar and bottom dripping with paint that indicates...something. It sits atop green hills against a dark background, with white wisps of clouds or smoke (again, unclear).
Instagram commenters were divided in their assessments of the artwork:
"This is amazing!"
"That jus look evil"
"It's shit"
"Very nice beibs! __"
"Lmao it looks like a painting I did in CCD classes when I was like 10"
"Awesomely done.."
"Stay in music bro, better than this."
Newsweek reached out to David Colman—an arts writer and critic whose work has appeared in The New York Times, Artforum, The Wall Street Journal and Vanity Fair—who gave his professional (and amused) opinion.
"It seems like Bieber has waded into another art form with his signature form of expression—the mixed message," Colman told Newsweek in an email. "He paints the cross dripping in polar-vortex icicles—but dedicates it to California wildfire victims. And that's who he is: the good-bad boy, the hermit-popstar, the goofy-deep, tender-tough manchild. He would announce a new tour by declaring his retirement," he added. "Just look at the Instagram post after the painting, in which he's reading what looks like the Bible shirtless, the better to show off those less-than-Christian tattoos. It's right there in Leviticus 19:29."
Colman went on to say that "the painting is not very inspired—high school students have doodled better artworks in notebooks during trig class. Calvary's most famous illustrators—Breugel, Raphael, Bosch, Titian—are resting undisturbed in their legacies."
Bieber—who frequently shares messages about Christianity—had previously posted information about how to make donations to help victims of the Los Angeles area fires, as well as a video about how he wanted to help.
"I'm going to have a conversation with some people and we are going to get moving on a solution," he said in the video, posted to Instagram on December 8. "Obviously I'm not a fireman but I can use my resources to figure out ways to get some sort of restoration in certain communities and fundraisers or whatever we can do. I'm going to get on that and in the meantime, all the families and all the people who are struggling, just know that everything is going to be OK."
The Biebs isn't the first singer to turn to painting as a fundraising method. In November, Robin Leach (Lifestyles of the Rich and Famous) bought an original Britney Spears for $10,000. She had donated the bright painting of flowers to the Vegas Cares benefit and auction at The Venetian Las Vegas. The proceeds went toward the commissioning of a memorial for the victims of the October 1 shooting in the city.
"I'm so proud to call Vegas my second home and I'm pleased to participate in this Vegas Cares show," Spears said in a video message to those at the auction. "The flowers in my painting represent a new beginning, and it's in that spirit that we move forward."
The former real estate mogul and reality television star—now president—Donald Trump, has also gotten creative for charity. A drawing of the Empire State Building he'd made in the 1990s, and originally donated for a charity auction at the ArtGras art fair in Palm Beach County, Florida, sold for $16,000 in October. In July, a Trump sketch of the Manhattan skyline from a 2005 charity event sold for $29,184.