'Justin Bieber Seasons': YouTube Documentary Reveals Two New Songs from Upcoming Album 'Changes'
After a relatively quiet few years, Justin Bieber fans have been treated to some new tracks over the past few weeks, including single "Yummy" and "Get Me," a new song featuring Kehlani that Bieber released after the first episode of his YouTube documentary Justin Bieber: Seasons. That episode also gave Beliebers a glimpse of another two songs that will appear on the singer's upcoming album Changes, expected on February 14.
The first of these can be heard from around the 8:40 mark on Justin Bieber: Seasons Episode 1, entitled "Leaving the Spotlight." Among the lyrics we hear are, "she wanna touchdown / na na na na na" and "I fly out / Fly out to the east coast / I gotta keep the lights on / You know it." The as-yet-unnamed track is assumed to be a demo, as we see Justin tell wife Hailey Bieber: "How sick would it be if I played the drums on this," suggesting the song is not quite finished.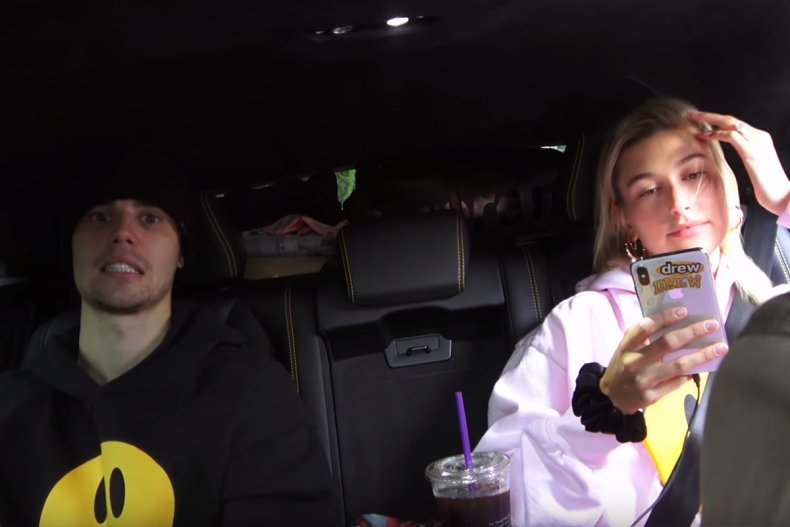 The documentary also ends with a snippet of a new song that, according to Genius, may be titled "Come Around Me." The lyrics we hear are: "So when you come around me/Do me like you miss me/Even though you been with me/Let's not miss out on each other/Let's get it in expeditiously." Part of this song was first heard in the #Bieber2020 promotional video, released on the Canadian singer's YouTube channel on December 24, 2019.
Though neither of these songs has been given official titles by Team Bieber yet, some news outlets who have been given screeners of the first four parts have revealed several titles of potential songs from Changes. MTV, for example, previewed a song called "La Bomba," which they describe as an "energetic song" featuring the lyrics, "Say she wanna dance/To La Bomba."
MTV notes a number of other tracks from the YouTube documentary, episodes of which are being released every Monday and Wednesday at noon ET.
They tease lyrics like "Sometimes it feels good to cry," "Never feeling good enough/All I ever did was let you down/Never understood why you stayed around," and "Where you going? Don't go far, love /Blessing sent to me, that's what you are, love/Ride through life with me, hop in the car, love."
The article also includes a gif of a pinboard from the documentary featuring what is presumably titles of songs that Team Bieber are considering for inclusion on the album.
"La Bomba" is on there, as well as "10,000 Hours," which ended up being released by Dan + Shay with additional vocals by Bieber. The titles we see on this board are:
"10,000 Hours"
"Now & Then"
"L.I.F.E."
"Paris"
"Song 1"
"Infectious"
"Greatest Distraction"
"All Around Me"
"Hurry Up & Wait"
"Heroine"
"La Bomba"
"Idea 03"
"Distance"
"Breathe"
"20 Bucks"
"Unconditional"
"Blowin in the Wind"
How many of these songs will end up featuring on Changes is unknown. Bieber, however, has hinted that three songs from the album will be released this week. Last week, he shared an Instagram post with the caption, "January 27, January 28th, January 29th... February 14th." As we know that the album is expected on the latter date, and the earliest date saw the release of "Get Me," suggesting that fans may get more tracks on Tuesday and Wednesday.
Justin Bieber: Seasons episodes are released on Mondays and Wednesdays at 12:00 p.m. ET on YouTube. The first four episodes are available on YouTube Premium now.